Porsche isn't the only manufacturer celebrating its 70th birthday this year. Land Rover is also joining in on the celebrations with its own platinum jubilee. That's why for this week's Want we are zeroing in on one of the company's most well-known models, the Defender.
While the run-of-the-mill Defender is an excellent vehicle, it's not exactly rare. More than two-million were built over the course of 68 years with production ending in 2016 (although it did make a brief comeback).
So what makes this particular Defender special? Well, it shares something in common with another British icon: James Bond. Or rather it spent its brief time in the movie Spectre, chasing Bond around the Alps.
For those unfamiliar with Bond-lore, SPECTRE stands for SPecial Executive for Counterintelligence, Terrorism, Revenge, and Extortion. The organization is often the source of the antagonist for Bond to battle through the films and the novels.
When it came time for SPECTRE to take center stage in the film barring its own name, it needed a vehicle that was truly evil looking. This is where the Defender SVX jumps in.
Starting with a standard Defender 110 Crew Cab, the production company sent ten vehicles to Bowler.
If you don't know Bowler, you should. Besides making some truly impressive machines, the company also knows how to tackle the Dakar Rally. Basically, if you want a Land Rover on steroids, this is the only place to call.
While the SVX is nothing more than a movie prop, it didn't stop Bowler from keeping to its standards.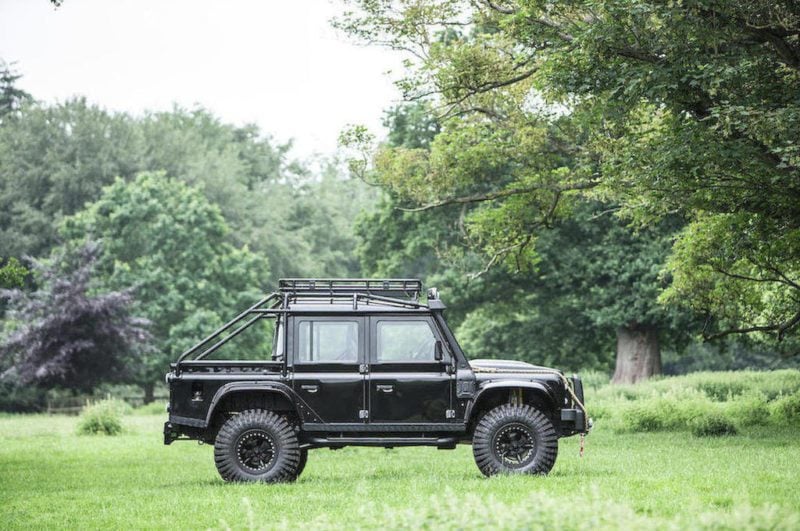 To kick off the build, Bowler first decided on a set of massive 37-inch Maxxis Trepador tires. Keeping with the off-road look, Bowler also gave it a set of bead-lock wheels.
To further the off-road capabilities, Bowler also went with its Bilstein racing suspension. This is a similar setup to its Dakar racers.
The entire exterior of the Defender received a complete makeover to give it a more sinister and all-terrain look. To do this, Bowler fitted a partial exo-cage, off-road bumper, various lights, and topped it all off with a coat of Santorini Black paint.
Since this vehicle was used for stunts, it needed to keep everyone safe. To do this the Defender got a set of Recaro seats with four-point harnesses. Also, an additional roll cage was added as well.
Finally, to keep up with the demands of filming, the diesel engine got an upgrade too. This took it from a paltry 120hp to 185 ponies with 368lbft of torque.
Most of the Defender trucks built for the film were promotional aids and never saw screen time. This SVX did and still bears marks from the stuntman clinging to the hood during a scene.
This piece of Bond memorabilia will hit the auction block at the Bonhams Goodwood Festival of Speed Sale on July 13. Right now the estimates put the sale price at £220,000 – £250,000 ($290,000 – $330,000).
While this is a hefty price to pay, if you want a Bond car it's still cheaper than getting your hands on an original Aston Martin DB5. That being said, it's still more expensive than the barrel-rolling AMC Hornet.
See more articles on James Bond, Land Rover, and Wednesday Want.