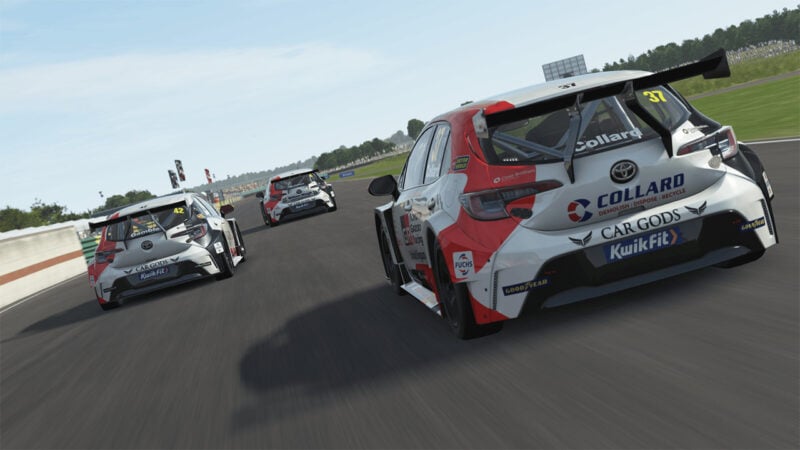 More than three years after it was first announced — and a year on from when it should have released — the British Touring Car Championship (BTCC) game is dead, after the rights holder TOCA terminated its licensing agreement.
Coming almost a quarter of a century after the last official game to feature the UK's headlining touring car championship, the 2020 announcement of a new BTCC title in development was one met with a lot of excitement across the industry.
It seemed to be a good fit too, with ex-Codemasters chief game designer/creative lead Stephen Hood in charge and a well-funded outfit behind it, realizing TOCA chief executive Alan Gow's vision of a standalone title — with its own esports series to boot.
However a significant financial downturn for the publisher, which had also snapped up licenses for IndyCar, NASCAR, and the 24 Hours of Le Mans, saw some serious cutbacks and staff turnover — including, initially Hood himself.
Thus far, neither IndyCar nor LM24 have seen a title released, while the only NASCAR game, Ignition, released in a widely derided state. That in turn resulted in the recent acquisition of the NASCAR license by iRacing.
With the BTCC game slipping from the 2022 schedule, the cars surprisingly began to turn up in the publisher's rFactor2 property — somewhat against TOCA's long-held position of BTCC being its own game rather than merely part of a wider game.
That may well have been a contributing factor to today's decision, and excoriating statement, from TOCA, which states that it has been "forced to terminate" the licensing agreement due to "ongoing fundamental breaches" by the licensee.
It continues, stating that it was left with "no option but to terminate the agreement and immediately withdraw all licensed BTCC rights", in order to "protect the reputation and intellectual property of the BTCC, including those of its participants and partners". Ouch.
That somewhat leaves the future of any BTCC game up in the air, with TOCA clearly willing to license its IP to any developer willing to make the game.
Naturally that's led to much speculation about the next destination of the license, with many pointing at EA — current owners of Codemasters, which developed the original TOCA titles — as a possible candidate. However, others are also expressing interest:
We approached BTCC's PR team, which stated that it will not be making any further comment at this time.
See more articles on BTCC.