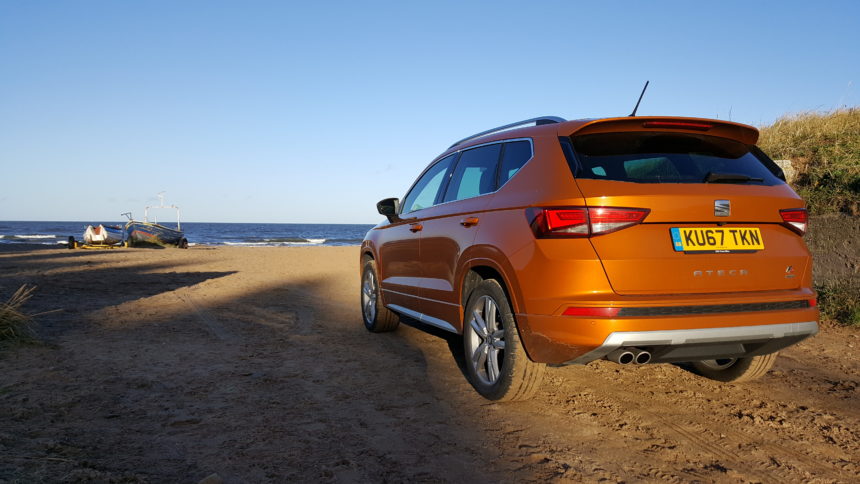 It's difficult to avoid mid-sized crossovers on Europe's roads these days. It seems like every fourth car is a crossover of some kind, and it's a love affair that doesn't show much sign of stopping.
Even if it's not for you, the trend is easy to understand. A C-segment crossover occupies the same space as a normal family hatchback, but has more room in the cabin thanks to the elevated roof space. The jacked up suspension gives drivers a better view of the road, and some add four-wheel drive to give credence to the rugged looks.
There's so many of them around now, it's easier to name manufacturers who don't make one than those that do. This week we've been in one of the newest, SEAT's Ateca.
That's not an Audi Q3?
Low blow — sort of — but not entirely undeserved.
In case you're unfamiliar with the brand, SEAT (roughly pronounced "say-at") is Spain's national car maker. The name is short for "Sociedad Española de Automóviles de Turismo", it essentially made FIAT models under license, but became part of the Volkswagen Group in the 1980s.
Yes, the Ateca does bear a remarkable resemblance not only to the Q3, but the Volkswagen Tiguan and the Skoda Karoq. There's a good reason for this: there's only so many different ways you can make a car this size and shape out of the same Volkswagen Group parts. SEAT also makes the Q3 for Audi in the same factory, in Martorell, near Barcelona.
There's good and bad to this approach. On the bad side, it diminishes some of the individuality of the brands and that's a shame. But the payoff is lower production costs, relatively standardized production methods and fairly uniform build quality. With SEAT as the most value-oriented brand in the group, it means the customer gets most of an Audi Q3 without having to pay Audi prices.
Fair point, but what's new?
While other parts of the Volkswagen Group have been mucking about with crossovers of various sizes for years, SEAT has always stuck to hatchbacks and saloons. The Ateca is its first ever crossover, though it's since been joined by the smaller Arona. A larger car is to follow next year, with its name decided by public vote (which always goes well).
As such, everything here is brand new to SEAT, from the MQB platform to the infotainment system. That said, there's a lot that's also familiar. The Ateca's interior isn't too far removed from the Leon (or the Skoda Octavia, for that matter).
Another tried-and-tested feature is the Volkswagen Group's 2.0-liter, 190PS (187hp) turbodiesel. This powers every vehicle in the company umbrella larger than a Polo and smaller than a Q7, so it's no surprise to find it here, paired to a seven-speed DSG automatic. SEAT fits "4Drive" four-wheel drive, its name for the Group's Haldex-based 4WD system.
While we may have seen all of this before, it's not a common combination at SEAT — until now.
Is it a typical crossover to drive?
No. We've thought about this one pretty carefully, and we think that this is our second favorite vehicle in this class to drive.
Most of these crossovers drive in a similar manner. On the face of it, they're car-like. They have the same footprint as a regular car — the Ateca's wheelbase is identical to the SEAT Leon — and so for most of the time they drive like a regular car. But they're heavier, and the lifted suspension and high roof means more weight is higher up.
This commonly leaves crossovers as either soft and wallowy, but good on the cruise, or stiff and jarring, but good to drive. It's usually the former, as making a crossover good to drive often results in a lot of wear and tear on brakes, and reduces your passengers' skeletons to jelly over speed bumps.
It's exceptionally rare to find a crossover that genuinely does drive like a regular car, but the Ateca is one such vehicle. It has its limits, of course — you wouldn't take the Ateca on track and expect it to keep up with a Leon all day long — but at everything short of maximum effort it's hard to tell the crossover from the car.
That means that the Ateca really is every bit as good around town and out on the open road as an ordinary hatchback. It also knocked off a 200-mile motorway stroll without once letting standards slip on the ride quality.
It's even reasonably quick. The 0-60mph time breaks under 7.5 seconds, which is better than a Toyota GT86 can manage. The four-wheel drive system helps, although it's less kind to the fuel economy, which hovered around the 42mpg mark.
Although not the last word in off-road vehicles, the Ateca 4Drive does come with a terrain selector dial. This is only ever likely to be used to drive out of a muddy car park, or off a beach you've decided to take photographs on, but it's a layer of competence missing from most similar vehicles. With the Ateca it's unlikely you'll ever have the embarrassment of getting your soft-roader stuck.
And the interior? Is it VW-lite?
Yes, very much so. Again, this is good and bad, but not so much of the bad.
It's definitely not as plush as you'd get in an Audi, and it's a little step down from Volkswagen, although it's not exactly a million miles away. Here in FR grade there's enough of the right materials in the right places to not leave you feeling shortchanged by going for the "lesser" brand.
In fact we'd wager that if you put a bunch of people into this, the Skoda Octavia and the Volkswagen Golf, with all the badges removed, they wouldn't be able to tell which was which with any ease. Again, that takes away some of what made SEAT its own brand, and that's a pity, but objectively there's nothing wrong with it and a lot to like.
At this trim level, the equipment is fairly comprehensive. Our FR packs in 18-inch alloys, automatic, full LED headlights, sports seats with Alcantara inserts and the 8-inch version of the infotainment system. That's packed out with all of the available features too, include DAB radio and satellite navigation. Again, this navigation system is broadly identical to what you'd find in Skoda and Volkswagen models — but not as fancy as Audi's.
The infotainment system includes an around-view reversing camera system, which is pretty effective (we've driven an Ateca by this system alone, with the windows blacked out; not on the road, of course). There's also some cool atmospheric features, like puddle lights under the door mirrors and multi-color ambient lights. Aluminum sill protectors, pedals and a chrome-finished exhaust all give the premium look. There's even wireless phone charging, using the Qi standard, although this is part of an options pack along with the keyless entry.
One or two bits are missing, however. The seats are manual — in fact electric adjustment is only optional, and only for the driver's seat, on any specification. They're also missing a heating function, reserved for the Excellence trim above. There's a number of other options too that you may find standard on other brands, such as the "virtual pedal" automatic tailgate.
The kit level in general is impressive, and we didn't really miss anything during our time with the car. However, if you're living with it day to day, you may want a few extras and the price soon adds up if you start adding some of the missing bits and bobs.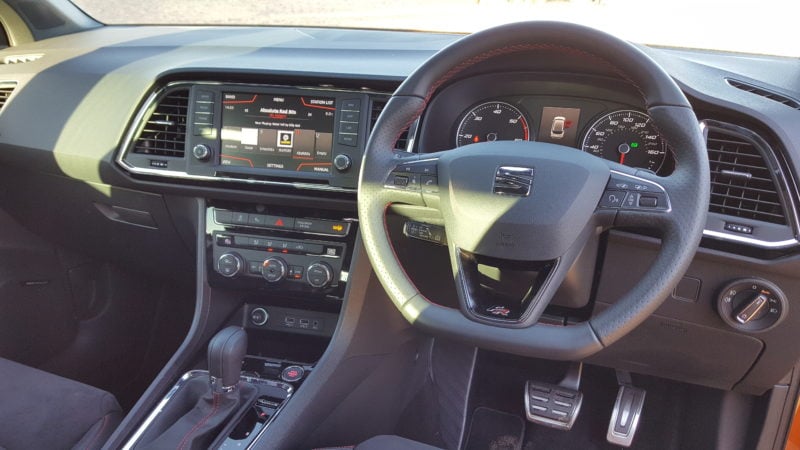 Who's going to buy it?
Crossovers are the new all-purpose cars. They do a little bit of everything and if they're lucky, like the Ateca, they do it well.
It's not exactly an aspirational vehicle, which is odd as the very similar Audi Q3 is, but the SEAT badge isn't expensive enough. It's also not really first car material, especially in this higher specification. That said, the SEAT brand does have some cool factor, thanks to the sporty hot hatches it's still making, and a number of races in higher profile touring car series around the world.
At the risk of pigeon-holing, the Ateca is the crossover for the younger buyer who has or had an Ibiza or Leon Cupra model in their garage, before children arrived on the scene. SEAT markets the car heavily at lifestyle buyers too — the press photos are replete with roof boxes, mountain bikes and hip young men waving their feet at the tailgate while carrying a snowboard.
Any alternatives?
Yeah, just a few. Off the top of our heads, the only mainstream manufacturers that don't offer a car this size and shape are Alfa Romeo, Bentley and Maserati. That probably won't be the case for long.
The one in this sector that everyone has to beat is the Nissan Qashqai. That's still going to be the top of the pile for some time to come, and these days can be found majoring in technology. That car also has a twin, the Renault Kadjar.
Also doing well in this sector is the Kia Sportage. That's a fairly affable car that, with each refresh, seems to step its game up by about 20%. Naturally the Ateca faces in-house competition from the Volkswagen Tiguan and especially the Skoda Karoq. The Audi Q3 is less comparable, thanks to the premium focus and price; we're not sure anyone's car-buying decision will ever come down to Ateca or Q3…
Beyond that there's a very large selection of rivals. In no particular order there's the Ford Kuga, Honda's CR-V, the Mazda CX-5, Mitsubishi's ASX (yes, that still exists), Toyota RAV-4 and even the Vauxhall/Opel Grandland X. There's also rivals from Ssangyong and MG, for the more value-oriented, and even things like the Jeep Renegade (and FIAT 500X sibling) and MINI Countryman that we've previously tested.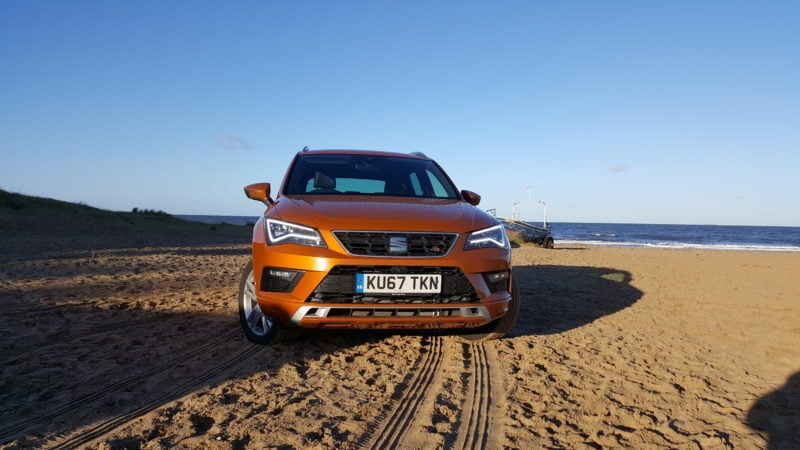 What's the conclusion?
Although it's arrived very, very late to the trend, the SEAT Ateca is a great addition to the sector.
The platform-and-parts share means a bit of a loss of identity, but brings a whole load of benefits. Primarily that's the benefit of a car that's been engineered for Audi, but priced for SEAT money. And besides, SEAT has been making rebadged FIATs for much of its life, so quibbling about how much it resembles other Volkswagen Group cars seems a bit churlish.
Its real strong point is in how it drives. Few crossovers are as much fun, and few crossovers are as comfortable. Those that are both are vanishingly rare, and that alone makes the Ateca worth your time.
Our FR model is a little on the expensive side of the range (and not even the most expensive you can get) and there's a couple of things missing from the spec that you'd probably like day to day hidden in a pricey options list — another Volkswagen Group carryover. Nevertheless, the Ateca is a compelling package and as an all-rounder it's difficult to beat.
Verdict:
SEAT Ateca TDI 190 FR 4Drive
SEAT's first crossover is one of the best vehicles in this sector. As an only car, not much would come close to its breadth of talents.
Learn more about
how our rating system works
.
Quick Facts
Engine
2.0-liter turbodiesel
Power
187hp (190PS, 140kW), 295lbft (400Nm)
Layout
Front-engine, front-wheel drive
Top Speed
132mph (212km/h)
More Posts On...