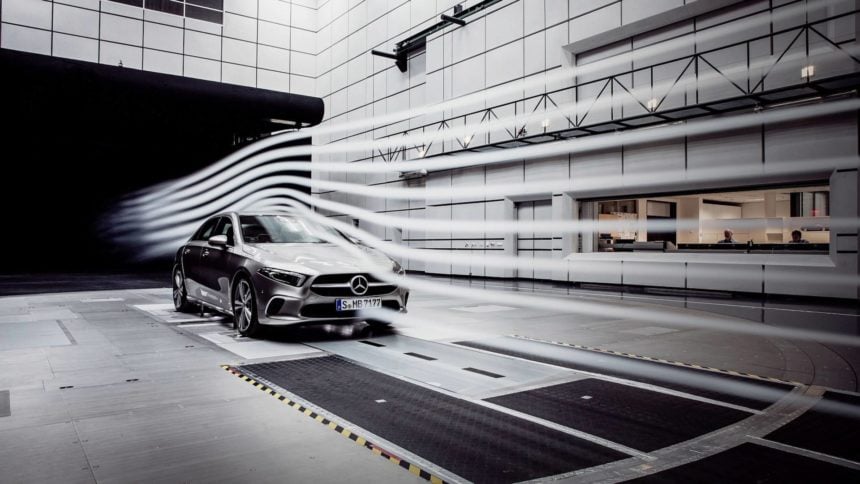 Usually slipperiness is not a desirable quality from a car. However, when it comes to sliding through the air, it's a good thing — and there's a new champion in town.
The new Mercedes-Benz A-Class Sedan is, according to its manufacturers, the most aerodynamically efficient car made to date. In fact it takes the title from its older sibling, the CLA four-door coupe.
Where the A-Class excels is its "drag coefficient", or "Cd". Cd measures the force on an object as it passes through a medium — in this case, the air. The lower the value, the better, as it means less force slowing the object down. A car with a low Cd requires less power and uses less fuel to travel at the same speed.
The previous record for a production car worldwide was the Mercedes-Benz CLA, with a Cd value of 0.23. That's fallen to the new A-Class Sedan's 0.22.
Mercedes-Benz has tried a number of approaches to getting the Cd as low as it can go. It's spent hundreds of hours working in the wind tunnel in Sindelfingen, reworking the shape in computer-aided engineering simulations to get things just right.
That's resulted in a number of measures, great and small. For a start, it's reduced the car's frontal area — a slippery body is not much use if you're presenting high and wide face to the air. That now stands at 23.57 square feet.
To prevent the weirdly shaped bits of the car's undersides from interfering with the smooth air flow, Mercedes-Benz has panelled much of the car's nether regions. That includes the engine bay, floorpan and parts of the rear axle.
It also fits spoilers for the front and rear wheels, to guide air around these spinning, turbulent areas. There's also an optional grille shutter system to reduce unnecessary air flow into the engine bay. In addition, Mercedes-Benz has also employed sealing techniques to several areas of the car — such as the headlamp surrounds.
All of this should make the next A-Class Sedan able to do rather more with the power it has than rivals, both in terms of fuel economy and speed. Although we shudder to think what servicing and repair will be like, with everything shut up behind panels and seals.
The new car should go on sale in markets across the world later this year.
More Posts On...