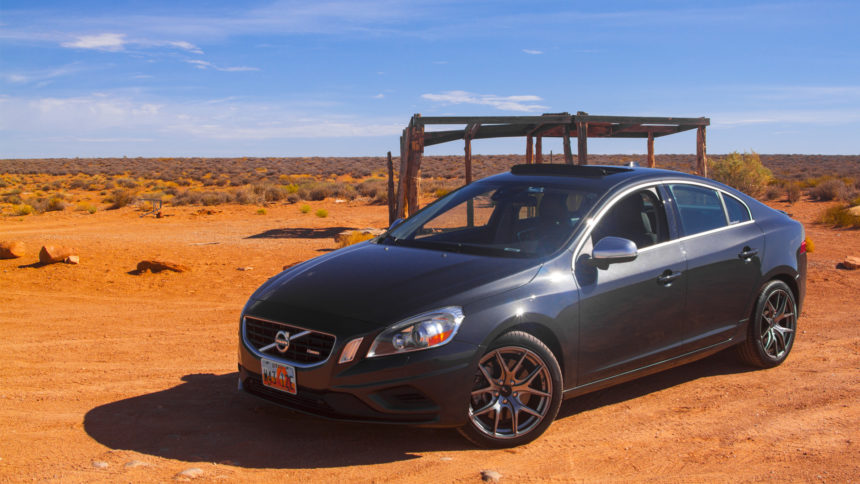 Every once in a while, I get the urge to get out from behind my computer and quench my thirst for adventure. This typically involves a road trip in some fashion to see whatever sights are along the way. That's why when the travel bug bit recently, I packed up my car and headed out to see the great American West.
My love for travel goes back to before I could even walk and talk. Every summer I'd go with my parents to the far north in Canada for weeks of fishing and camping. When I got a little older, my grandpa really instilled in me the love of a road trip.
Before he became sick, we would set off for a couple weeks every summer with zero idea of where the road would take us. This is largely how I saw every state east of the Mississippi River and most of eastern Canada. It was fantastic.
Now that I'm older, I still feel the need to go somewhere. Work and other commitments often get in the way, but I do manage to find time for a long weekend every now and again. It always involves some sort of epic drive too, with either a twisty road or scenic splendor (and if I'm lucky, both).
This year's adventure came as a spur of the moment thing. With an already long weekend thanks to Pioneer Day (a Utah holiday celebrating the founding of the state) I figured there was no time like the present.
I've called Utah home for almost two years now and haven't really seen very much of it. So in the early hours of a Friday morning, I set off to discover the state.
My ride of choice for the trip was my 2013 Volvo S60 R-Design. It really is a fantastic road trip vehicle too. With its cloud-like seats, 30mpg fuel economy, and an awesome sound system it's ace. The 325 ponies from the 3.0-liter Polestar inline-six doesn't hurt either.
Day One
I set out down I-15 out of my home in Salt Lake City. Being early morning the traffic was light and the sun was cresting over the Wasatch Front — a pretty nice way to start the trip.
My route was pretty open, but I knew I wanted to head south and avoid freeways as much as possible. So just south of Provo, I turned off I-15 and made my way down US 6. This allowed me to tackle the mountain pass leading out of the Salt Lake Valley.
I quickly ascended to 7,500 feet and hit Soldier Summit — a ghost town and popular spot for railfans.
I then twisted and turned my way through Price Canyon and onto US 191 with a new goal: Moab.
If you're an off-roader and more specifically a Jeeper, the name Moab will mean something to you. Every year thousands of Jeeps descend on the small town for the Easter Jeep Safari. This is one of, if not the largest off-road shows in the country.
It's easy to see why they pick this place. With countless trails ranging from a leisurely drive to scaling nearly vertical rock walls, it's an off-road paradise.
Moab is also home to two iconic National Parks, Canyonlands and Arches.
My first stop was Canyonlands along with Dead Horse Point State Park which is on the way.
If you've seen the movie Mission Impossible II where Tom Cruise is climbing the rock face, then you've seen Dead Horse Point. It's also home to the scene in Thelma & Louise when they drive their car off a cliff, along with providing some of the backdrops for HBO's Westworld.
Thankfully, there are no actual dead horses here. Back during the Wild West days, cowboys would often lose horses in the area due to the hot, dry temperatures and virtually no shade.
Leaving Dead Horse, I headed towards Canyonland just a few miles to the north.
The arid landscape of Canyonland looks incredibly alien and you can't help but think you're driving around Mars. But the views are spectacular and you can see for miles with nothing but a vast expanse of desolate wilderness.
It's mostly a park that's enjoyed by hiking it, but since I was on a tight timeline I just hit the sights I could drive too. It's definitely on my list of places I need to return to someday.
After spending a couple of hours meandering around Canyonlands, I made my way to Arches National Park which is literally across the street.
Arches is the park Utah is known for: we even put it's crown jewel, the Delicate Arch, on our license plates. But it's more than just arches, it's also a sea of red rock strewn throughout the desert. Like Canyonlands, it's also very Martian looking.
The problem with Arches though is that it's overcrowded. To see some of the more desirable attractions you need to wait in line or hang around your car until you can find a parking spot somewhere. While it's wonderful to see so many people enjoying the park, it does quickly become frustrating.
I opted for the distant view of Delicate Arch since waiting in line to park didn't seem terribly appealing. It also requires a hike up over the red rock and in the 110-degree weather, I wasn't exactly prepared for that.
Still, there's plenty to see throughout the park. From the Petrified Dunes to the Balance Rock, if you're into strange geology you'll get a kick out of all of it.
After spending the afternoon driving around Arches, I then set my sights on Moab just a few miles south. I checked into a little roadside motel and then went to find something to eat. Settling on the Moab Brewery across the street from the hotel I kicked back with a cold one and inhaled a burger.
Day Two
I awoke early in an attempt to beat the heat. Temps were already nearing 80 by 8 a.m. and the forecast called for another day well into the triple digits.
My first stop was Monument Valley near the Arizona state line. To get there, it meant traveling through yet more desolate countryside where gas stations were a rarity and the mobile signal completely absent. Luckily I had my satellite radio and put the windows down as I cruised.
After several hours I finally emerged from a canyon pass and saw Monument Valley spread out before me.
If you don't know Monument Valley, you've undoubtedly seen it. Wile E. Coyote chases the Roadrunner in the area and it provides the backdrop for a ton of westerns.
Its real claim to fame in the cinema world though is in Forrest Gump. After Gump gets a pair of Nike shoes he just starts running for three years non-stop. Then one day he just stops. This finishing line for his run is right at the entrance to Monument Valley and of course, you can stop there.
A word of warning though, this is a popular spot for tour buses to stop. There, scads of tourist pour out into the road to recreate the running scene. While this is all a bit of fun, it's also incredibly dangerous. With a speed limit of 65 mph, people frequently top 90 or faster going down the hill. If you choose to take a pic, make sure someone's watching your back.
Moving on through Monument Valley, I then entered the Navajo Nation. This semi-autonomous region spreads throughout the Four Corners region of the US. It's also home to several little towns and a tarnished landscape from years of uranium mining.
As I made my way through the Arizona side of the Navajo Nation, I took the time to stop at a few roadside stands. While the jewelry really wasn't my thing, the Navajo Taco and fry bread were.
If you've never had a Navajo Taco, do yourself a favor and find them. It's a fluffy piece of fried bread smothered in chiles, gooey cheese, and some sort of mystery meat (I think the ones I had were venison). As for the fry bread, it's the same fluffy bread the tacos use but instead of the meat and cheese, it's drizzled with local honey and cinnamon.
After eating my weight in tacos while baking in the now 105-degree heat, I figured it was time to move on.
My next stop was the Four Corners Monument located where Utah, Colorado, New Mexico, and Arizona meet. This is the only spot in the US where you can stand in four states at once.
For the privilege of doing this, you'll need to pony up a fiver. Then you'll need to stand amongst a bunch of tourists who complain about the heat. Once you near the head of the line, you'll need to wait for people to take no less than seven million photos.
It was, without a doubt, one of the biggest tourist traps I've ever come across. But I still waited in line and snapped a quick photo before heading back to the car. Temps were hovering around 118 degrees and I needed water badly.
After leaving Four Corners behind, I set my sights on Cortez, Colorado. This little town is really nothing special, but it is the gateway to Mesa Verde National Park and the Canyons of the Ancients.
The first stop was Mesa Verde about 10 miles outside of town. This mesa dominates the landscape and climbs to around 8,500 at its peak.
While Mesa Verde consists of mostly vast expanses of land covered in trees, its claim to fame is the cliff dwellings.
These cliff dwellings really are more of a little village built into the side of a cliff. Using a combination of mud and other local materials the Anasazi culture built these huge structures into the recesses of the canyon walls some 600 years ago. When they needed more room, they just simply carved homes directly into the rock. It truly is an amazing sight.
After exploring some of the more easily accessible ruins, I then made my way to the Canyons of the Ancients. It's essentially the same thing, just without any of the tourist fanfare and it involves more walking.
I opted for one that didn't need four-wheel drive to get to. Sadly though when I made my way to the road the monsoon rains had made it impossible to get to.
Disappointed I headed back to Cortez to find another roadside motel to crash for the night.
Days Three & Four
Once again I awoke early, eager to get on the road. Today was the day I was going to visit the Black Canyon at the Gunnison National Park, something I was really looking forward too.
I set out from Cortez, planning on taking the long way up into the San Juan Mountains and past the ski resort town of Telluride.
Upon arriving in Telluride, I figured I'd grab some breakfast. After inching my way through town with its ludicrous speed limit of 15mph, I found a diner. The menu was posted on the door and to my surprise, a simple breakfast of bacon, eggs, and toast would run my nearly $25. With a bit of a laugh, I returned to my car to eat some granola bars.
Before leaving Telluride though, I wanted to see the Imogene Pass. This off-road trail takes vehicles over 13,000 feet from Ouray to Telluride. It's pretty extreme and one of the highest drivable roads in the Contiguous United States.
I reminded myself that despite having AWD, the Volvo was not a Jeep. So I turned around and headed for paved roads.
The drive to Montrose was fairly uneventful, but the whole area smelled of evergreen trees and it was enjoyable nevertheless.
Once I hit Montrose, I then made my way to the Black Canyon.
This National Park primarily consists of the 1,800ft deep Black Canyon made by the Gunnison River over the course of two million years. As its name implies the walls of the canyon are extremely dark. This gives it an otherworldly appearance.
My first stop was the visitors center where I met an old gentleman looking through a telescope. A bit confused since it was about 11 a.m. I asked him what he was looking at. We struck up a conversation and he said he was recordings various parts of the sun and let me take a look.
This was a cool experience for sure and we chatted for a few minutes about his work. This was an excellent reminder that one of the best parts of traveling is the characters you meet along the way.
After taking a jaunt up the road that weaves around the south rim of the canyon, I then looked towards the East Portal. This steep road drops you at a 16% grade down from the top of the canyon to the river below. It's a bit nerve-wracking too since there are no guardrails. You also need to keep the car in first during the entire descent.
As I made my way down the narrow road, I rounded a corner and spotted something I didn't think I'd encounter – a sizeable black bear. I had no more than 20ft between my car and it. This meant sitting around and waiting for it to move on.
Apparently, brown bears rather like Volvos and the bear got a little too close for comfort. Not responding to the horn, I blipped the throttle for a taste of the S60's meager roar.
Clearly unimpressed by my display, the bear turned and walked away. Thankfully I wasn't about to become an Allstate commercial, so I headed the rest of the way down to river access.
I walked along the river bank and talked to fishermen as I passed. Finally, done in from the heat, I found a nice rock and put my feet out into the cool, clear water.
After spending who knows how long baking in the sun, I eventually returned to my car with a sunburn already setting in.
Leaving the Black Canyon of Gunnison National Park behind, I then headed toward Grand Junction. There I found the Colorado National Monument.
Surprisingly, it became one of the highlights of the trip. The park was mostly free of tourists, the views were spectacular, and it had several tunnels in which to make turbo noises in.
The road was also a ton of fun to drive with just enough elevation changes and sweeping corners to let the Volvo stretch its legs a bit.
If for whatever reason you're passing through Grand Junction, this is easily worth the detour. It's also a through road. This means no turning around at the top to come back the way you just came.
After leaving the Colorado National Monument, I then headed back into Grand Junction. There I found a nice hotel in the middle of downtown and a lovely Irish pub. I ordered a huge plate of corned beef and settled in to watch the Rockies play ball.
The following day would just involve me driving back to Salt Lake City via the way I went to Moab. However, it gave me a chance to reflect on my adventure, and just how much I enjoy the good old fashion road trip.
If you would like to follow my route, I've included a rough outline of what it looked like. Counting the excursions around the parks, I did around 1,300 miles in four days.