Playground Games has released a teaser of the next update to come to Forza Horizon 5 ahead of the July edition of the Forza Monthly livestream, revealing the Spark Odyssey 21 electric racing SUV from the Extreme E series will be making its way to the festival.
Set to be broadcast on Monday July 18, the newest Monthly will also preview the content for Series 10 just before the current series concludes.
With the Car Pass now at an end, it is unknown how many new cars will be added over the next four weeks, but the prominence of the Odyssey 21, along with all ten team liveries, suggests it could heavily feature in the upcoming playlist and rewards.
Extreme E is a rather recent championship series that began its inaugural season in April 2021. Its calendar features remote locations that have been affected by, or are in danger from, climate change.
The aim of the series is to bring greater awareness of the climate issues, as well as minimizing its own environmental impact to achieve a net-zero carbon footprint despite being a global championship.
All ten teams involved use the same Spark Odyssey 21 SUV, an all-electric machine designed to take on the tough conditions in each environment. In order to give the Odyssey enough grunt, it features two electric motors, supplied by a 54kWh battery pack.
Maximum power is over 530hp, however its limited range means races are short sprints over no more than 10 miles. Thankfully, range anxiety won't be a concern in FH5!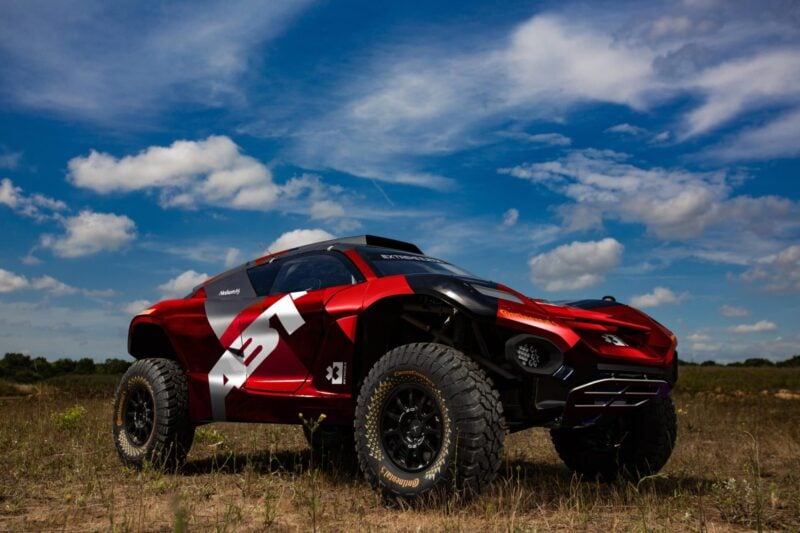 Sustainability was a key mantra in building the Odyssey, from bodywork made from natural flax fibres to the tubular steel chassis being reinforced with a material called niobium. Even the tires are constructed using recycled plastic bottles.
The teaser picture shows that the full grid from the 2022 season will be represented, including entries from manufacturers such McLaren and Cupra. Formula One stars Lewis Hamilton and Nico Rosberg also have their own Extreme E teams — X44 and RXR respectively — in the field.
Forza Horizon 5 Series 10 will mark the virtual debut of Extreme E and we'll get a first look at the Odyssey in action during the Forza Monthly stream at 1600 UTC.
In addition we'll likely see more from the upcoming Hot Wheels Expansion Pack DLC, due to make its own debut on Tuesday July 19.
See more articles on Forza Horizon 5 Game Updates.