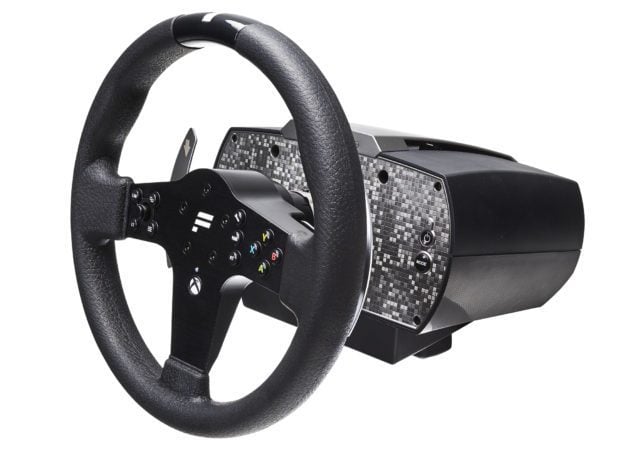 Fanatec has just announced the latest addition in its extensive lineup of sim racing accessories: the CSL Elite wheel base and pedal set. The new model sits below the existing high-end Clubsport V2 model, but is usefully more powerful than the original V1. It is compatible with both Xbox One and PC platforms.
The CSL Elite Wheel Base comes with the same automotive-grade quick release system featured on other Fanatec products, meaning players with existing rims can retain their trusty favourites. The base features a brushless servo motor connected to a single belt drive. For fans of drifting — or just driving road cars in general — a maximum rotation of 1080° is available, while the minimum is set at a super-quick 90°. The wheel tuning menu allows players to modify the steering lock during gameplay.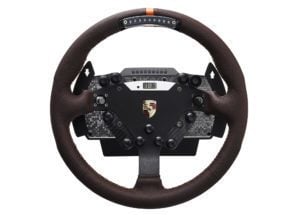 The all-aluminium CSL Elite Pedals are fully adjustable along the horizontal plane, allowing racers to space the pedals for ideal heel-and-toeing. Both pedals can also be removed from the heelrest and mounted separately in the case of customized cockpits. They also both feature potentiometer sensors capable of the same 12 bits of resolution as found on the ClubSport V3 pedal set.
Lastly, the optional CSL Elite Loadcell Kit adds a third, much more advanced pedal down by your feet. Working off pressure as opposed to travel, this pedal can withstand 90kg of force, and moves the existing brake unit over to become a clutch pedal with a new limiter pad. Brake sensitivity can be adjusted with the same wheel tuning menu as the Wheel Base, also during gameplay, allowing drivers to fine-tune to their preferences. The Loadcell Kit also adds USB connectivity and a handbrake port.
Both the pedal and loadcell kits come with interchangeable pedal plates, offering blank, rubber pad, and anti-skid options.
The full pricing list is below:
CSL Elite Wheel Base: $299.95 USD / £319.95 / $499.95 AUD / ¥28,900
CSL Elite Pedals: $79.95 USD / £89.95 / $129.90 AUD / ¥9,900
CSL Elite Pedals Loadcell Kit: $129.95 USD / £139.95 / $219.90 AUD / ¥16,900
CSL Elite Pedals + Loadcell Bundle: $199.95 USD / £219.90 / $329.90 AUD / ¥25,900
CSL Elite Assetto Corsa Edition: $639.85 USD / £689.80 / $1059.70 AUD / ¥84,700
Folks looking to get ahold of the new accessories can pre-order exclusively at Fanatec's website. You can check out the full bundle right here, which comes with an Xbox One copy of the just-released Assetto Corsa for free. The first shipments are scheduled to be shipped to customers starting late October.
We've got a pre-production example of the CSL Elite in the GTPlanet northern outpost office, so look for a review in the near future!
More Posts On...
The original comments for this post are no longer available.