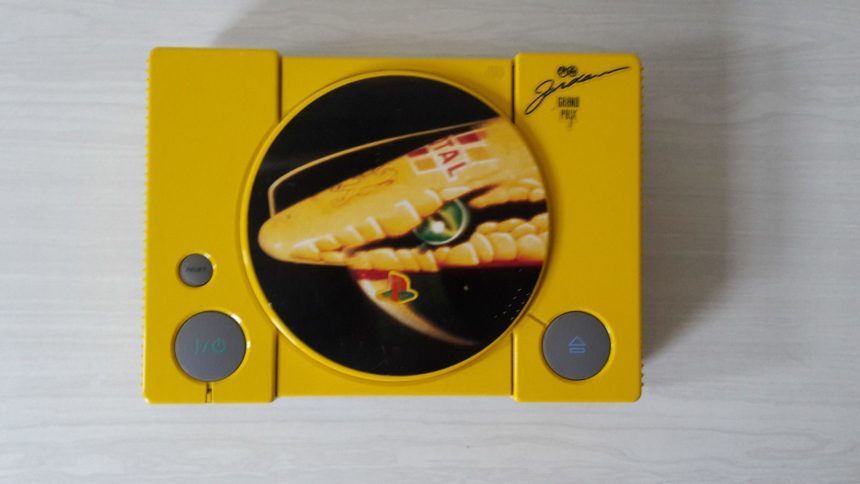 A listing for an ultra-rare PlayStation 1 on eBay is sure to pique long-time Formula 1 fans' interest.
The console in question is a special edition Jordan Grand Prix variant which was rather limited in numbers. It's finished in the iconic yellow and black color scheme of the privateer team.
One of just ten that were prizes won through written publications in the era, this rare console was given away as part of a promotion during the launch of Psygnosis' Formula 1 '97. Newspapers such as the Guardian offered the console to celebrate the team and release of the game.
The Team Jordan PS1 is certainly a looker. With a custom paint job complete with a Jordan 197-inspired disc lid, this would have been all the rage in the loud 1990s. Whipping out this piece of history would certainly impress even the most avid collectors.
Jordan Grand Prix was a favorite with fans through its 14 years in the motorsport. It brought instantly recognizable liveries and a certain eccentric Irish businessman to the world of F1.
Eddie Jordan helmed the team to four race victories before selling it to the Midland Group. The team eventually evolved into the current era Force India team.
The retro console is in a mostly good condition but those hoping for an accompanying box will be let down as this is not included. Nevertheless, quite the bidding war is underway, with bids so far exceeding £190.
It would certainly be an expensive investment with the price sure to keep rising. The console is touted as "The Rarest Playstation 1 Console in The World" and with good reason. If you have a passion for Jordan Grand Prix or motorsport memorabilia, you won't want to pass this up.
[Source: Kotaku]
More Posts On...