In F1, every second — or, for that matter, every hundredth of a second — counts. Teams spend tens of millions researching new components and new ways of directing air flow to gain a few yards on the track. It's the difference between pole position and third on the grid on a Saturday, and that can decide the race the next day.
It's not just on the track though. The sport's rules mean that each car must make at least one pit stop during the race, for a different tire grade. That's 20 seconds or more of driving at just about walking pace — for the safety of everyone in the pit lane — while everyone else pelts round the track.
Of course it evens out across the race, but there's even time for the teams to gain here. Not in the pit lane, as everyone spends their time attached to the speed limiter, but in the stop itself.
An F1 pit stop is an insanely complicated affair. The car must come to a stop and be lifted off the ground front and rear by two jackmen. Then four wheelmen will unfasten all four wheel, four more guys will remove the old wheels, four others will put new wheels into place, and the wheelmen fasten all four tight again.
Commonly there'll also be people checking the engine air intake, radiator intake and brake ducts for debris, and if the car needs any other work — replacing a nose cone, for example — that will happen too. Then the car goes down, an automated light system tells the driver to go and he (or, hopefully one day in the near future, she) will leave with a refreshed car.
Unsurprisingly teams practice the pit stops a lot. Commentators often compare the process to a ballet, and if everyone can ace their job, it's possible to get a car turned around in a couple of seconds.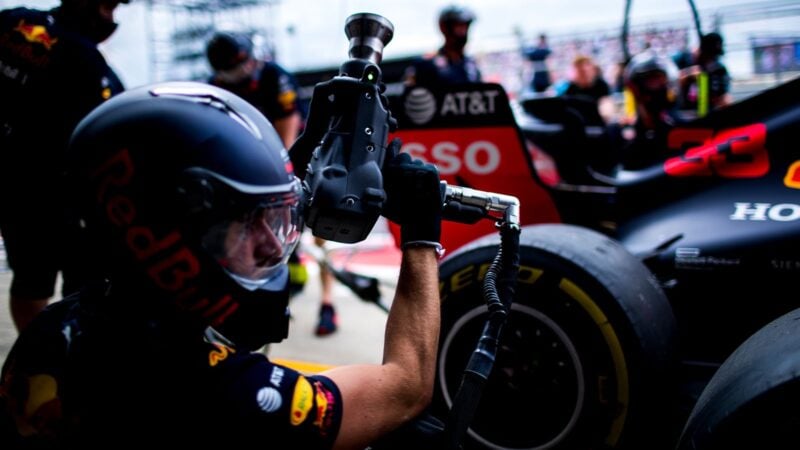 At last weekend's British Grand Prix, one team set a new record for this complete service. When Pierre Gasly came in for his single stop on lap 12, Aston Martin Red Bull Racing, in addition to showing off its new Valkyrie hypercar for the first time, got the car serviced in 1.91 seconds.
That beat the previous record — held jointly by Williams from the 2016 European Grand Prix and Red Bull in the 2013 US Grand Prix — by one hundredth of a second. Despite this, Gasly was in the pits for 0.078s longer than team-mate Max Verstappen, but it did help him towards his highest finishing position of the year so far in fourth.
You can watch the entire stop below, with a couple of angles and a slo-mo just for good measure (just in case you do blink and miss it):
NEW WORLD RECORD! 🌏 Gone in 1.91 seconds, officially the fastest pit stop on the planet! 💪 #givesyouwings pic.twitter.com/eNf0y5MIJz

— Aston Martin Red Bull Racing (@redbullracing) July 16, 2019
More Posts On...