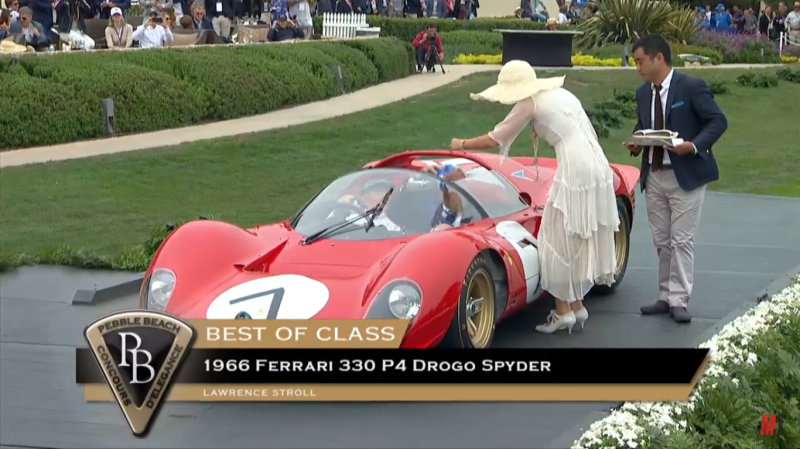 Every year at the prestigious Pebble Beach Concours d'Elegance, Polyphony Digital award the Gran Turismo Trophy; a token of intent to bring the chosen winner into the Gran Turismo series. The official description of the trophy states the following:
"The Gran Turismo Trophy, established in 2008, is awarded to the most significant car balancing both artistic beauty and performance at the highest level and most desired for inclusion in the Gran Turismo series."
Since its inception there have been 8 winners including the beautiful Lamborghini Miura and the Alfa Romeo Giulia TZ2, which have both featured in Gran Turismo in the past. This year, on the 66th iteration of the event, the trophy has been awarded to the breathtaking 1966 Ferrari 330 P4 Drogo Spyder.
The car itself may seem from the off-set very similar to the Ferrari 330 P4 Race Car that featured in GT5/6. This version of the legendary racer precedes it by a year however, with the in-game version being from 1967. What makes the 1966 car so special though, is that it is the original P4 in the purest of forms: the car that featured in previous GT's actually had a few different guises, whereas the 2016 winner shown above is the car in it's truest, raw form. You can see the car being awarded the trophy in the live-stream below (the video will start at the exact time the trophy was given out).
Interestingly, Kazunori Yamauchi was not present to hand over the award despite doing so for every other winning vehicle. Takuya Asano (director of the 'Gran Turismo Explore Studio') instead had the honours, presenting the prize to the owner of the wonderful vehicle. In the driver's seat, Sir Jackie Stewart shows off the beautiful noise the Italian-born car is capable of. One thing is for sure, we hope GT's new sound engine manages to capture her in all her beauty if included in a future Gran Turismo iteration!
Thanks to MotorTrend for the live-stream above.
More Posts On...
The original comments for this post are no longer available.