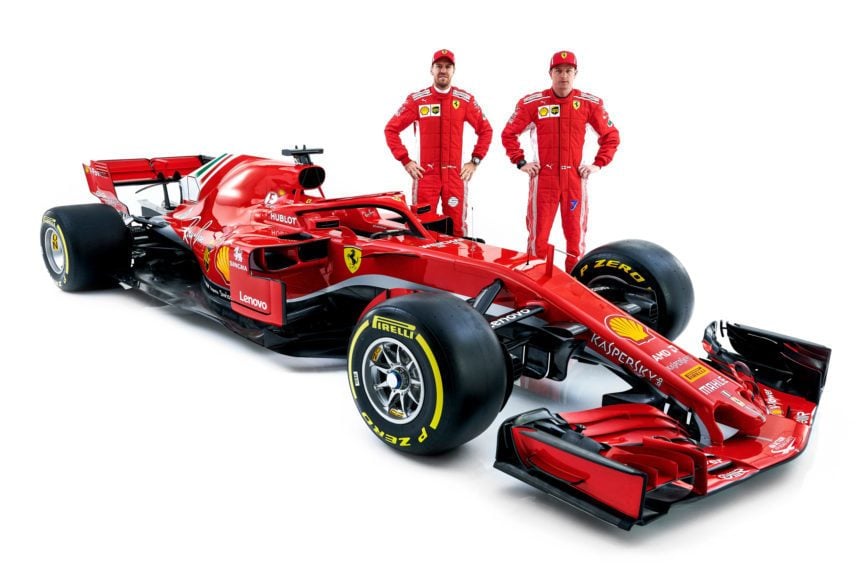 Scuderia Ferrari is the latest team to reveal its open-wheel racer for the 2018 F1 season, the SF71H. Ferrari showed off its 64th F1 entrant for the first time at the team's Maranello base.
For Ferrari, last season signaled a return to form in Formula One. Standing against Mercedes, it took the battle to the Brackley team head-on. Were it not for a series of incidents undoing its otherwise impressive efforts, Ferrari may have ended Mercedes' reign at top.
This year's car is a continuation of last season's momentum. Immediately, one will notice a distinct absence of white on the car's livery. Instead, the SF71H is a return to Ferrari's traditional all-red color scheme. That includes the mandatory halo safety system.
The SF71H is also the first machine since 2009's F60 to not feature Santander branding, following its decision to end F1 sponsorship deals. Looking closer reveals further changes to the chassis. Among them is a longer wheelbase, bringing it closer to Mercedes' approach, a revised cooling system and improved aero.
Surprising to no-one, this year's car features a more aggressive sidepod design. As a key driving force behind last season's pace, we expect Ferrari to maintain its advantage in this area. Drivers Sebastian Vettel and Kimi Raikkonen remain for a fourth season. Last season, Vettel drove the SF70H to five race wins, who knows what this year's car will be capable of.
Daniil Kyvat and Antonio Giovinazzi join alongside them. Ferrari confirmed Kyvat's position with the team in January as development driver. Giovinazzi serves as the team's reserve driver.
The suspension on the SF71H continues Ferrari's trend of using push-rods up front and pull-rods at the rear. Notably, the team says its updated design relies on experience running Pirelli's wider tires.
Technical director Mattia Binotto explains further:
The SF71H represents an evolution of last year's car, which was already a good project. We've tried to retain the strengths. Our strengths I would say first is aggressiveness in some of the concepts.

We designed a car that was somehow performing very well on low speed circuits, but we knew we had to work on new areas of development. For example, trying to develop the car to be strong in performance on the high-speed circuits, but also on reliability.

What has changed? The main difference is we have a slightly longer wheelbase compared to last year. We have the sidepods, the radiator ducts which are even more aggressive and innovative than what we had last year. Overall, the entire team did a fantastic job in terms of packaging to be very tight. If you look at the body it's a very narrow body.
With a troubled latter half of 2017 behind it, Ferrari will look to pick up where it left off. As an evolution of last year's chassis, there's a lot riding on the SF71H.
Next up for the Ferrari is pre-season testing in Barcelona. The session kicks off next Monday, February 26 and runs until Thursday, March 1. The second round takes place at the same location — Circuit de Catalunya — from March 6-9.
More Posts On...