Ferrari's Vision Gran Turismo, a concept car unique to Gran Turismo 7, has been recognized by the Red Dot design awards — becoming the first fictional car to earn a "Best of the Best" award in the process.
First revealed at the 2022 Gran Turismo World Series final in Monaco, the Ferrari Vision Gran Turismo is a hybrid race car which combines a version of three-liter V6 turbo that underpins the Ferrari 296 and electric motors to produce 1,363hp.
Designed by the Ferrari Styling Center, headed by Flavio Manzoni, the Vision Gran Turismo takes cues from aspects of cars across the brand's storied history, including prototype race cars like the 330 P4 and previous concept cars like the Modulo.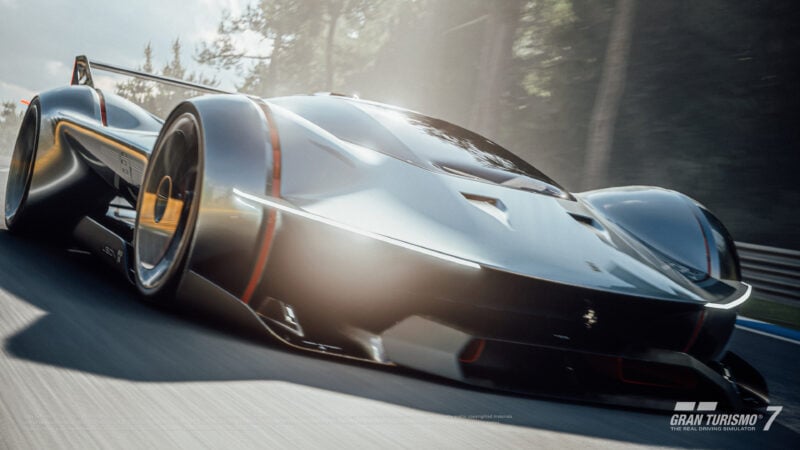 The Red Dot awards are among the highest honors in the design world, and date back to 1955 as "Verein Industrieform" — with the modern awards held annually since 2000.
They attract over 18,000 entries annually in the three categories, each of which has multiple sub-categories: Brands & Communication Design, Design Concept, and Product Design. Products and designs from all fields enter the competition, including information technology, housewares, clothing and accessories, and even videos and commercials.
Ferrari is a regular entrant and has won a total of 26 Red Dot awards, including successive "Best of the Best" awards — the highest prize in each category — in each of the past nine years. That includes the Vision Gran Turismo, in the Product Design/Innovative Product category, and Ferrari's new Purosangue which took the award in the cars and motorcycles class of the Product Design category.
It's the second time in the awards' history that a Vision GT has received recognition, with the previous Red Dot winner being Alpine's Vision Gran Turismo launch video "Inspirations" in the Brands & Communication Design category in 2015:
See more articles on Ferrari and Vision Gran Turismo.