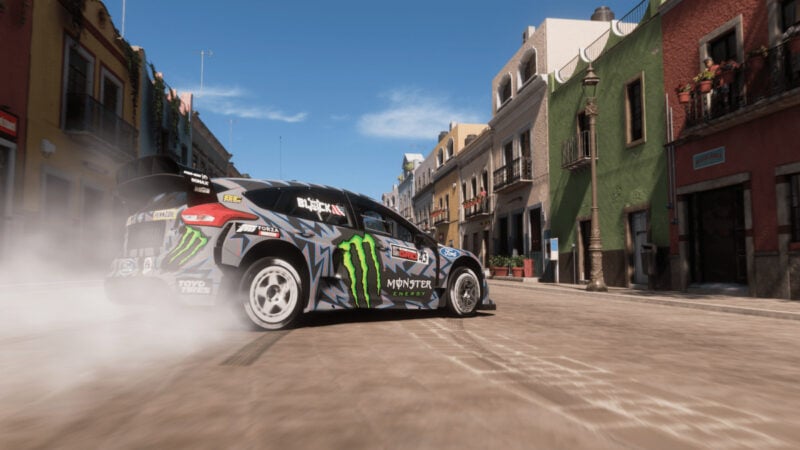 Although Playground Games has yet to announce the Forza Horizon 5 Series 17 update, it's already confirmed that Series 18 will feature a tribute to the late Ken Block.
The whole motoring and motorsport community was shaken by the passing of Block earlier this month in a snowmobile accident. As well as being a rally car driver, and founder of the Hoonigan racing team, Block was a car culture icon.
Block and his insane custom racing machines were regularly featured in racing games, including the likes of the Forza Horizon series. Having included the Hoonigan brand since Forza Horizon 3, it's no surprise PG wants to pay homage, and the next series update scheduled for March is the earliest opportunity to do so.
Players can currently redeem the 1965 Ford 'Hoonicorn' Mustang, as well as the Ken Block race suit and helmet immediately from their gifts tab. Following that, the as-yet unnamed Series 18, which will likely run from March 2 to March 30, will further honor Block with special in-game items and events.
As stated in an in-game message, players will be able to race in new Festival Playlist events centering on the Hoonigan brand, as well as a seasonal championship event featuring the returning 2016 Hoonigan GYMKHANA 9 Ford Focus RS RX as a reward car.
There'll also be new "Evolving World" Accolade objectives inspired by Block, as well as rewards such as a new "#43" player profile Badge — Block's racing number — and a "Go Fast Risk Every Thang" Forza LINK chat message.
The next "Let's Go" live stream set to debut Series 17 is set for Thursday, January 26. Currently, we don't know much about the upcoming season, other than it likely focusing on the celebration of Japanese automobiles, one of which being the all-new Nissan Z.
With these details for S18 being announced beforehand, there's a chance the unofficial "Ken Block update" may get a mention or two, but we can expect a more detailed reveal nearer the March 2 start date.
See more articles on Ken Block.