There's no school like the old school, and you can't get much more old school than this.
Aside from the occasional Morgan or Caterham, there's nothing on the roads today that has been in production for quite so long. And this isn't some niche manufacturer's track toy, it's a mainstream car. Now that Land Rover's Defender has finally been allowed retirement, there's nothing left quite like it.
Despite near enough 40 years to do so, we've never driven a G-Wagen before. Time to change that with this G350d.
Has someone tipped over the TARDIS?
Pretty much. This is a car straight from the 1970s car design playbook, under "U" for "Utility". We spent a good long while trying to find the curves on it, and only came up with the wheels, headlights and Mercedes badge. Boxy doesn't really cut it.
It's that shape because it has to be. It's a big, largely regular box, because boxes are what you put things in. In this case that's the engine, some people and probably a mud-drenched pinscher of some kind.
The whole thing sits on top of a chassis designed – for want of a better word – in the 1970s, for a military vehicle. It's not exactly subtle, but then it's not supposed to be. Like many of these army trucks turned into civilian vehicles, it's supposed survive the harsh Persian desert. The North York Moors won't know what hit them.
So is there anything actually new?
Mercedes has been steadily updating the G-Class over the years. Surprisingly, given the looks, there are two distinct generations – and third is due next year.
Our car is essentially the same as one introduced in 1990, give or take a few incremental updates. That means you get such creature comforts as ABS and electronic locking differentials. However Mercedes has fitted more up-to-date engines and infotainment. The G-Class stops well short of the fancy electronic dashboards you get in the rest of the range, but it is recognisably a modern Mercedes interior.
Most important is the V6 diesel engine and seven-speed automatic transmission. Power delivery and driveability are up there with any other big Mercedes, although the fact it weighs over 5,000lb does take some of the edge off.
It doesn't exactly look all that dynamic…
That's an understatement. Driving this down a country road is like trying to do the Cresta Run in a small office building. It's certainly not the last word in handling.
There's an initial problem with the sheer size of the G-Class. It's well over six feet wide, and with just one lane in each direction, placing the car is pretty much guesswork. More so because the driving position gives a great view of the road, but not the actual car; the nose could be anywhere, and all you can see of the front is two rhomboid reflectors that put you in mind of an angry Dalek.
Secondary to that is body roll. It's also well over six feet tall, and though most of the weight is low down, there's still a chunk of metal more than 72 inches from the floor. If you dare push it, the G-Class sags towards whichever side or corner of the car is loaded up.
But possibly the most limiting factor is the steering. Driving around a car park it was actually a pleasant surprise. There's a truck-like dead spot in the middle 30 degrees or so, but then it catches on. Low-speed maneuvering is a doddle. That same dead spot is evident on the road, as is the sudden weighting up, but at higher speeds the wheel becomes numb again very quickly as the nose goes light. We suspect that it's due to high caster angles, but it can be unnerving.
On-road driving isn't the G-Class's forté then. But really it's not supposed to be, and it's difficult criticize it too harshly on that basis. It's a go-anywhere truck, as the prominent diff lock switches make obvious. Sadly, in the UK there's not much reason to go offroad unless you're attending a dedicated mud-plugging event, so it's of limited relevance to the UK market. The field in the photos was as far as we got away from a paved surface. The car didn't put a foot wrong in the process, but you wouldn't really expect it to.
Is it still a Mercedes on the inside though?
Without question, although there are a few qualifiers.
Standard kit is impressive. The COMAND infotainment system is standard, bringing navigation, DAB radio, Bluetooth connectivity and smartphone integration, and a wireless hotspot. You can operate it though the central controller dial, eight-inch touchscreen and voice commands, if you wish. There's a 5.1 surround sound audio system from Harman Kardon, USB ports, an SD card slot and several 12V sockets dotted around the cabin.
Also standard are heated front and rear seats, with electric adjustment and memory in the front. Automatic climate control is standard, along with the electric adjust steering wheel (with entry/exit function) and a reversing camera – rather useful as the big Mercedes is just about impossible to judge when backing up.
Our G also has a few options. There's an electric sunroof, a sports styling pack with upgraded 19-inch alloys (standard is 18-inch), running boards and a stainless steel spare wheel cover. We've got a rear-seat TV and entertainment system, a heated steering wheel and heated windscreen too.
Fit, finish and materials is the usual high Mercedes standard too. There's no corners cut just because it's elderly and utilitarian in origin. You'd be right if you suspect this all comes at a price – the standard car is £88,800 worth, and all the options on ours bring it up to £104,395 – but then it's a massive Mercedes.
Where's the but? Well, Mercedes designed this interior 40 years ago for a car intended to gad about the Middle East. There's only so much it can do in grafting new tech and a lot of the things you look at are old and showing it.
There's also a surprising lack of rear legroom. It's as tight as many small family hatchbacks, which is strange given the external dimensions of the car. To continue to stretch the Doctor Who quips, it's like a TARDIS in that the insides have a significantly different amount of room than you'd expect from the outside.
Who buys the G-Class then?
It's a genuine struggle to think of who Mercedes is targeting with the G-Class. The amazing off-road potential is only really matched by the rather poor on-road ability. It's too big for towns, but not great on longer runs, and it doesn't really have all that much space.
The prime audience then is the countryside set. People who want a lovely snug interior to settle into, an exterior that will stand up to abuse and a car that will drive from paddock to paddock without ever touching anything more road-like than the tracks they've already worn into the ground. It helps that these are the people who can afford the list prices too…
Any alternatives?
It rather depends on how much off-road use you need. If you're regularly going into places that are bordering on inaccessible, the Jeep Wrangler will keep up without much fuss. If you're not bothered about size or luxury and want to save 90% of your money, there's the Suzuki Jimny and the hilarious FIAT Panda Cross. They won't get quite as far as the G-Class, but they'll give it a good go.
If you prefer your luxury, then you're looking towards alternatives like the Toyota Land Cruiser and slightly softer Mercedes-Benz GLE, BMW X5 and Audi Q7 models. They're better on-road too.
When it comes to cars that do both, it's Land Rover. The G-Class may have been the perfect foil for the now-defunct Defender, but anything with a Land Rover or Range Rover badge is a nailed-on competitor.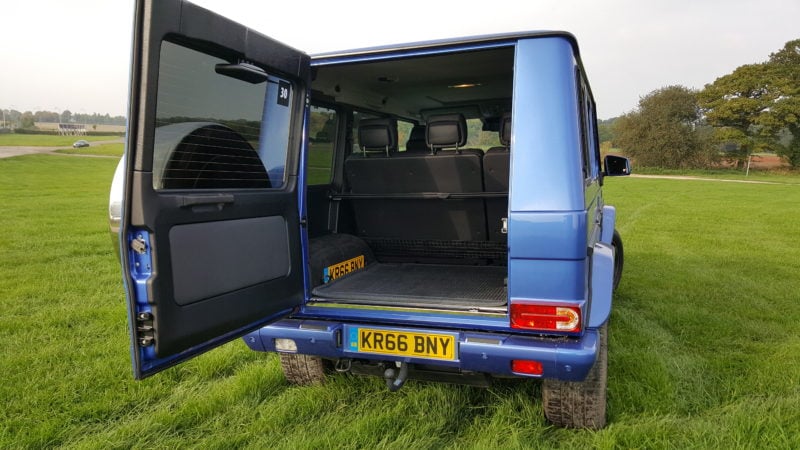 What's the conclusion?
The G-Class is an extremely difficult car to sum up. Objectively, it's really very poor on the road at any speed. You're going to need a significant off-road bias to your life to appreciate its merits, and for most in the UK that's not the case. The interior is nicely made and just as high quality as any other Mercedes, with plenty of toys, but there's not much space.
It almost seems unfair to judge the G-Class by the yardstick of normal cars. It has such extraordinary focus that it renders most comparisons almost moot. While most cars are jacks of several trades (rarely all), the big Mercedes is a single, specialized tool that you keep in your toolbox because you have a job that it's perfect for.
On that basis, it's hard to fault it – but there's not many cars we'd walk past and pick the Mercedes' keys up instead. Still, there's not much else like it on the roads, and that old-school charm is appealing.
Verdict:
Mercedes-Benz G350d 4MATIC
Dedication to a single purpose makes the G-Class too task-oriented for most ordinary road users.
Learn more about
how our rating system works
.
Quick Facts
Engine
3.0-liter, V6 turbo
Power
242hp (245PS, 180kW), 398lbft (540Nm)
Layout
Front-engine, four-wheel drive
Top Speed
119mph (192km/h)
More Posts On...