Ask the man in the street who the king of hot hatches is and chances are you'll get a whole different bunch of answers. One name that will come up time and again though is Renault.
The French brand has made some of the greatest spicy superminis ever made, from its amazing Renault 5 Turbo through to everyone's favorite car to crash at the Nürburgring, the Megane RS.
But it's the Clio that gave Renault its reputation. So how does the latest 220 Trophy stack up?
That's a long old name for such a small car…
Yes, Renault has developed an unusual naming scheme with these hot hatches. Firstly, even though it says "Renault" on the owner documentation, they're officially "Renault Sport" models. This is the performance arm of the company – even the F1 team is called "Renault Sport F1".
The 220 part is obviously the power, in PS (as a side note, please stop doing this, car manufacturers; PS isn't a thing, and doesn't belong in names). The Clio packs 217hp from a 1.6-liter turbo.
It's the "Trophy" bit that needs a little more explanation. You can get the 197hp version of the Renault Sport Clio in a regular flavor or with a "Cup" chassis. This is stiffer than the standard chassis, and only available with larger, 18-inch wheels. The Trophy version is the Cup, but lowered 0.8 inches at the front and 0.4 inches at the back.
So it's just a bit stiffer and quicker?
Pretty much, yes.
It's not a dramatic difference — Renault has only added about 10% more power after all — but the 220 Trophy will hit 60mph quicker than almost any other Clio in history. The changes to the springs, ride height, dampers and the steering rack — 10% quicker than the Cup — all make it a fractionally more capable track weapon than the regular Clio 200.
There's also a couple of unique options to the Trophy. The £900 Akrapovic exhaust is a bit of a must, as even in Trophy spec the Clio sounds a bit muted from the outside.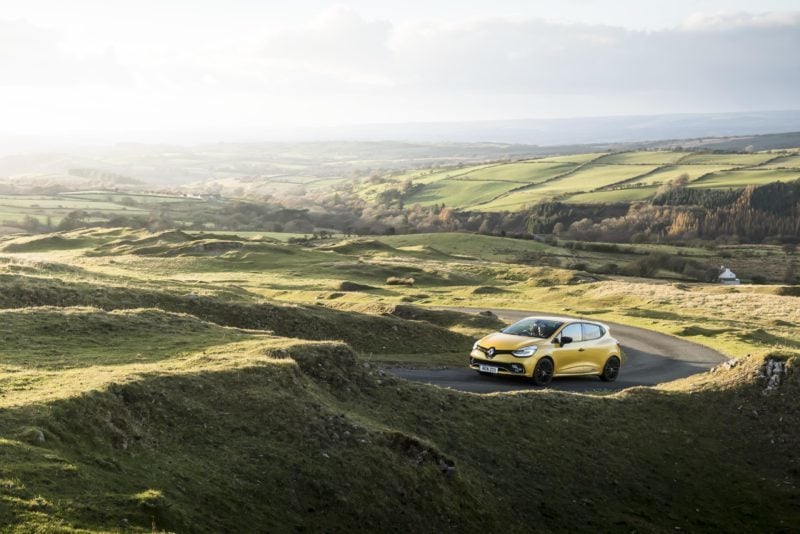 It's another top-drawer Renault hot hatch then?
As much as we hate to say it, no — and this needs a rather heavy qualifier.
Hand on heart, the Clio 220 Trophy is one of the most fun ways to spend £25,000 on a car. It's very good on just about any road you aim it at. The ride is a little difficult at low speeds, but it calms down when you get going a bit. It's nice and stable at highway speed, doesn't make a lot of road or wind noise and we even had it at nearly 43mpg (36mpg US) on a long run.
As a hatchback, it's perfectly at home in a town center. The Clio is light, nimble, easy to see out of and easy to park (the Trophy gets standard sensors and a parking camera too). Get onto a quick road and it's as much fun in the bends, with grippy Michelin Pilot tires, as it is between them.
So where's the problem? Well, it's twofold, and both are really carryovers from the regular car. They are the engine and the gearbox.
Whereas Clios of old were naturally aspirated two-liters, this car is a 1.6 turbo. It makes a world of difference. The old Clio 197 — and its predecessors — connected its front wheels right to the base of your skull, through your foot. It was immediate, responsive and as sharp as a tack. The Trophy feels almost aloof by comparison — there's no doubting the performance of it, but there's a just enough of a disconnect to take the edge off.
The gearbox doesn't help. Renault's decision to go auto only was brave in a market where three pedals is considered the standard for real drivers. It works to an extent, as the Trophy is a far better urban car and we don't doubt the shift speeds on track in Race mode (although the paddles are mounted on the steering column and can be out of reach on sharp bends). However, the rest of the time it's sluggish and unwilling, compared to something like a Volkswagen DSG, and we're not sure how many people are happy to stick it into Race — which disables traction control and the stability system — for 80ms gearchanges on the public highway.
That all sounds like a bit of a downer on the Trophy, but the fact is that it's good to drive, and good to drive quickly, compared to most things out there. We just don't consider it top-drawer because Renault has done it better before, and there's a couple of cars out there doing it better right now too.
Is the interior typically French?
To a degree, certainly. The first glance is excellent, with a meaty leather steering wheel and lots of polished surfaces. You've got standard sat-nav and massive sports seats, which would make getting the back a chore, but the Clio is a five-door car. They're heated too, for a bit of extra comfort — not like the stripped-out French hot hatches of old.
Dig a bit deeper and the facade drops a little. Everything below knee height is pretty cheap to the touch and scratchy. We didn't have the car long enough to break any of it, but it doesn't seem like it would take all that long.
There's also some bewildering design decisions. A frisbee-shaped display that shows only your indicators, gear and speed dominates the center of the instrument panel. It takes up a whole load of the real estate there, for no reason we can determine when a simple LCD screen would do.
Stranger still is the cruise control and speed limiter. The actual controls for these functions are on the steering wheel, where you'd expect. But you turn them on and off with a rocker switch that's under the handbrake. And right next to that switch is the RS Drive button, that controls the driving modes. Yes, we put it into Race mode at least twice instead of turning the cruise control on. No, we're not still sore about it.
That all said, it's easy to get comfortable and find a decent driving position. The Trophy cars all come with the R-Link infotainment system and navigation, which isn't the most responsive or intuitive system, but it works. There's also a special telemetry function in there for RS models called RS Monitor. We won't mention the fact there's an Eco Mode app as well…
Who will want to buy this?
Everyone; it's a hot hatch. The very point of the hot hatch is that it's almost all things to almost all men.
The Clio combines supercar-rivalling back road pace (at a fraction of the cost), five seats if you don't have personal space issues and a usable trunk all in a car that's easy to drive, easy to see out of and easy to park.
There's a reason why Europe's best-selling cars are B- and C-segment hatchbacks, and there's even more of a reason why the halo performance model often makes up 25% or more of sales. They do everything, and everyone is the target buyer.
Any alternatives?
The thing with hot hatches is there's rather a lot of them. Almost anyone who makes a B-segment car knows to put a 200hp engine in it to appeal to the more performance-minded.
Front and center though is the Peugeot 208 GTI by Peugeot Sport. It may be the only car in existence with a clunkier name, but it matches the Clio in every department (including Frenchness) and has that important manual gearbox.
SEAT's Ibiza Cupra is a surprisingly characterful alternative too. It's not quite as quick, but you get the benefits of Volkswagen Group build quality. The same applies to the Volkswagen's Polo GTI, with a new model due soon. That's every bit a shrunken Golf GTI, and the DSG automatic is a much better option than the EGC in the Clio.
There's also the Vauxhall/Opel Corsa VXR/OPC. That's a brand coming out of a doldrum era and the Corsa is a considerably better car than it has ever been.
The champion of the current era though is the Fiesta ST. Ford has recently replaced the whole Fiesta range and we've not seen what the new ST will offer — watch this space.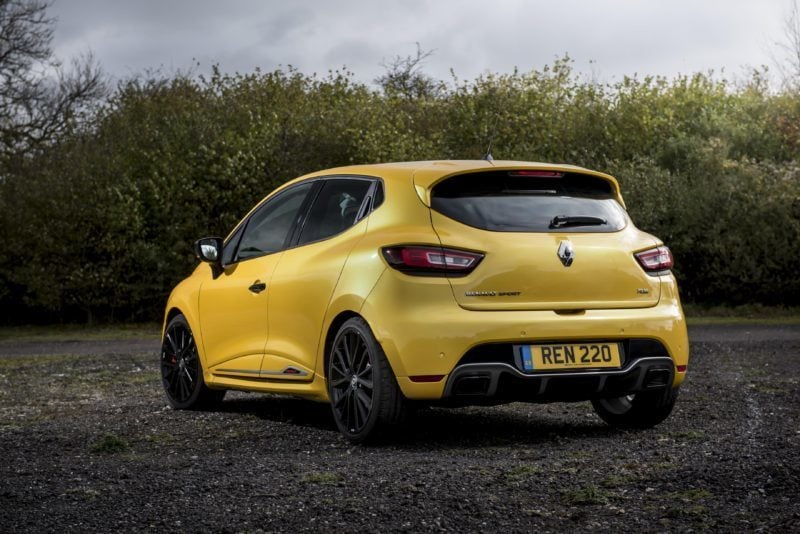 What's the conclusion then?
For many, this particular Clio is a disappointment. It's a very big little car — the Clio IV is 14 inches longer than the Clio I — and the styling makes it look bigger still. The chassis is a bit old, it's not quite as chuckable, it's not a three-door, it's turbocharged — and so on. But the real fly in the ointment is that EDC automatic gearbox.
Yes, it's a bit sluggish, and yes, the ratios sometimes mean second is too low but third too high. We're not convinced that it makes that much of a difference day-to-day though, whereas the lack of a heavy third pedal really does. Drive everywhere at eight-tenths or more — and fair enough, it's a hot hatch so you'll want to — and it might annoy you more.
The Clio's biggest crime is that it's not quite as good as what went before it, and some rivals have got themselves ahead. Regardless, it's still a great deal of fun when you want it to be and an ordinary, civilized hatchback when you don't — and isn't that the point of a hot hatch?
Verdict:
Renault Sport Clio 220 Trophy
Quick Facts
Engine
1.6-liter, straight-4 turbo
Power
217hp (220PS, 162kW), 207lbft (280Nm)
Layout
Front-engine, front-wheel drive
Top Speed
146mph (235km/h)
More Posts On...