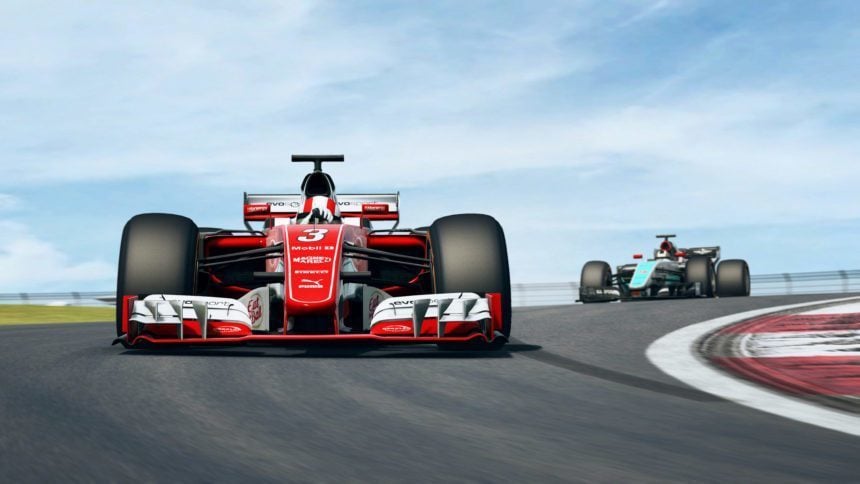 Earlier this week Sector3 Studios unleashed its idea of a Formula One chassis for RaceRoom Racing Experience, the Formula RaceRoom X17. Loosely based on a modern day F1 machine, the X17 ditches the hybrid V6 for an uproarious 3.0-liter V10. The FRX17 joins the Formula Ford, Formula 2, and IndyCar style machinery to complete R3E's open-wheel offerings.
As of release, the V10-powered machine becomes the most powerful vehicle available in the game, edging ahead of the IndyCar-inspired Formula US released earlier this year. Since it tips the scales at only 1,367 pounds, the X17's performance figures are stunning even when compared to the real-world 2017 vehicles.
3.0 liter V10
950hp @ 19000 rpm
370Nm @ 17000 rpm
7 speed paddle shift
1,367 lbs including driver
44/56% Weight distribution, including driver, excluding fuel
150 liter fuel tank
Maximum theoretical downforce is approximately 6173 lbs @ 200 mph.
Traction Control available
DRS System
With a touch of insanity, the open-wheeler should prove itself to be explosive through corners and on straightaways. Though, with 950 horsepower on tap in a vehicle weighing over 65 pounds less than 2017-spec F1 cars, it comes with the territory.
The howling engine note alone is enough to bring fans of the sport back to the '90s era. What's more, an additional video championing the car's noisy and obscenely powerful V10 has made its way onto the official RaceRoom YouTube channel.
The X17 is now available in the free-to-play racer for 399 Virtual Racing Points ($4.49). For those looking to indulge, the X17 and all 20 additional liveries will cost 799 VRP ($8.70).
RaceRoom Racing Experience is exclusive to the PC platform. Those interested in giving the game a go can have a look at the official site here.
More Posts On...