Forza Motorsport developer Turn 10 and mobile specialist Hutch have today launched a new mobile title in the Forza series originally announced back in June, called Forza Customs.
The free-to-play title is available now from the Apple Store and on Google Play in all regions, and combines the world of Forza with some classic mobile game play mechanisms.
That means that, unlike the rather unloved Forza Street — which was born as Miami Street before having the Forza branding placed over it — Forza Customs has no actual racing in it. Not that Street's one-touch system was actual racing…
Customs, itself based on a previous game called Custom Car Works, is essentially a "Match 3" game, similar to that old classic Bejeweled — and the more recent Candy Crush series — but it's designed with a motorsport bent.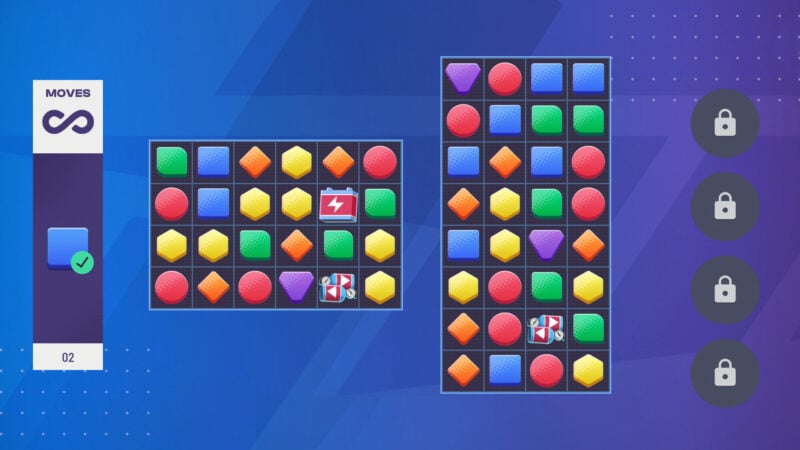 Players will be set a series of puzzles for which they'll need to match up three — or more — colored blocks to solve, along with motoring-themed obstacles such as work mats and wheels, and power-ups called "breakers" that behave in a very familiar manner.
The battery power-up breaks adjacent blocks as well as targeting a useful remote block, the nitrous power-up destroys either a row or column, and the gas tank blows up a two-block radius around it. An incongruous rainbow power-up eliminates all blocks of one color, and you can of course combine them all for multiple effects.
While the puzzles form the core gameplay mechanic, the purpose is to gain car shop credits for modifying your vehicles. Again, this is a relatively familiar system which offers players three options for each upgrade — similar to titles like Royal Match or Love & Pies, but building cars instead of interior decoration.
It has to be said that the car mod part of the title is pretty neat, as you're initially given a vehicle and a theme — which would appear to be a 2018 Ford Mustang to be built as a drift car across the board for the tutorial — and the choices of three part types for each step can generate some very different vehicles as you progress. You can also view the car in a free 360-degree mode and there's a photomode too.
Naturally there is some monetization too, although we've not played the title long enough to work out what the game "gold" is actually for — possibly to buy more lives, or new power-ups for the match puzzles, maybe for new cars or unique items. Still, gold bundles are available from $1.99 for 1,000 coins to $89.99 for 60,000 coins.
There's a wide range of cars in the game already, many from the Forza series, and more are planned for the future; in fact the recent update to the game to the release version added the Chevrolet Corvette Stingray '67, Ford F100 '56, and Peel Trident to the title.
The release notes add that there'll be regular updates with more game modes and rewards — we'd assume a F2P season system with standard and paid premium rewards will be part of that — so there's more to look forward to in the future.
See more articles on Forza Customs, Hutch, and Mobile Apps.