Leaves are falling, and the temperature is dropping. Autumn has returned to Forza Horizon 4 this week.
A fresh batch of content and events is now available for players looking for new cars. We've got the latest on the Autumn Playlist down below.
Returning Classics Dominate Prizes
An update to the Playlist accompanies the changes to the Autumn season. A new set of prize cars is available for completing the season to 50% and 80%.
This week's prizes include an extreme Maserati and a tuned French rally legend.
Our rundown of the latest events is below.
New Events & Cars
Returnees largely dominate the prizes this week, though there is one notable car in the prize pool that will please fans.
The 2008 Maserati MC12 Versione Corsa is the car in question. This Italian beast arrives in Forza for the first time since Forza Horizon 1. Developed as a more track focused version of the MC12 supercar, the Corsa features a more extreme aerodynamic package.
In addition, the 6.0-liter V12 now packs 750 horsepower, so it should prove an exciting addition to anyone's track toy garage. Fans wanting to try out the Corsa can do so in this month's Rivals event.
The other noteworthy car is the Peugeot 205 T16 Forza Edition. This special version of the Group B legend comes fitted with Pikes Peak aero as well as a Skills Boost. Other returning prizes include the 1994 Nissan Fairlady Z and the 2012 Mini John Cooper Works GP.
Fans can acquire the Nissan by winning the "Overnight Parts" championship, while you can win the Mini from the "Mini Mayhem" Trial.
The rest of the events for this week are below:
Utes 'N' Brutes
Series: Cross Country Series
Cars: Ute pickup trucks
Restrictions: A Class, 800 PI
Prizes: 15,000 CR, 25,000 CR, Wheelspin
Grudge Match
Series: Dirt Racing Series
Cars: Ford Mustang, Chevrolet Camaro
Restrictions: C CLass, 600 PI
Prizes: 15,000 CR, 25,000 CR, 1969 Ford Mustang
Autumn Games – Series 9
Series: Playground Games
Cars: 1980's cars
Restrictions: S1 Class, 900 PI
Prizes: Wheelspin
Overnight Parts
Series: Street Scene
Cars: Japanese cars
Restrictions: S1 Class, 900 PI
Prizes: 15,000 CR, 25,000 CR, 1994 Nissan Fairlady Z
The Trial: Mini Mayhem (Co-Op Championship)
Series: Road Racing Series
Cars: Mini
Restrictions: B Class, 700 PI
Prizes: 2012 Mini JCW GP
Ashbrook Lane Drift Zone
Season Objective: 97,000 points
Broadway Windmill Danger Sign
Season Objective: 1,299.2 ft
Oakwood Crest Speed Trap
Season Objective: 205 mph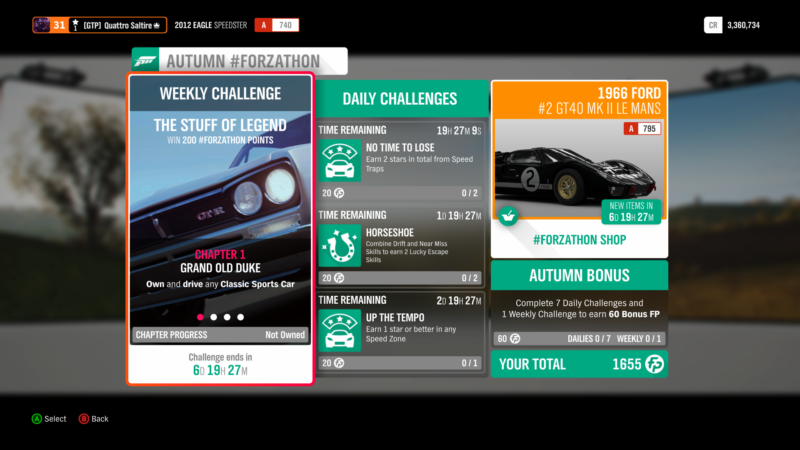 Forzathon Events
Forzathon looks at Classic Sports Cars for this week. With plenty of choices, the first objective is to simply own and drive any classic sports car.
Next, you'll need to exercise skill and speed, as you have to earn a total of nine stars in Speed Zones. For the third objective, stretch your car's legs and win a Road Racing event at The Colossus.
Finally, show off your skills and earn a total of 250,000 Skill Points to wrap up Forzathon for this week.
Forzathon Shop
Track cars are at the forefront in the Forzathon Shop this week. Leading the charge is the 1966 Ford GT40. This Mark II variant took Ford to victory at the Le Mans 24 Hours, and kicked off a four-year consecutive winning streak.
Its 7.0-liter V8 kicks out almost 500 horsepower, and will propel the featherweight Ford to almost 200mph. Costing 650 Forzathon points, it may prove a better deal than buying one at the Autoshow.
Joining it is the 2009 Lotus 2-Eleven. This hardcore, Exige-based track weapon puts huge focus on light weight. Tipping the scales at just 1,642 lbs, the supercharged 2-Eleven should have the handling to monster the British country roads.
However, at 625 FP, we suggest spending those points on Wheelspins instead.
Clothing items available this week are the Autumn Beanie and Autumn Mittens.
More Posts On...