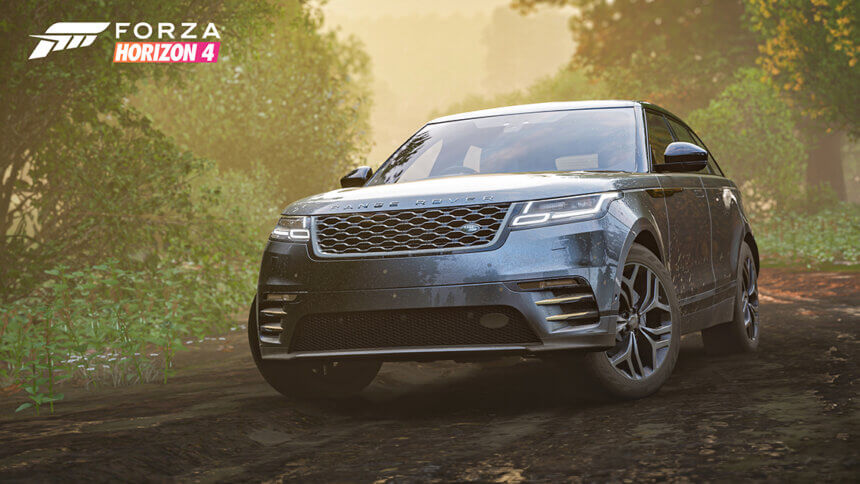 As a fresh coating of snow covers the UK once more, the Winter rush has begun in Forza Horizon 4. With new events and content available, there's plenty to keep players busy this week.
A new Range Rover makes its way to the frozen UK this week, along with updated prizes for 50% and 80% completion of the latest Winter Playlist. You can read on further to see the rest of our content rundown.
A Break From Normal Running
Returning hypercars make up the playlist completion prizes this week. Up first is the Ferrari F40 Competizione.
Built as an ultimate track toy, the Competizione turns a standard F40 up past 11. With a host of race-inspired upgrades from the LM model, this F40 will still keep pace with more modern machinery. The 2.9-liter, twin-turbocharged V8 has been boosted to almost 700hp, and with 1980s turbo lag, you should be on your toes when the boost arrives.
On the more modern end of the scale is the Bugatti Divo. Despite being based on a Chiron, the Divo is more than a simple rebody. Weight has been cut by nearly 90lb and downforce is up over a regular Chiron. The suspension has also been recalibrated with a greater focus on handling. With 1,479hp from an 8.0-liter, quad-turbocharged W16, the Divo needs those upgrades to deal with the twisting UK roads.
In terms of seasonal championship prizes, there's another opportunity to win the Ford Racing Puma, along with the Renault Sport Clio 197.
This week's main prizes comes from Land Rover. The 2018 Range Rover Velar is the fourth model in the range, sitting between the Evoque and RR Sport. It's also one of the most road-focused Range Rovers ever made, sharing mechanicals with the Jaguar F-Pace. However, the Velar is still capable of conquering off-road if needed. Firepower comes from a supercharged 3.0-liter V6 putting out 380hp, meaning the Velar won't lack in the pace department.
To acquire the Velar, you'll have to win the "Tiding Rover" championship.
This week's latest Photo Challenge is all about running with a partner. #BuddyUp will require you to take a picture with either another player, or any of the Drivatars roaming around.
The full event and prize list is below:
Ice Rally
Series: Cross Country Series
Cars: Modern Rally
Restrictions: B Class, 700 PI
Prizes: 15,000 CR, 25,000 CR, Ford Racing Puma
Bounce Out
Series: Dirt Racing Series
Cars: Offroad Buggies
Restrictions: B Class, 700 PI
Prizes: 15,000 CR, 25,000 CR, Alumi Craft Class 10 FE
Tiding Rover
Series: Cross Country Series
Cars: Land Rover
Restrictions: A Class, 800 PI
Prizes: 15,000 CR, 25,000 CR, Range Rover Velar
The Trial: Saved By The Bell (Co-Op Championship)
Series: Cross Country Series
Cars: Heavy Hitters
Restrictions: A Class, 800 PI
Prizes: Hummer H1
Winter Games – Series 26
Series: Playground Games
Cars: Hot Hatch
Restrictions: B Class, 700 PI
Prizes: Renault Sport Clio 197
Bamburgh Dunes Speed Trap
Season Objective: 225 mph
Rail Yard Ramp Danger Sign
Season Objective: 774.3 ft
Crescent Speed Zone
Season Objective: 106 mph
Forzathon Events
Forzathon takes a look back one of the greatest Ford sports coupes: the 1973 Ford Capri RS3100. Jump into this Essex hero to get started.
Next up, head out into the country and take the Capri for a 10 mile drive. Afterwards, put the hammer down and earn a total of 9 stars from Speed Zones.
Finally, put the Capri through its paces and earn 8 Great Skill Chains to finish the latest challenges.
Forzathon Shop
Leading this week's shop lineup is the 1998 Porsche 911 GT1. This homologation special was built to satisfy GT1 regulations, and shares very little in common with a regular 911. The mid-mounted, 3.2-liter, twin-turbocharged flat-six pumps out 536hp, more than any 911 at the time.
You'll need to part with a hefty 650 Forzathon Points to get the GT1. With successful racing pedigree, the GT1 will be a tempting offer.
Joining it is the Ford F-150 Prerunner DeBerti Design. Designed to batter off-road terrain into submission, this F150 has extensive modifications to tackle tough terrain. Providing the muscle is a 5.0-liter, twin-turbocharged V8 pushing 800hp, allowing you to get anywhere very quickly.
At 450FP, the F150 is a tempting offer, especially if you're after a truck for intimidating other road users just with its sheer presence.
Novelty items this week include the Monster Energy Cap and the Karate Master emote.
More Posts On...