Summer's golden rays of sunshine are bathing over the UK to mark a new season in Forza Horizon 4. We also mark the beginning of Series 28, with new content and new events on the table.
There's a trio of cars and a new feature on hand for the Playlist prizes this week, with prizes for 50% and 80% completion headlined by one of the first sports pickup trucks ever made.
Summer has a lot to offer, so let's take a look.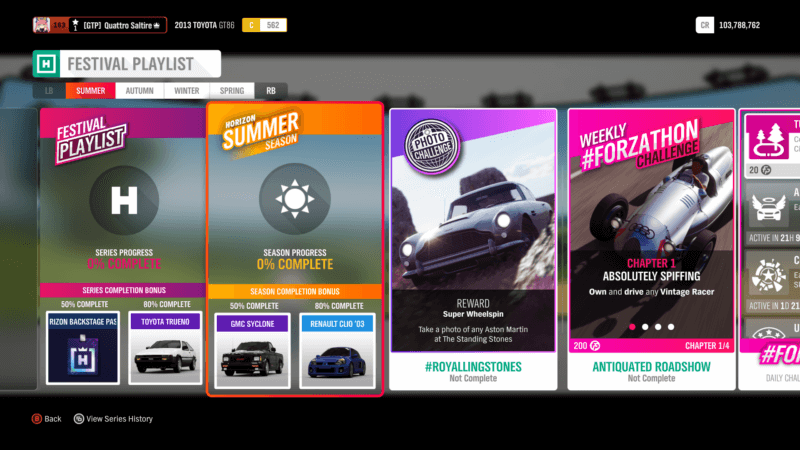 A Brewing Syclone Backstage
Heading up the prize list this week is the 1991 GMC Syclone. Taking the standard Sonoma pickup truck, GMC created one of the first high performance load-luggers of its kind.
Under the hood sits a 4.3-liter turbocharged V6 packing 280hp, the Syclone could accelerate faster than sports cars of the era. Even at the expense of towing capacity, the Syclone has become a cult hit in the world of sports trucks.
One peculiar prize up for grabs is a Horizon Backstage Pass. This comes as part of the new Horizon Backstage feature, where you'll be able to acquire a car that isn't available from the Autoshow, and to catch up on cars you may have missed from event prizes or the Forzathon Shop.
Rounding out the rest of the rewards are the 1995 Toyota Sprinter Trueno and the 2003 Renault Clio V6. Seasonal championships include the Rossion Q1 and the Ferrari 488 Pista.
One particular prize to note is the 1939 Mercedes-Benz W154. One of the most iconic cars of the pre-war grand prix era, the W154 helped gain Mercedes its coveted nickname of the "Silver Arrows". The W154 isn't short on power either, as the 3.0-liter supercharged V12 develops 475hp. With 1930s' tires, the Merc will need your deepest respect in order to tame it.
If you want the W154, you'll need to win "The Best Or Nothing" championship.
The first Photo Challenge of Series 28 will have you looking your best in an Aston Martin. #RollingStones requires you to snap your Aston at the Standing Stones.
The full events list is below:
The Best Or Nothing
Series: Dirt Racing Series
Cars: Mercedes-Benz
Restrictions: A Class, 800 PI
Prizes: 15,000 CR, 25,000 CR, Mercedes-Benz W154
We Are The Competition
Series: Road Racing Series
Cars: Ferrari
Restrictions: S1 Class, 900 PI
Prizes: 15,000 CR, 25,000 CR, Ferrari 488 Pista
Muscle Beach
Series: Street Scene
Cars: Retro Muscle
Restrictions: C Class, 600 PI
Prizes: 15,000 CR, 25,000 CR, Hoonigan Chevrolet "Napal Nova"
The Trial: Trial By Television (Co-Op Championship)
Series: Road Racing Series
Cars: Modern Supercars
Restrictions: S1 Class, 900 PI
Prizes: Rossion Q1
Spring Games – Series 28
Series: Playground Games
Cars: Sport Utility Heroes
Restrictions: A Class, 800 PI
Prizes: 2018 Jaguar I-Pace
Horizon Drag Strip Speed Trap
Season Objective: 195 mph
Outcrop Crest Danger Sign
Season Objective: 623.4 ft
Queen's Drive Speed Zone
Season Objective: 133 mph
Forzathon Events
This week, Forzathon goes back in time to put Vintage Racers in the spotlight. Pull on your driving goggles and jump into one of these timeless classics to get started.
Next up, demonstrate your old timer still has what it takes to put on a show earning two Showoff Skills during races. Afterwards, stretch the legs of your vintage racer by earning a total of 12 stars from Speed Traps.
Finally, head back to the races and earn three podium finishes in Road Racing Series events to wrap up the challenges for this week.
Forzathon Shop
The shop lineup this week is headlined by one of the most exciting Lexus models ever created.
Lexus's LFA endured one of the longest gestation periods of any modern supercar, and the results were spectacular. Under the hood lies a bespoke 4.8-liter V10 that produces 552hp and a top speed of over 200mph. The V10 will rev from idle to redline so quickly that Lexus had to fit a digital rev counter because an analog one couldn't keep up.
At 600 Forzathon Points, you'll be facing a major dent in your funds, but the Lexus is more than capable of upsetting the established elite.
Also on the menu is the 2018 Mini X-Raid JCW Buggy. Built to conquer the Dakar Rally, this Mini will go fast anywhere. With a 3.0-liter twin-turbocharged BMW diesel engine giving 345hp, the X-Raid will conquer any terrain you point it at.
The JCW comes in at 350 FP, with an opportunity to own a Mini that looks like nothing else of its type.
Novelty items this week include the Dab emote and the Halo Theme horn.
More Posts On...