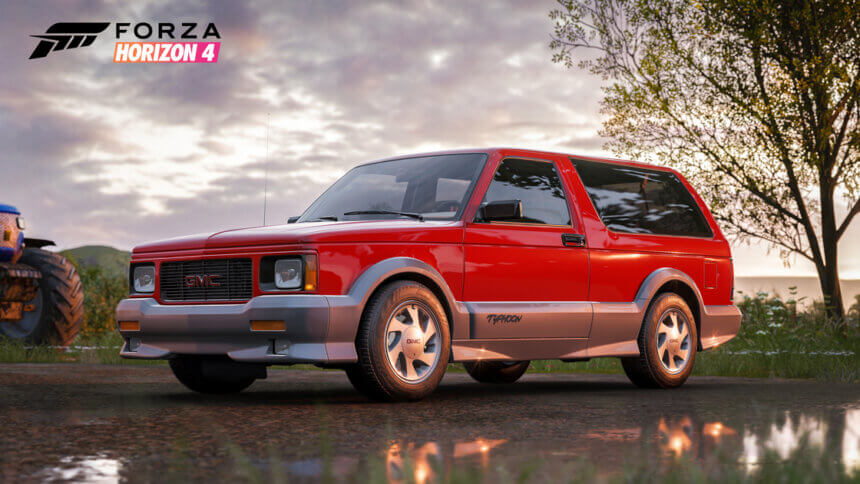 Players of Forza Horizon 4 are set to play in the snow once again this week, as the return of Winter makes itself known. Everyone will be kept warm with a new batch of events around the UK.
One of the world's first sports SUVs arrives this week, along with a fresh update to Playlist prizes for 50% and 80% completion. Let's dive in to check out what Winter is offering.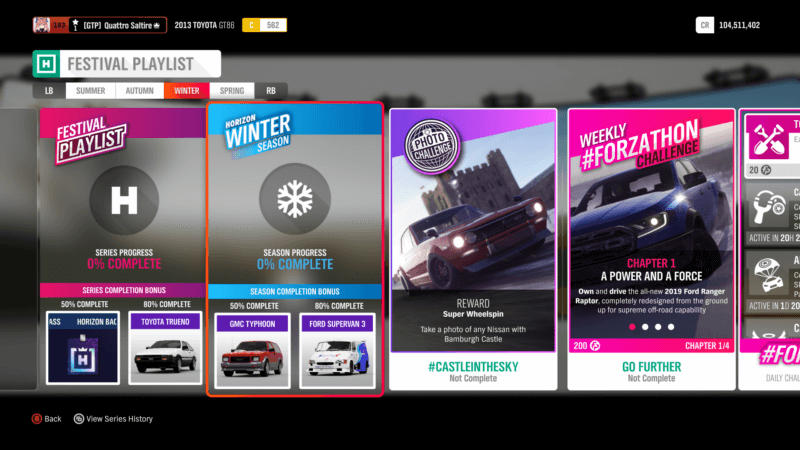 Whipping Up a Typhoon
Leading the prizes this week is the 1992 GMC Typhoon, a car which predates the current trend of high-performance SUVs by some 20 years.
Taking a standard GMC Jimmy as a base, the Typhoon puts all its focus into performance on the road. Underneath, the Typhoon is mechanically identical to the GMC Syclone pickup, meaning there's a 4.3-liter turbocharged V6 making 280hp. Despite weighing 3,800lb, the Typhoon will out-accelerate equivalent sports cars.
If you want something more extreme in a more unusual body, there's the Ford Supervan 3. The Supervan is the result of an unusual marriage between a Ford Transit van and a Ford Group C prototype. A Cosworth V8 originally powered the Supervan, but in more recent times Ford fitted a 3.0-liter V6 with a more manageable 300hp.
The latest Photo Challenge for Winter involves Nissan. #CastleInTheSky requires you to snap any Nissan at Bamburgh Castle. Prizes for seasonal championships include the 1995 Toyota MR2 and the 1994 Toyota Celica.
The most exciting prize is the 1970 Ford GT70. With the GT40 dominating the world's race tracks, Ford created another mid-engined sports car to tackle rallying. With a 2.0-liter engine making 200hp, performance was more than sufficient for the lightweight racer. The GT70 that resulted fell far short of the required 500 unit production run to qualify for homologation though, and out of six units that were built, only three saw competition outings. The project was ultimately deemed a failure after the competing cars were plagued with problems.
If you want the GT70, you'll need to participate in the Winter Playground Games.
Winter's events and prizes are listed below:
Rally 'Round The Flag
Series: Dirt Racing Series
Cars: Retro Rally
Restrictions: C Class, 600 PI
Prizes: 15,000 CR, 25,000 CR, 1994 Toyota Celica
Last Chance Saloon
Series: Cross Country Series
Cars: Super Saloons
Restrictions: A Class, 800 PI
Prizes: 15,000 CR, 25,000 CR, 2013 Mercedes E63 AMG
Beginner's Truck
Series: Cross Country Series
Cars: Offroad
Restrictions: C Class, 600 PI
Prizes: 15,000 CR, 25,000 CR, 2016 RJ Anderson Polaris RZR Trophy Truck
The Trial: Plus Ultra (Co-Op Championship)
Series: Dirt Racing Series
Cars: Japanese cars
Restrictions: B Class, 700 PI
Prizes: 1995 Toyota MR2 GT
Winter Games – Series 28
Series: Playground Games
Cars: Classic Rally
Restrictions: D Class, 500 PI
Prizes: 1970 Ford GT70
Slate Quarry Speed Trap
Season Objective: 142 mph
Arthur's Seat Danger Sign
Season Objective: 649.6 ft
Croft Speed Zone
Season Objective: 110 mph
Forzathon Events
For this week's Forzathon, the spotlight shines on the 2019 Ford Ranger Raptor. Climb aboard this baby desert basher to get started.
Next up, prove the Raptor's durability by earning 10 Crash Landing Skills while offroad. Afterwards, pull off a difficult Barrel Roll stunt to progress further.
Finally, head to the races and win 5 events. Theres's a broad selection available as any type of race event is credited towards finishing this week's challenges.
Forzathon Shop
Alfa Romeo is the main highlight for the shop this weekend, with the 33 Stradale taking center stage.
Designed with racing in mind, the 33 Stradale comes with a tiny 2.0 liter V8 making 245hp. At just over 1,500lb, the Alfa will eat up winding corners. If you maximise a tune, the Stradale will become a king of the drag strip.
The Alfa will set you back a hefty 600 Forzathon Points, but you'll save yourself from spending millions to buy one from the Autoshow.
Returning to the shop is the TVR Sagaris Forza Edition. Built as an effort to combat TVR's reputation for dangerous handling, the Sagaris features much improved road manners despite the wild styling. Under the fiberglass hood sits a 4.0-liter straight-six with 400hp. The Forza Edition also comes with a bonus Speed Skills boost.
If you want one of the rarer Forza Edition cars, then the Sagaris will be one of the best additions to your garage, and costs a more reasonable 350 FP.
This week's novelty items include the "Kraken" horn and the Back Spring emote.
More Posts On...