It was the night before Christmas, and all across Forza Horizon 4, players are once again on the road, for the latest Autumn seasonal tour. The last full season of 2020 has a new selection of events to keep everyone busy over the festive period.
A Hoonigan takeover makes up the bulk of prizes, along with fresh Playlist content for 50% and 80% completion. Let's look under the Christmas tree and take a peek at Autumn's presents.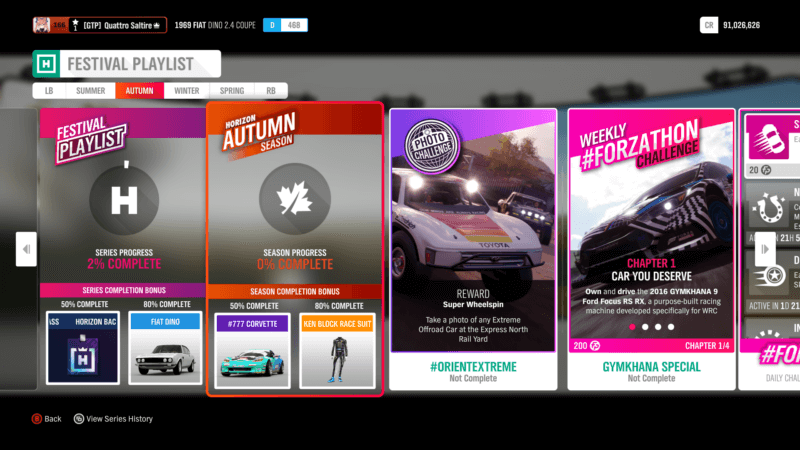 Hoonigan's Bucking Bronco
The main Playlist prize car may not be from Hoonigan, but is still wild. Chevrolet's Corvette Formula Drift has been designed to roast its tires faster than chestnuts on an open fire.
Providing the firepower is a 7.0-liter supercharged V8 producing 1,050hp. The imposing wide bodykit and mountains of torque mean you'll be making quite a statement when you turn up at the festival Christmas party.
If you want to look the part in your Hoonigan wardrobe, there's Ken Block's race suit also up for grabs.
The latest Autumn Photo Challenge will see you running around the rail yard. #OrientExtreme asks you to snap any Extreme Offroad car around the Express North Rail Yard. Seasonal championship prizes include a 1988 Holden Commodore Group A and the 1992 Toyota Celica.
As part of the Hoonigan takeover, the big prize is a heavily modified 1974 Ford Bronco. This particular Bronco belongs to Ken Block's wife, Lucy. Along with a raised ride height of 3.5 inches, the Bronco features numerous off-road modifications. The biggest change is under the hood, with the 6.4-liter V8 replaced with a 5.0-liter Coyote unit from a Mustang. With 435hp on hand, this Bronco will surprise you on the road as much as off it.
You can obtain the Bronco by winning the "Ken Block and Roll" championship.
There's also a fresh Showcase Remix for Autumn. Climb into a Chevrolet Camaro Z/28 for a duel against the Flying Scotsman in "Freight Expectations: Round 2".
The rest of Autumn's events are below:
Honda Holiday
Series: Dirt Racing Series
Cars: Honda
Restrictions: A Class, 800 PI
Prizes: 15,000 CR, 25,000 CR, Reindeer Jumper
Ken Block and Roll
Series: Cross Country Series
Cars: Offroad
Restrictions: A Class, 800 PI
Prizes: 15,000 CR, 25,000 CR, 1974 Hoonigan Ford Bronco
Rally Around The Christmas Tree
Series: Dirt Racing Series
Cars: Retro Rally
Restrictions: B Class, 700 PI
Prizes: 15,000 CR, 25,000 CR, 1992 Toyota Celica
The Trial: Flex Your Muscle (Co-Op Championship)
Series: Street Scene
Cars: Modern Muscle
Restrictions: S1 Class, 900 PI
Prizes: 1998 Holden VL Commodore Group A SV
Autumn Games – Series 30
Series: Playground Games
Cars: Super Saloons
Restrictions: A Class, 800 PI
Prizes: Cadillac XTS Limousine
Rannoch Shelf Danger Sign
Hythe House Speed Trap
Season Objective: 200 mph
The Orchards Speed Zone
Forzathon Events
Forzathon continues the Hoonigan theme by putting the spotlight on the 2016 Ford Focus RS RX. Jump aboard to get started.
Next, show your Hoonigan style but earning a total of 750,000 Skill Score. Afterwards, take the Focus to the competitive stage and claim victory in three Dirt Racing Series Scramble events.
Finally, make some noise and some smoke to earn a total of six stars from Drift Zones, bringing the curtain down on a fresh week.
Forzathon Shop
Aside from Hoonigan, the shop lineup has been taken over by McLaren. Leading the way is the 2018 McLaren 720S Preorder Car.
The standard 720S has become one of the benchmarks in the supercar world, with pace to rival a P1. This speed comes from a 4.0-liter, twin-turbocharged V8 making 710hp. As with the 650S, the 720S bristles with technology previously seen on the race track in Formula One. This Preorder edition comes with a host of upgrades to take it to the top of its class.
You'll need to be loaded if you want this 720S, because it'll set you back 1,000 Forzathon Points. However, you'll be getting a car that's more exclusive than some of the rarest Forza Editions.
Joining it is the 2019 McLaren Speedtail. Sitting alongside the Senna at the top of the Ultimate Series lineup, the Speedtail takes a very different approach. With a svelte aerodynamic body, the Speedtail hides a similar 4.0-liter twin-turbocharged V8 mated to a hybrid system. Combined, the powertrain makes 1,036hp which is enough for a top speed of 250mph. Those figures make the Speedtail the fastest and most powerful McLaren road car ever.
Thankfully, you won't need to fork out anything for the Speedtail, as it's available for free.
Christmas themed clothing available includes the Santa Hat and the Elf Hat.
See more articles on Forza Horizon 4 Season Change.
More on Forza Horizon 4