It's Easter time in the UK, which also means the beginning of a brand new Summer season in Forza Horizon 4. We're in the opening stage of Series 47, with lots more returning content to come over the next four weeks.
Prizes are going all out this week, with power-crazed machines as well as timeless classics all up for grabs in race events and completing both the seasonal and full playlist to 50% and 80%.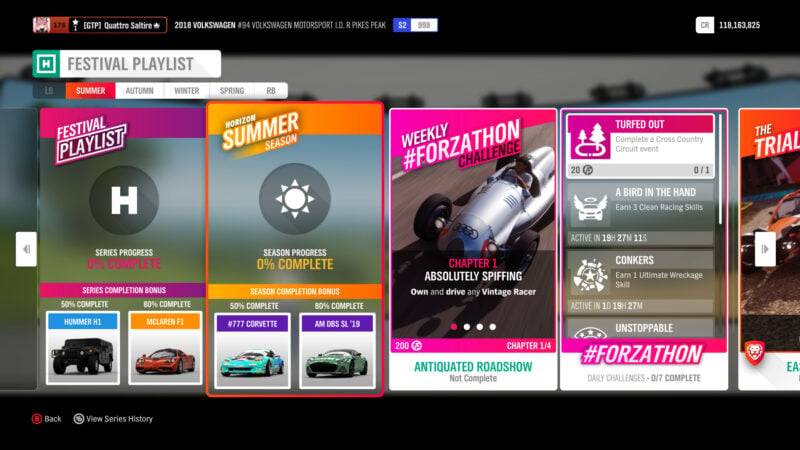 Speedy Summer Days
Taking charge of the seasonal playlist completion prizes is a very special Chevrolet Corvette.
This particular Corvette was built and raced by Matt Field in Formula Drift during the 2018 season. What originally began as a base C6, was transformed into a tire-slaying lunatic. Under the widebody kit sides a heavily modified 7.0-liter supercharged V8 making over 1,000hp. With nitrous injection and enough torque to burn through tires in seconds, this Corvette will happily smoke all day long.
Those looking for big power but more sophistication can look to the 2019 Aston Martin DBS Superleggera.
Replacing the Vanquish at the top of the GT lineup, the DBS is more than simply a DB11 in a sharper suit. The name may hark back the Italian coachbuilders at Touring Supperleggera, but the DBS is still a heavyweight at nearly 4,000lb. The 5.2-liter, twin-turbocharged V12 has been significantly boosted to make 715hp, putting the DBS as the most powerful front-engined car that Aston makes.
Complete the full Playlist over the next month and you'll get a Hummer H1 Alpha and a McLaren F1.
Head on over to the seasonal championships for a mix of prizes as varied as a basket of easter eggs, featuring cars such as the Alfa Romeo TZ2 and Renault 5 Turbo Forza Edition.
A more modern prize worth going for is the 2010 Aston Martin One-77.
Aston's most exclusive GT flagship abandons the elegant simplicity for a more aggressive stance. Despite the striking body, the One-77 is regarded as a piece of automotive art. Extensive use of carbon fibre helps keep weight down to just over 3,300lb, and uprated suspension helps to improve handling. Under the hood sits a bespoke 7.3-liter V12 making 750hp. For several years, the One-77's V12 stood as the most powerful naturally aspirated engine in the world.
If you want the One-77, you'll need to complete the latest Seasonal Summer Games.
A Showcase Remix event sees the return of "Nine & Three Quarters". For this race, you'll be strapped into a Ford Anglia for a duel against the Flying Scotsman.
The latest Monthly Rivals for Series 47 puts you behind the wheel of a 1968 Pontiac Firebird around Lakehurst Copse Circuit.
Super7 has a refreshed list of challenges if you're keen to further test your abilities. Finish all seven cards to get a Lamborghini Diablo GTR.
Latest events for Summer are listed below:
Wood Friday
Series: Road Racing Series
Cars: 1946 Ford Wagon, 1965 Morris Mini Traveller, 1953 Morris Minor Traveller
Restrictions: D Class, 500 PI
Prizes: 15,000 CR, 25,000 CR, Alfa Romeo TZ2
Scrambled Megs
Series: Dirt Racing Series
Cars: Renault Megane
Restrictions: 601-800 PI
Prizes: 15,000 CR, 25,000 CR, Renault 5 Turbo FE
Koenigsegg Hunt
Series: Street Scene
Cars: Koenigsegg
Restrictions: S2 Class, 998 PI
Prizes: 15,000 CR, 25,000 CR, Rabbit Ears
The Trial: Easter Buggy (Co-Op Championship)
Series: Cross Country Series
Cars: Offroad Buggies
Restrictions: B Class, 700 PI
Prizes: Rabbit Outfit
Summer Games – Series 47
Series: Playground Games
Cars: GT Cars
Restrictions: A Class, 800 PI
Prizes: Aston Martin One-77
Super7 – Summer
Completion Prize: Lamborghini Diablo GTR
Moorhead Wind Farm Speed Trap
Season Objective: 244 mph
Bamburgh Castle Danger Sign
Season Objective: 705.4 ft
Derwent Water Speed Zone
Forzathon Events
Forzathon turns back the clock this week as Vintage Racers are the order of the day. Grab your goggles and leather helmet before jumping aboard your chosen piece of history to get started.
Up next, drive like these old dogs were meant to be driven and perform 2 Showoff Skills during any race events. After that, let your machine really stretch its legs by earning a total of 12 stars from Speed Traps.
Finally, feel like you're back in the 1930s by earning 3 podium finishes during Road Racing Series events.
Forzathon Shop
Track specials are on the menu for the shop this week, headlined by the 2018 Apollo
Designed to pay homage to GT1 race cars of the 1990s, the Apollo features styling that would make Lamborghinis look tame in the bedroom wall poster stakes.
The slashes and vents serve a functional purpose as the Apollo is claimed to generate more than its on body weight in downforce. To give the Apollo its firepower, there's a 6.3-liter V12 making a hefty 780hp, meaning the noise will be just as spectacular as its performance.
You'll have to part ways with 600 Forzathon Points to acquire the Apollo, which will grant you one of the most unique exotics seen anywhere.
Those who want to conquer the track, but be able to drive it on the road can turn to the 2010 BMW M3 GTS.
Effectively replacing the CSL, this hardcore variant of the E92 M3 goes one step further. The M Division's crash diet drops weight by 165lb, stripping out the interior as well as fitting a roll cage and fire extinguisher. Its 4.0-liter V8 has been bored out to 4.4 liters, resulting in 444hp.
Numerous chassis upgrades including new aerodynamics help bring the M3's handling into a much sharper focus on both road and track.
The GTS is much cheaper at just 350 FP. If you choose to buy one you'll gain one of the wildest and rarest M cars ever built.
Clothing and novelty items available include the Dab emote and the Ode To Joy horn.
See more articles on Forza Horizon 4 Season Change.