A fresh coating of snow has turned the UK into an icy playground as a new Winter season kicks off in Forza Horizon 4. Although the conditions are more treacherous, the speeds continue to climb with more events now available.
Another quiet week is on the menu in terms of new content, but there's an opportunity to win a Koenigsegg racing car consigned to the pages of history. There's also an updated assortment of Festival Playlist prizes for 50% and 80% completion.
Trucks, Rally and Racing
Only one car is worth noting in the seasonal completion prizes this week, but it will make sure you won't ignore its presence: the 2019 Aston Martin DBS Superleggera.
Reviving the DBS name, Aston's super grand tourer replaces the Vanquish at the top of the pecking order. To ensure its GT dominance is unchallenged, the big Aston packs a 5.2-liter, twin-turbocharged V12 pushing 715hp. Combined with the kind of luxury only Aston martin can produce, the DBS will get you everywhere faster than you realize.
Another Horizon Backstage Pass is also available if you're looking for a rare car for your collection.
Winter's Photo Challenge is all about #GoingOffroad this week. It's a very simple objective as you just need to snap any Offroad car. Seasonal championship prizes have the Ford Focus RX Gymkhana and Mercedes X-Class pickup truck as part of the roster.
A major prize to go for is the 2008 Koenigsegg CCGT. As one of the most unlikely manufacturers to build a racing car, Koenigsegg created the CCGT to tackle GT1 sportscars. Sadly, an eleventh-hour rule change scuttled the opportunity for the Koenigsegg to compete. In order to comply with GT1 regulations, the CCGT's 5.0-liter V8 had to be pegged back to 600hp. Coupled with an aggressive aerodynamic package, and the CCGT would blow you away in the corners as well as long straights.
To get the Koenigsegg, you'll need to score a complete victory in the "Midnight Battle" championship.
Winter's Super7 events offer up a new set of challenges for this week. Complete all seven and you'll receive the iconic Porsche 917 LH.
All of the events for Winter can be found below.
Blizzard Mountains
Series: Dirt Racing Series
Cars: Hoonigan
Restrictions: S1 Class, 900 PI
Prizes: 15,000 CR, 25,000 CR, Ford Focus RS RX Gymkhana 9
Like a Boss
Series: Road Racing Series
Cars: High Rollers
Restrictions: S2 Class, 998 PI
Prizes: 15,000 CR, 25,000 CR, 1969 Ford Mustang Boss 302
Midnight Battle
Series: Street Scene
Cars: Track Toys
Restrictions: S1 Class, 900 PI
Prizes: 15,000 CR, 25,000 CR, Koenigsegg CCGT
The Trial: Tobogganing (Co-Op Championship)
Series: Cross Country Series
Cars: Extreme Offroad
Restrictions: A Class, 800 PI
Prizes: Mercedes X-Class
Winter Games – Series 34
Series: Playground Games
Cars: Offroad
Restrictions: A Class, 800 PI
Prizes: 2013 Mini Countryman X-Raid
Super7 – Winter
Completion Prize: Porsche 917 LH
Astmoor Speed Trap
Season Objective: 203 mph
Mudkickers' Showjump Danger Sign
Season Objective: 705.4 ft
Bridlewood Speed Zone
Season Objective: 134 mph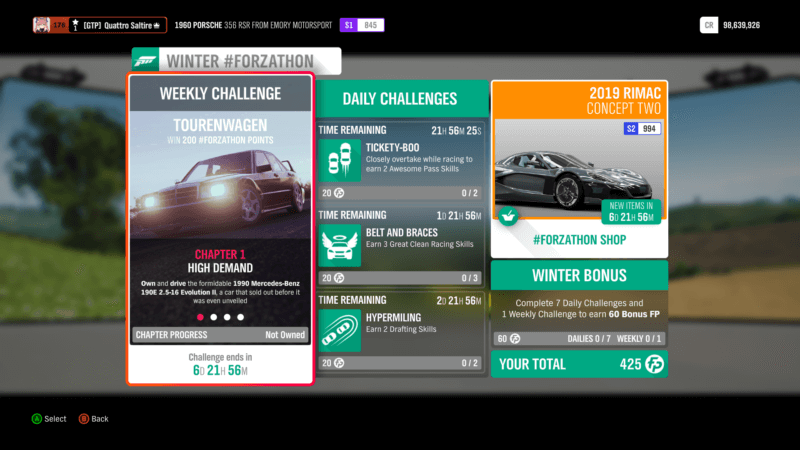 Forzathon Events
A look into the past is the main order for this week's Forzathon, with the spotlight focusing on the 1990 Mercedes 190E Evolution II. Jump into this bewinged legend to get things rolling.
Next, release every drop of power from the 190E to earn a total of 3 stars from Speed Traps. Afterwards, avoid exhibiting touring car driving behavior by earning 6 Clean Racing skills during races.
Finally, get to really know the 190E by taking it on a drive around the UK. After 20 miles, another set of challenges will be in the books.
Forzathon Shop
In recognition of Earth Day this year, the headline car for the shop this week is the 2019 Rimac C_Two.
This all-electric hypercar takes EV technology and pushes it to the very extremes of performance. Thanks to an electric motor on each wheel, the Rimac produces 1,900hp, making it the most powerful road car ever in the Festival. With zero emissions, the Rimac aims to lead the very survival of hypercars into the electric age.
You'll need to cough up a lump sum of 600 Forzathon Points for the Rimac, but in return, you'll get a hypercar that will out accelerate anything that challenges it.
If you want old-school internal combustion, there's the 1972 Chevrolet "Napalm" Nova. Based on a standard Chevrolet Nova, the Hoonigan team has turned it into a tire slaying beast. Under the hood sits a huge 7.4-liter V8 making 475hp. Hoonigan also tweaked the chassis to make sure the Nova does corners as well as demolish the standing quarter mile.
The Nova is relatively cheap at 350 FP, giving you a surprising alternative should you choose to go drag racing.
This week's novelty items are the Back Spring emote and the Funeral March horn.
Feature image courtesy of Infinity448.
See more articles on Forza Horizon 4 Season Change.
More on Forza Horizon 4