Summer has officially begun as a new season kicks off June in Forza Horizon 4. Series 36 is now underway, and players are surely eager to grab the new content.
Users can pick up a classic rotary Mazda this week, along with a fresh batch of Festival Playlist prizes for 50% and 80% completion.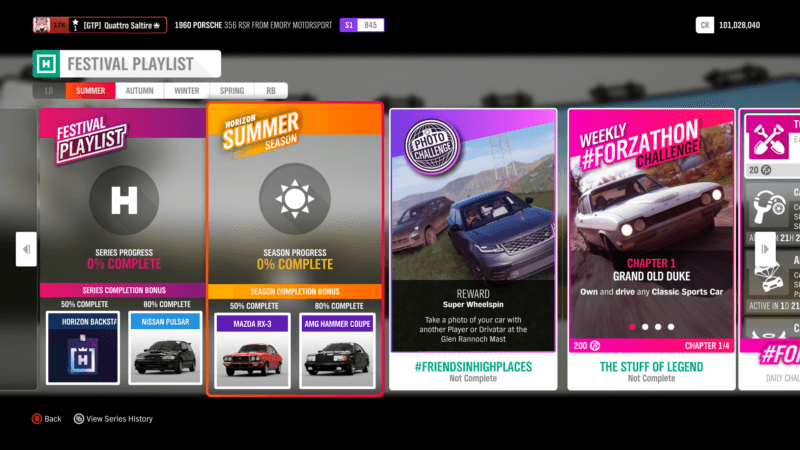 RX-3's Stirring Song
Making headlines in the seasonal completion prizes this week is the 1973 Mazda RX-3. Underneath the shell of a sensible family car sits technology handed down from an icon.
The RX-3 was the first Japanese compact family car to receive a rotary engine that made its debut in the Cosmo sports car. Intended as a more affordable offering, the RX-3 soon made rotaries a core part of the brand. Under the hood is a 1.1-liter twin-rotor engine making a sensible 110hp, but with some tweaks, you can unlock the motor's true potential.
Those wanting something more beefy can look to the 1987 Mercedes-Benz AMG Hammer Coupe. Based on a humble W124 E-Class, AMG turned a 300 CE into an M5 beater. Christened as "The Hammer", this beast put the world on notice and AMG was planted on the map. Powering the Hammer is a 6.0-liter V8 pumping out 379hp. With more old-school handling, the Hammer is much more of a muscle car than sports sedan.
Completing the Playlist prizes are a new Horizon Backstage Pass and the return of the Nissan Pulsar GTI-R.
The first Photo Challenge of Series 36 will test your climbing skills in #FriendsInHighPlaces. You'll also need to bring a friend with you (or a Drivatar) as you'll need to snap a picture together with the Glen Rannoch Mast. Seasonal championship prizes this week feature the Lamborghini Huracan Performante and Aston Martin Vanquish Zagato Coupe.
One prize of note worth going for is the 2018 Mercedes-AMG E63 S. In order to keep up with the ever-evolving M5, the E63 has not only upped the power stakes, but also increased its breadth of ability. Now featuring four-wheel-drive, the E63 can now deploy over 600hp from its 4.0-liter, twin-turbocharged V8 in any weather conditions.
To get the E63, you'll need to win the "Are We There Yet?" championship first.
You also have the opportunity to drive the Mazda Cosmo in this months Rivals event at Astmoor Rally Trail.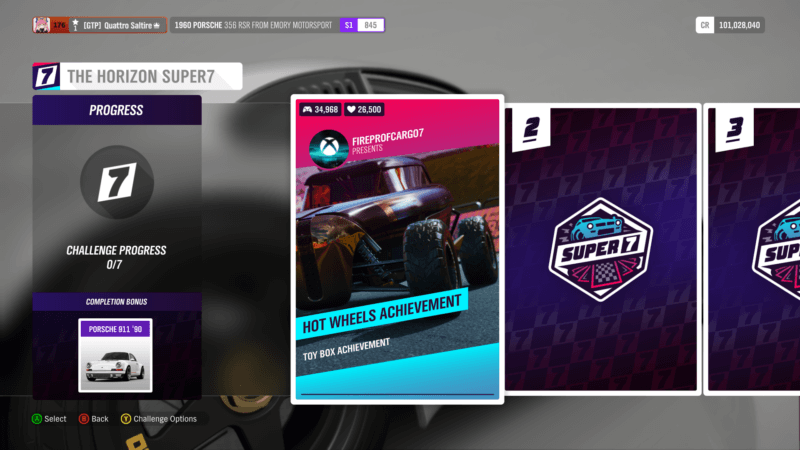 Summer events wouldn't be complete without a new set of Super7 challenges. Finish all seven cards to win the Singer Porsche 911.
The event list and corresponding prizes this Summer are below:
Beach Trip!
Series: Cross Country Series
Cars: Sports Utility Heroes
Restrictions: A Class, 800 PI
Prizes: 15,000 CR, 25,000 CR, Aston Martin Vanquish Zagato Coupe
Bon Voyage
Series: Road Racing Series
Cars: French cars
Restrictions: S2 Class, 998 PI
Prizes: 15,000 CR, 25,000 CR, Renault Clio RS 197
Are We There Yet?
Series: Dirt Racing Series
Cars: Super Saloons
Restrictions: A Class, 800 PI
Prizes: 15,000 CR, 25,000 CR, 2018 Mercedes-AMG E63 S
The Trial: Calm Before The Huracan (Co-Op Championship)
Series: Road Racing Series
Cars: Italian cars
Restrictions: S1 Class, 900 PI
Prizes: Lamborghini Huracan Performante
Spring Games – Series 36
Series: Playground Games
Cars: Rare Classics
Restrictions: B Class, 700 PI
Prizes: Ferrari 365 GTB/4
Super7 – Summer
Completion Prize: Porsche 911 Reimagined by Singer
Cat Bells Speed Trap
Season Objective: 155 mph
Broadway Windmill Danger Sign
Season Objective: 1,499.3 ft
The Bridge House Speed Zone
Season Objective: 110 mph
Forzathon Events
Turn back time this week in Forzathon, as the theme is Classic Sports Cars. Pick any one of the legends in your garage in order to get started.
Next, stretch the legs of your chosen classic by earning a total of 9 stars in Speed Zones. Following that, prepare for a long drive as you'll need to win a Road Racing Series event at The Colossus.
Finally, put all of your skills to the test by earning a total of 250,000 Skill Score to wrap up the latest challenges.
Forzathon Shop
Apollo returns to the Forzathon Shop this week, with the Intensa Emozione taking the limelight.
This track weapon is the first car to come from the marque previously known as Gumpert. Building on inspiration from GT1 racing, the Apollo's wild body produces up to 3,000lb of downforce. Look under the slashes and you'll find a 6.3-liter V12 making 780hp and enough noise to wake all the animals in the UK.
The price for this lunacy is 600 Forzathon Points, and in return you'll get a hardcore monster capable of hunting the best of the establishment.
If you want sportiness and practicality, there's the 1992 GMC Typhoon. The Typhoon caused a shock on its arrival as one of the first sports SUVs ever made. Sharing underpinnings with the Syclone pickup truck means a 4.3-liter turbocharged V6 with 280hp. Weighing in at 3,800lb, the Typhoon has enough traction to out accelerate contemporary sports cars of its era.
At 300 FP, the Typhoon is a bargain purchase, especially as its the genesis of all modern super SUVs.
Novelty items available include the Ode To Joy and Clock Tower horns.
See more articles on Forza Horizon 4 Season Change.