As a new Summer season makes its appearance in Forza Horizon 4, players at the festival will notice a major change in regards to activities.
With Series 38 now underway, the Festival Playlist now forms the Forza Mixtape, with previous events and prizes returning from between Series 7 and Series 32.
This week puts Mini in the driving seat, alongside refreshed prizes for 50% and 80% completion of the new, reshuffled Playlist.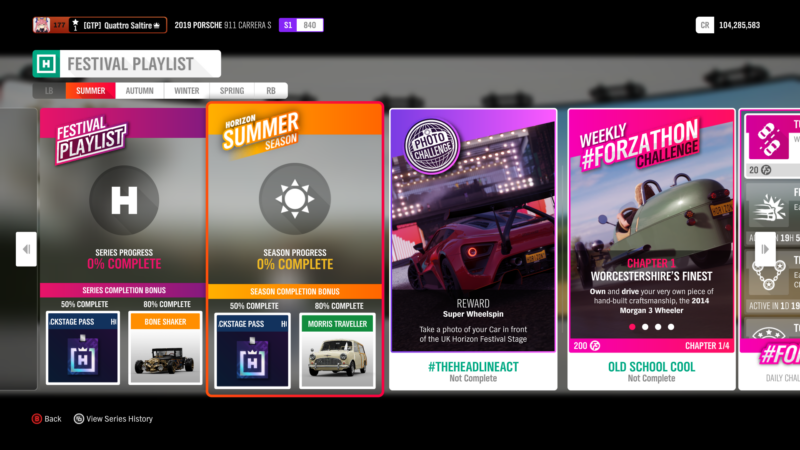 Mini In Size, Big In Character
Taking center stage for the new Playlist is the tiny Morris Mini Traveller. A more practical version of the then-revolutionary Mini hatchback would prove to be a massive success with no compromises to its nippy handling.
If you're looking for high performance, then you'll need to look elsewhere, because the Traveller only has an 800cc engine making a paltry 34hp. Perfect for darting around Edinburgh, not so good when you need to get somewhere out of the city in a hurry.
Also up for grabs is the Hot Wheels Bone Shaker. One of the most popular Hot Wheels cars around, the Bone Shaker was one of several toy models that had full sized counterparts made. The full scale version retains the signature skull face to distinguish it from classic hot rods. Under the hood sits a 5.7-liter Chevrolet V8 making a healthy 400hp, allowing this rod to rattle the bones of its opponents.
There's two opportunities this week to grab more Horizon Backstage Passes for completing 50% of both the Festival and Season playlist.
The first Photo Challenge of Series 38 kicks off in a simple manner. #TheHeadlineAct wants you to snap any car you're driving in front of the main stage at the Festival. Making up the prize pool for the Summer championships are some returning cosmetic items and the 2018 Mini John Cooper Works convertible.
One prize to look out for is the 1969 Dodge Charger Daytona. Taking the brutal Charger muscle car racing in NASCAR saw a huge battle with Ford as speeds dramatically increased. Rather than resorting to more power, the Charger Daytona turned to better aerodynamics. With a sleeker front and a huge rear wing, the Daytona became the first machine to break 200mph in NASCAR. Providing the firepower is a 7.0-liter V8 with 425hp, combined with a drag coefficient of just 0.28, which was unheard of back in 1969.
To get the Charger, you'll need to take victory in the "Locked Horns" championship.
A Showcase Remix event for Summer sees you reliving Harry Potter in "Nine and Three Quarters". For this race, you'll be strapped into a Ford Anglia before racing the Flying Scotsman to Edinburgh. Just don't expect the car to start flying.
If you're keen on doing the Monthly Rivals, the combination for this series is the Rimac Concept Two at Astmoor Heritage Circuit.
Super7 continues to throw challenges at players looking to test their skills this week. Complete the latest batch of cards and you'll win a Bugatti Type 35 C.
The rest of the events and prizes for Summer are below:
Summer Specials
Series: Dirt Racing Series
Cars: Summer Specials
Restrictions: A Class, 800 PI
Prizes: 15,000 CR, 25,000 CR, Mini John Cooper Works Convertible
Cavallino Rampante
Series: Road Racing Series
Cars: Ferrari
Restrictions: S2 Class, 998 PI
Prizes: 15,000 CR, 25,000 CR, Modern Race Suit Red
Locked Horns
Series: Street Scene
Cars: Chevrolet vs Dodge
Restrictions: S1 Class, 900 PI
Prizes: 15,000 CR, 25,000 CR, Dodge Charger Daytona
The Trial: Infiniti & Beyond (Co-Op Championship)
Series: Road Racing Series
Cars: Infiniti
Restrictions: A Class, 800 PI
Prizes: Trial T-Shirt
Spring Games – Series 38
Series: Playground Games
Cars: Cult Cars
Restrictions: C Class, 600 PI
Prizes: Fist Pump emote
Super7 – Summer
Completion Prize: Bugatti Type 35 C
Coombe Speed Trap
Season Objective: 185 mph
Arthur's Seat Danger Sign
Season Objective: 649.6 ft
Forest Green Speed Zone
Season Objective: 115 mph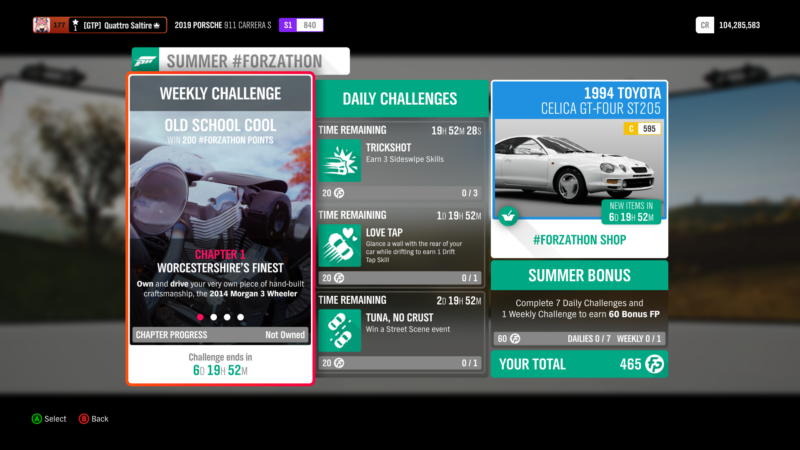 Forzathon Events
Forzathon looks at one of the most oddball, but charming British cars this week: the Morgan 3-Wheeler. Jump into this motorbike-engined trike to get rolling.
Next up, try to kick the back end out with that singe rear tire, as you'll need to earn a total of six stars in Drift Zones. After that, utilize the riotous handling to earn a Showoff Skill during a race.
Finally, test your bravery by earning five Threading The Needle Skills to bring the curtain down on a new week of challenges.
Forzathon Shop
Homologation icons are the order of the day in the shop lineup, with the 1994 Toyota Celica leading the way.
In order to continue asserting dominance in the World Rally Championship, the ST205 Celica is lighter and more powerful than the ST185 it replaced. However, despite the Celica's cult reputation, it remains one of the most infamous car in WRC history. Toyota was caught cheating during the 1995 season when illegal turbocharger restrictors were discovered on the cars. That resulted in disqualification from the championship, and sullied Toyota's motorsports reputation.
The Celica will set you back 599 Forzathon Points. If you buy one, you'll end up with one of the coolest rally cars ever made, but also one that continues to carry its controversial demons to this day.
If you're after something more raucous, there's the 1988 Holden VL Commodore Group A SV.
Built to Group A regulations in touring car racing, the Commodore was part of an initial 500 unit production run. However, high demand saw another 250 models built. The VL featured a plastic bodykit that reduced drag by 25%. The engine is a beefy 5.0-liter V8 making 241hp. Little wonder it's recognized as one of the greatest Australian cars of all time.
Costing an identical 599 FP, the VL also makes a compelling case for itself. Buy one and you'll turn many heads in the touring car arena when you show up with this.
Clothing items this week include the Pink Biker Jersey and the Pelican T-Shirt.
Feature image courtesy of sebmugi
See more articles on Forza Horizon 4 Season Change.