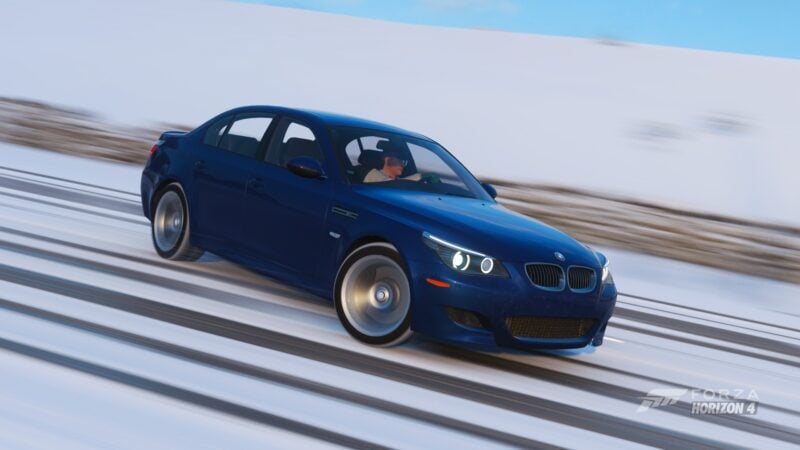 Snow is falling once more around the UK, signalling the start of a new Winter season in Forza Horizon 4. Players are continuing to traverse the tricky conditions searching for any unclaimed prizes and tying up loose ends that may have been missed.
There's a fresh chance to win a vintage Porsche in this latest season, along with more prizes for completing the updated Playlist to 50% and 80%.
Snow Preparation
This week's seasonal prizes are perfect for tackling the snow covered roads and trails around the Festival, starting with the 2018 Mini Countryman John Cooper Works.
The family crossover has been given some performance enhancements to liven up its humdrum character. Under the hood sits a BMW-sourced, 2.0-liter turbocharged engine making 228hp. Paired with a four-wheel drive system, the Countryman will easily handle the snowy conditions whilst giving some hot hatches a fright.
If you're after something tougher, there's the Land Rover Series III Forza Edition. The Defender may be an agricultural antique by today's standards, but it remains the flag bearer for all SUVs. Performance gave way to ultimate off-road capability as the 2.2-liter engine makes a modest 69hp. Despite this, you'll be pretty much unstoppable when the going gets muddy. This special Forza Edition also comes with a Destruction Skills boost.
A new Winter Photo Challenge is all about bulls and lights. #LightUpMyLambo wants you to take a picture of any Lamborghini at the Bamburgh lighthouse. The prize pool for the seasonal championships includes more off-roading Minis, with the Countryman X-Raid and JCW Buggy up for grabs.
One stand out among the off-roaders is the 1970 Porsche 914/6. Originally conceived as an entry level sports car, the 914 failed to set the world alight after Porsche's joint development venture with Volkswagen fell apart and prices rose considerably, resulting in poor sales before it was discontinued in 1973. The 914/6 features a 2.0-liter flat-six lifted from the 911 and makes 125hp. Thanks to its mid-engined balance, the 914 wants to be driven right on the edge despite the tricky conditions.
If you want to win the 914, you'll have to complete the "Deutschland's Finest" championship.
This season's Showcase Remix, is the "Ride to Anywhere". For this race, you'll be stepping into Isha's Austin FX4 Taxi for a cross-country showdown across the Scottish Highlands. Your opponent for this duel is a giant hovercraft, because of course it is.
A new set of Super7 challenges are ready for you to test your abilities during Winter. Finish each of the seven cards to win a Ford Transit SuperVan 3.
Winter events and prizes can be found below:
Rally Rivals
Series: Dirt Racing Series
Cars: Evo vs Impreza
Restrictions: B Class, 700 PI
Prizes: 15,000 CR, 25,000 CR, Best Mates emote
Deutschland's Finest
Series:Road Racing Series
Cars: German cars
Restrictions: S1 Class, 900 PI
Prizes: 15,000 CR, 25,000 CR, Porsche 914/6
Winter Wonders
Series: Cross Country Series
Cars: Winter Wonders
Restrictions: A Class, 800 PI
Prizes: 15,000 CR, 25,000 CR, Mini John Cooper Works Buggy
The Trial: Unrelenting Force (Co-Op Championship)
Series: Cross Country Series
Cars: Extreme Offroad
Restrictions: S1 Class, 900 PI
Prizes: Mini X-Raid Countryman
Winter Games – Series 38
Series: Playground Games
Cars: Classic Muscle
Restrictions: B Class, 700 PI
Prizes: Dodge Challenger R/T
Super7 – Winter
Completion Prize: Ford Transit SuperVan 3
M68 Speed Trap
Season Objective: 270 mph
The Great Ridge Danger Sign
Season Objective: 915.4 ft
Johnston Terrace Speed Zone
Season Objective: 145 mph
Forzathon Events
It's all about the Stars and Stripes for the latest Forzathon, with the spotlight shining on the 1967 Chevrolet Corvette Stingray 427. Jump into the car known as the "Mako Shark" to get started.
Next, unleash the fury of the 7.0-liter V8 by earning a total of 15 Awesome Speed Skills. After that, turn that power into tire smoke in order to get a total of 125,000 Skill Score.
Finally, give those tires further punishment as you'll have to get 9 stars in total from Drift Zones. Some potent upgrades will go a long way towards finishing the latest challenges.
Forzathon Shop
Serious supercars are on the menu for the shop lineup, headed up by the razor sharp Lexus LFA.
Following a gestation period lasting a decade, the LFA sent shockwaves following its debut. Toyota's flagship is defined by its scintillating Yamaha-developed 4.8-liter V10 making 552hp. Thanks to clever engineering, the engine is as compact as a V8, and weighs onlyy as much as a V6. Revving as high as 9,000rpm from idle in less than a second, Toyota had to fit the LFA with a digital rev counter, as an analogue one would not keep up.
The LFA will cost you a total of 599 Forzathon Points, but there are plenty of good reasons for you to pick one up instead of a Ferrari 599.
For even more track-honed performance, there's the McLaren 600LT.
Woking's second model to receive the "Long Tail" treatment is its core 570S. Weight has been stripped, resulting in a drop of 212lb from a standard 570S. Power from the 3.8-liter twin turbocharged V8 is up to 591hp, putting this Sports Series McLaren into performance once occupied by the 12C. There's also numerous aerodynamic enhancements to improve downforce, including a fixed rear wing, alter front splitter and top mounted exhausts.
With the 600LT also costing from 599 FP, you'll be faced with a dilemma over which one to take to your next exotic car meet.
Clothing accessories available include the Blue Top Hat and the Leopard Pea Coat.
See more articles on Forza Horizon 4 Season Change.