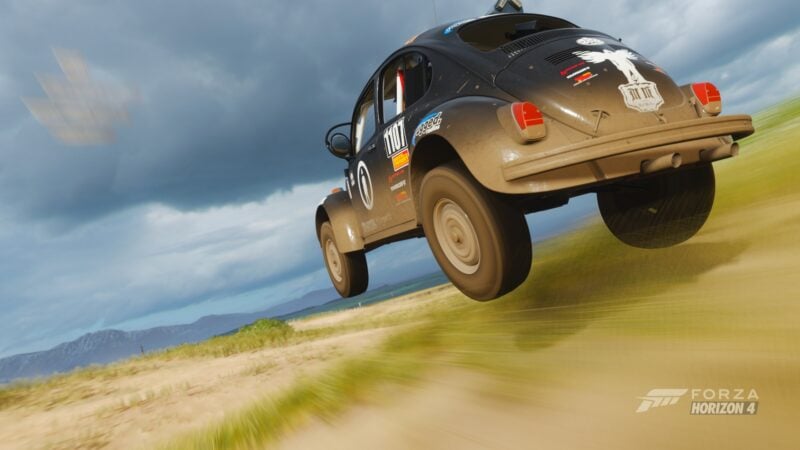 The temperature is heating up once again this week as Spring makes its return to Forza Horizon 4. We're now into the final stage of Series 39, with one last batch of content to wrap up another hectic season.
A mixed bag of machines, including a legendary Holden and a bruising Ford pickup truck are up for grabs, along with more Seasonal Playlist prizes for 50% and 80% completion
Worldwide Performance
One car takes center stage for the seasonal completion prizes, the 2017 Alpine A110. Reviving the hallowed Alpine name for a new sports car, Renault has proved that the past can be improved upon.
Built on an all-new platform, the new A110 has put light weight and driving dynamics ahead of brute power. Through extensive use of aluminium in the body and chassis, the A110 tips the scales at just over 2,400lb. Despite sharing the small, 1.8-liter turbocharged engine with the Megane RS, Alpine has proved that 248hp is more than enough to go baiting for Porsches.
There's also a fresh Horizon Backstage Pass available if you're still missing any hard to find cars.
Wrapping up the Photo Challenges for Series 39 is a trip to the quaint village of Broadway. #MillingAround wants you to snap any car you have over at the Broadway Windmill; you don't have to, but why not add some creativity by getting a dramatic shot flying off the Windmill Danger Sign. Spring's seasonal championship prize pool features the Holden Commodore VL Group A and a Ford F150 Raptor.
A standout among the prizes is the 1995 Ferrari F50. When the F40 set the world alight as the first 200mph full production road car, the F50 was faced with a herculean task as its replacement. Ferrari opted to make the F50 a "Formula 1 car for the road", by using the V12 engine from its 641 Grand Prix car.
Unfortunately, there were numerous setbacks in making the F1 engine compatible in a road car. The 3.5-liter V12 grew to 4.7 liters and produced 513hp. Even though it was one of the fastest convertibles in the world, the F50 was ultimately left behind as rivals produced even faster machines.
To win the F50, you'll have to win the "Back to the 90's" championship.
Helping to close out Series 39 is a returning Showcase Remix. "Taxi for Takeoff" sees you strap into Isha's Austin FX4 taxi for a race to the Festival against a Deltawing aircraft.
One last set of Super7 challenges is ready to bring the curtain down for Series 39. Finish all seven cards and you'll win a GMC Typhoon.
Events and prizes for Spring can be found below:
Back to the 90s
Series: Street Scene
Cars: 1990s Collection
Restrictions: S1 Class, 900 PI
Prizes: 15,000 CR, 25,000 CR, Ferrari F50
Holden to Your Hats
Series: Dirt Racing Series
Cars: Holden
Restrictions: C Class, 600 PI
Prizes: 15,000 CR, 25,000 CR, Holden Commodore VL Group A
Spring Developer Championship
Series: Dirt Racing Series
Cars: Offroad
Restrictions: A Class, 800 PI
Prizes: 15,000 CR, 25,000 CR, 2011 Ford F150 Raptor
The Trial: Porsche Cup (Co-Op Championship)
Series: Road Racing Series
Cars: Porsche
Restrictions: 100-998 PI
Prizes: 2018 Porsche Cayenne Turbo
Spring Games – Series 39
Series: Playground Games
Cars: Retro Sports Cars
Restrictions: A Class, 800 PI
Prizes: Dab emote
Super7 – Spring
Completion Prize: GMC Typhoon
Hythe House Speed Trap
Season Objective: 195 mph
Hilltop Vista Danger Sign
Season Objective: 620.1 ft
The Bridge House Speed Zone
Season Objective: 110 mph
Forzathon Events
Forzathon moves firmly into the present this week, with the spotlight moving to Modern Sports Cars. Take your pick from a boutiful selection and get started.
Up next, head over to the Moorhead Wind Farm Speed Trap, where you'll need to earn 3 stars to progress — and you will need a heavily tuned machine to reach the 3 Star target. Afterwards, it's time to channel your inner rally driver, as you have to earn an Airborne Pass Skill during a race.
Finally, wrap up the latest Forzathon by earning 2 podium finishes in Road Racing Series events.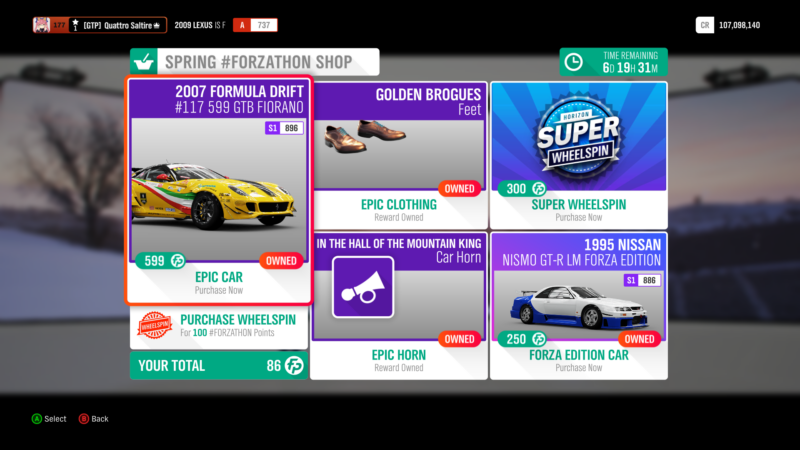 Forzathon Shop
Competition specials are the order of the day in the shop, with an unusual Ferrari 599 as the main attraction.
This particular 599 has been converted for usage in the Formula Drift championship, driven by Federico Sceriffo. Under the hood, the Enzo-derived 6.0 liter V12 has been given twin superchargers to produce over 900hp. With comprehensive chassis modifications, this 599 will happily smoke its rear tires all day.
Rather conveniently, the drift-spec 599 costs 599 Forzathon Points. If you're after a car that's different from the Formula Drift establishment, then the Ferrari will have you covered.
If you're after a unicorn, then there's the Nissan Skyline GT-R Nismo LM Forza Edition.
This wide-bodied R33 Skyline was orginally conceived as a homologation for GT1 racing. This road version does away with the GT-R's four-wheel-drive system and adopts a rear-wheel-drive layout. The 2.6-liter twin turbocharged straight-six has also been modified, producing 300hp and revving to a dizzying 10,000rpm. This special Forza Edition also has an Event Influence boost.
At 250FP, the GT-R LM Nismo is a bargain, especially when you consider that its one of the rarest cars at the Festival.
Clothing and novelty items available include the Golden Brogues and the "In The Hall of the Mountain King" horn.
See more articles on Forza Horizon 4 Season Change.