The summer sun has given way to darkening skies as a new Autumn season begins in Forza Horizon 4. As days continue to count down before the festival heads to Mexico, players are rushing to finish any events they missed from previous seasons.
Prizes this week are largely European-themed, with updated rewards for completing the seasonal playlist to 50% and 80% as well.
A European Reunion
One car diverging away from the Europe theme is the 1965 Pontiac GTO, a car which put brutish American performance on the map.
Starting with a normal Pontiac LeMans, General Motors would go on to create the very first American muscle car. Under the hood sits a 6.4-liter V8 making 360hp, which made it one of the most powerful cars in its class during the 1960s. Despite the GTO name being… "borrowed" from Ferrari, the Pontiac would go on to become an American legend.
If your festival collection is missing any particular cars, there's also a new Horizon Backstage Pass available for 50% completion.
The latest Photo Challenge takes you deep into the Scottish Highlands to a very famous bridge. #Trainspotters wants you to snap any car you have at the Glenfinnan Viaduct. Add some extra spice by trying to include the Flying Scotsman passing by.
Some highlights of Autumn's seasonal championship prize pool include the Mercedes G65 AMG and McLaren 12C.
One rare prize to aim for is the 2002 BMW M3 GTR. With only six units ever built for homologation purposes, the GTR is a unicorn among BMW enthusiasts. This E46 was the first M3 to use a V8 engine, with the 4.0-liter unit producing 380hp. Extensive use of carbon fiber helps to offset the extra weight coming from the bigger engine.
To bring home the GTR, you'll have to win the "FR Spotlight" championship.
A returning Showcase Remix brings back an old clash of video game worlds. "Pillar of Autumn" has you suit up as Halo's iconic Master Chief and race a Warthog against a Pelican dropship.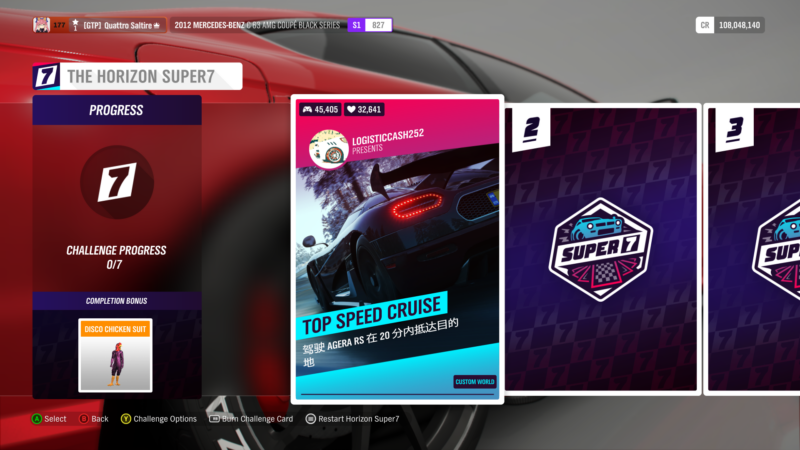 If you're keen to put your skills through some tougher tests, there's a new set of Super7 challenges available. Finish all seven cards to receive a Disco Chicken Suit.
You can find the events and prize list for Autumn below:
Mclaren Cup
Series: Road Racing Series
Cars: Mclaren
Restrictions: S2 Class, 998 PI
Prizes: 15,000 CR, 25,000 CR, McLaren 12C
FR Spotlight
Series: Road Racing Series
Cars: Front-engine, rear-wheel-drive cars
Restrictions: S1 Class, 900 PI
Prizes: 15,000 CR, 25,000 CR, 2002 BMW M3 GTR
Full Throttle
Series: Street Scene
Cars: Nissan Skyline GT-R
Restrictions: B Class, 700 PI
Prizes: 15,000 CR, 25,000 CR, Nissan Skyline GT-R Nismo LM
The Trial: Heavy Haul (Co-Op Championship)
Series: Dirt Racing Series
Cars: Trucks
Restrictions: B Class, 700 PI
Prizes: Mercedes X-Class
Autumn Games – Series 40
Series: Playground Games
Cars: Extreme Offroad
Restrictions: A Class, 800 PI
Prizes: Mercedes G65 AMG
Super7 – Autumn
Completion Prize – Disco Chicken Suit
Bamburgh Castle Danger Sign
Season Objective: 715.2 ft
Lower Fell Speed Trap
Season Objective: 210 mph
Glen Rannoch Speed Zone
Forzathon Events
Forzathon goes big this week, and there's nothing on the roads bigger than a semi-truck. Jump aboard the Mercedes Tankpool24 Racing Truck to get started.
Next, dominate the streets by hauling your Merc truck to victory in three Street Scene events. Afterwards, show why semi-trucks aren't always slow by earning 3 stars at any Speed Trap.
Finally, cause carnage on the roads by earning 10 Trading Paint Skills to wrap up the latest challenges.
Forzathon Shop
Rare breeds are hightlighted in the Autumn shop lineup, lead by the 1990 Nissan Pulsar GTI-R.
Homologated for rallying, the Pulsar is often forgotten about when compared to rival Group A machines. However, the Nissan has more than enough grunt to keep the competition in check. The Pulsar's 2.0-liter turbocharged engine is shared with the Silvia, meaning a healthy 227hp. Channeling that power through a four-wheel-drive system means the Pulsar has enough traction to keep up with more modern hot hatches.
At 599 Forzathon Points, the GTI-R is expensive, but in a world of Imprezas, Evos and Delta Integrales, you'll be turning plenty of heads on the dirt trails.
Those after a car they could take to a concours event can look to the 1954 Mercedes 300SL.
Arguably one of the most beautiful cars ever created, the Merc looked like nothing else on the road in the 1950s. Aside from the signature gullwing doors, the 300SL has motorsport-inspired pedigree. The 3.0-liter straight-six also featured in the W194 racing car, and produces 240hp in the 300SL. As a result, the Gullwing could hit over 160mph, making it the fastest car in the world in 1954.
You'll need to fork out 599 FP for the Merc, which will help prevent you from dropping a large sum of credits in the Autoshow.
Clothing this week includes the Heart Slip-ons and the Snow Boots.
See more articles on Forza Horizon 4 Season Change.