The UK is waking up to a snow-covered wonderland as a fresh Winter season begins in Forza Horizon 4. Despite the biting cold, players are still determined to grab the latest prizes hidden among the snow.
This week sees four-wheel drive at the heart of the prize pool, along with popular returning rewards for completing 50% and 80% of the latest seasonal Playlist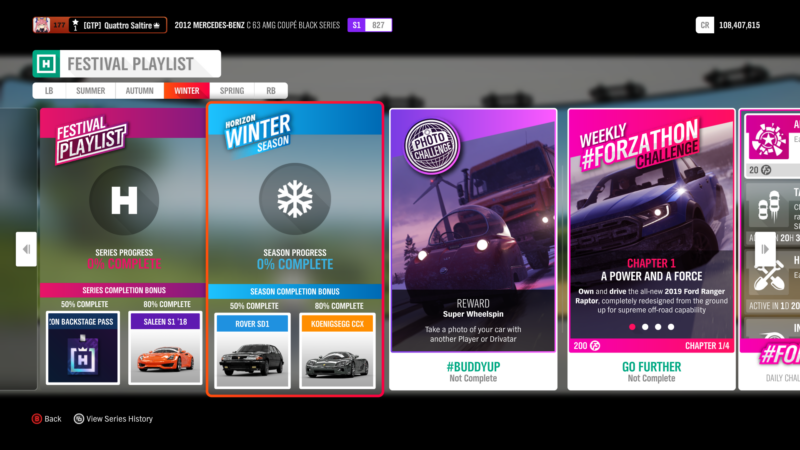 Ice Cold Speeders
During weather where four-wheel drive grip is needed, the latest seasonal prizes lack in that critical area. However, they more than redeem themselves in other ways, kicking off with the 1984 Rover SD1 Vitesse.
British Leyland's flagship executive sedan was praised for its Ferrari Daytona-inspired styling, making the Rover stand out in a sea of humdrum shapes. The Vitesse would go on to have a successful career in British touring car racing during the late 1980s. Under the hood sits Rover's iconic 3.5-liter V8 making 190hp. With some engine and suspension modifications, you can turn the SD1 into a serious weapon.
If you want to truly test your skills on the icy roads, there's the 2006 Koenigsegg CCX. Intended to replace the CCR, the CCX was supposed to be more comfortable and easier to drive than before. Until you put your foot down and realise the CCX is just as wildly vicious. Unlike the Ford-derived engine in the CC8S, the CCX features an in-house developed 4.7-liter twin supercharged V8. With 806hp going to just the rear wheels, you'll have to be giving it 110% to tame this beast on the snow and ice.
The newest Winter Photo Challenge needs you to find a friend. #BuddyUp requires you to take a picture with either another player while online, or with one of the Drivatars you can find wandering across the map. Seasonal championship prizes include the Ford Fiesta Global Rallycross and the Chevrolet Colorado ZR2.
A highlight of the prizes is the 2018 Mercedes-AMG GT 4-Door. Giving the GT sports car more practicality would normally create a conflict of interest with the E63 AMG, but the GT sedan has been given a further performance boost to set it apart. The swooping fastback body hides a 4.0-liter, twin-turbocharged V8, tweaked to make 630hp. With an advanced four-wheel-drive system, the GT may very well be the ultimate all-weather super sedan.
To get the AMG GT sedan, you'll have to win the "AWD Spotlight" championship.
Winter's Showcase Remix is another trip in Isha's Austin FX4 Taxi. "Morning Rush" will have you racing from the Scottish Highlands to Edinburgh against the Flying Scotsman.
Winter also has a fresh set of Super7 challenges waiting to be conquered. Complete all seven and you'll recieve a Koenigsegg CCGT.
Read on further for Winter's events and prizes:
Ford Cup
Series: Road Racing Series
Cars: Ford
Restrictions: A Class, 800 PI
Prizes: 15,000 CR, 25,000 CR, Ford Mustang RTR Spec 5
AWD Spotlight
Series: Road Racing Series
Cars: AWD cars
Restrictions: S1 Class, 900 PI
Prizes: 15,000 CR, 25,000 CR, Mercedes-AMG GT 4-Door
Snowball Fighter
Series: Cross Country Series
Cars: Rally Monsters
Restrictions: S1 Class, 900 PI
Prizes: 15,000 CR, 25,000 CR, Ford Fiesta #14 Global Rallycross
The Trial: Natural Habitat (Co-Op Championship)
Series: Dirt Racing Series
Cars: Volvo V60 Polestar
Restrictions: B Class, 700 PI
Prizes: Chevrolet Colorado ZR2
Winter Games – Series 40
Series: Playground Games
Cars: Rally Monsters
Restrictions: S1 Class, 900 PI
Prizes: Mexican Hat Dance horn
Super7 – Winter
Completion Prize: Koenigsegg CCGT
The Roman Mile Speed Trap
Mudkickers' Showjump Danger Sign
Season Objective: 715.2ft
Derwent Water Speed Zone
Forzathon Events
To celebrate Winter, Forzathon highlights a perfect vehicle for the job of tackling the harsh environment: the 2019 Ford Ranger Raptor. Hop into this snow drift-bashing pickup to get started.
Up next, test the durability of the Raptor's suspension by earning a total of 10 Crash Landing Skills. After that, you'll need to muster all your ability to land a Barrel Roll skill.
Last but not least, head off to the races and take victory in five events. You're given a free choice of discipline, so can choose any race from road to dirt and cross country.
Forzathon Shop
Legends are in the spotlight for the shop this week, with the 1994 Toyota Celica GT-Four taking center stage.
Toyota's dominance in the World Rally Championship can be highlighted by the ST205 generation Celica. Unfortunately its legacy is remembered for the wrong reasons, as Toyota was disqualified from the championship in 1995 following its infamous cheating scandal.
The road-going Celica is still remembered as a JDM cult icon. There's a 2.0-liter turbocharged engine under the hood, making a healthy 255hp. Thanks to four-wheel-drive, the Celica has the pace to keep up with more modern rivals in any weather.
You'll have to part with 599 Forzathon Points to get the Celica, but in return you'll have one of the greatest rally-bred homologations of all time.
If you want a true legend, look no further than the 1993 McLaren F1.
Arguably one of the most iconic supercars ever made, the F1 moved the goalposts so far beyond the competition that it took until the Koenigsegg CC8S and Bugatti Veyron to mount a considerable challenge in the early-mid 2000s.
The F1 was designed and built without compromise, featuring a central driving postion, a carbon fiber monococque and a manual gearbox. Providing the firepower is a 6.1-liter BMW V12 making 627hp. While it may not sound like much power in modern terms, it was enough to help the F1 reach a 240mph top speed.
At 150 FP, the F1 is a bargain, especially as its status is held higher than the cars that would later take its top speed crown.
This week's clothing features the Artist's Hoodie and the Yellow Biker Helmet.
See more articles on Forza Horizon 4 Season Change.