As the rain drops fall around the UK, a new Spring season is kicking into high gear in Forza Horizon 4. It's the final week of Series 40 and players are rushing to finish up the latest events before the next series arrives.
A classic Ferrari and an aggressive modified Jeep are part of the prize pool this week, along with more rewards for 50% and 80% completion of the seasonal playlist.
Full Throttle
There's one notable car in the seasonal playlist rewards for Spring: the 2001 TVR Tuscan S.
One of the wildest cars to come out of Blackpool, the Tuscan has survived numerous attempts to neuter its wayward handling. The flagship S features a 4.0-liter straight-six producing 390hp. Coupled with a weight of just over 2,400lb, the Tuscan can perform on par with Porsches. However, you'll need all of your skill to handle this beast, as it'll be very difficult to recover if you make a mistake.
A new Horizon Backstage Pass is also available if you're in need of finding a more exclusive car.
The last Photo Challenge of Series 40 wants you to be a Hoonigan. #KenBlockbuster requires you to snap any Hoonigan car you have in your garage. Spice up your pics by throwing huge Gymkhana powerslides at any opportunity. Seasonal championship prizes feature the Renault 5 Turbo Forza Edition and the Jeep Wrangler DeBerti Design.
One prize to go for is the 1969 Ferrari Dino 246 GT. Meant to be positioned as a sub-brand for Maranello's non-V12 cars, the Dino 246 was an entry-level model in the portfolio. Under the beautiful Pininfarina body sits a 2.4-liter V6 designed by Enzo Ferrari's son Alfredo, after whom the Dino brand was named. That engine produces 199hp, and gave the 246 sprightly performance thanks to being much lighter than the big V12 Ferraris.
If you want the Dino, you'll need to win the "MR Spotlight" championship.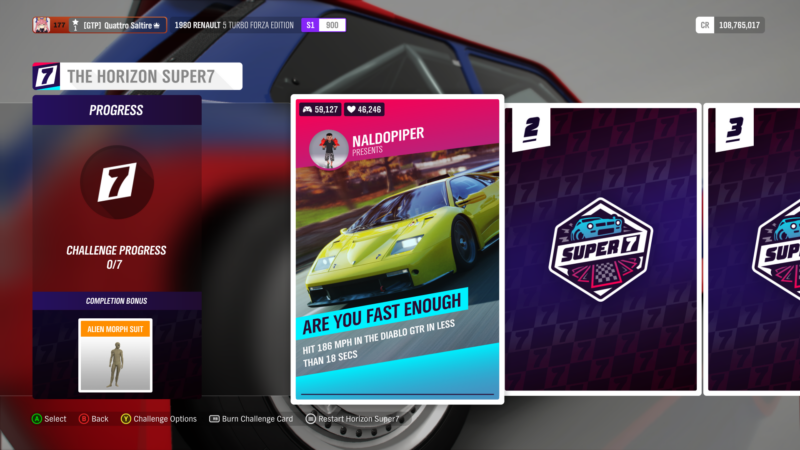 Close out Series 40 with a final set of Super7 challenges. Complete all seven cards and you can add an Alien Morph Suit to your avatar wardrobe.
Spring's events and prizes are listed down below:
Sacré Blur
Series: Street Scene
Cars: French cars
Restrictions: S2 Class, 998 PI
Prizes: 15,000 CR, 25,000 CR, Renault 5 Turbo FE
Culture Icons
Series: Road Racing Series
Cars: Cult Cars
Restrictions: C Class, 600 PI
Prizes: 15,000 CR, 25,000 CR, Sequined Flatcap
MR Spotlight
Series: Road Racing Series
Cars: Mid-engined, rear-wheel-drive
Restrictions: S2 Class, 998 PI
Prizes: 15,000 CR, 25,000 CR, Ferrari Dino 246 GT
The Trial: Mud Bath (Co-Op Championship)
Series: Cross Country Series
Cars: Offroad
Restrictions: B Class, 700 PI
Prizes: Jeep Wrangler Unlimited DeBerti Design
Spring Games – Series 40
Series: Playground Games
Cars: Super Hot Hatch
Restrictions: B Class, 700 PI
Prizes: Freestyle emote
Super7 – Spring
Completion Prize: Alien Morph Suit
Deep Vale Speed Trap
Leap of Faith Danger Sign
Season Objective: 449.5ft
Foothills Speed Zone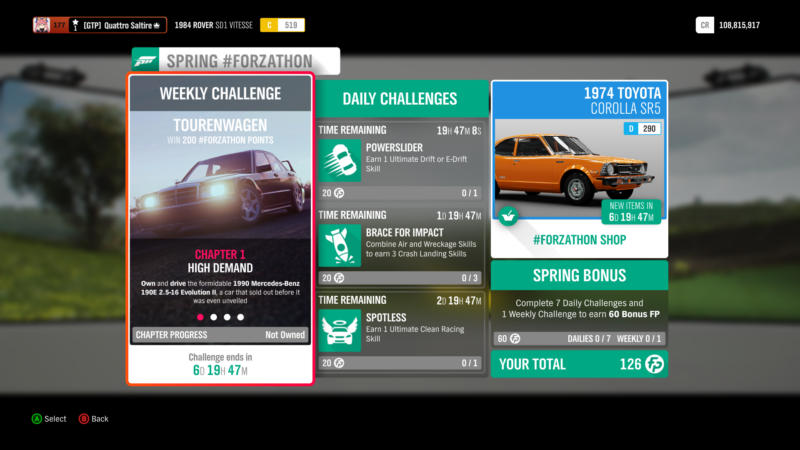 Forzathon Events
This week Forzathon looks towards a German touring car icon; the Mercedes 190E. Take the wheel of this legend to kick things off.
Next, put the 190E's performance through its paces by earning 3 stars from Speed Traps. Afterwards, demonstrate professional driving standards by earning 6 Clean Racing Skills during events.
Finally, take the 190E for a long drive around the UK countryside. With the Merc's playful character, 20 miles will flash by quickly.
Forzathon Shop
This week's shop lineup comes down to earth with a pair of humble offerings available, starting with the 1974 Toyota Corolla SR5.
The second generation of one of the best selling cars of all time represented Toyota expanding to markets outside Japan. This SR5 model intended to add some sporting flavor with flared fenders and retuned suspension. Performance is on the much less sporty side, as the 1.6-liter engine makes 88hp.
At 599 Forzathon points, the Corolla is quite expensive. We recommend searching for a better deal in the Auction House if you are after one.
If you want to be humble, but want to embarrass unsuspecting rivals, there's the 2010 Volkswagen Golf R.
Replacing the R32 at the top of the Golf range, the R was designed in the face of increasing demands for improved fuel economy and lower emissions. As a result, the 3.2-liter V6 was dropped in favor of a 2.0-liter, turbocharged four-cylinder making 265hp. The smaller engine also brought more dynamism thanks to less weight in the nose. Add in the Golf's four-wheel drive system, and this hot hatch could run hard in any condition.
The Golf will cost you 350 FP and will serve as a surprising sleeper should you want to race against front-driven opponents.
Clothing for this week features the Metallic Tank Top and Yellow Biker Gloves.
See more articles on Forza Horizon 4 Season Change.