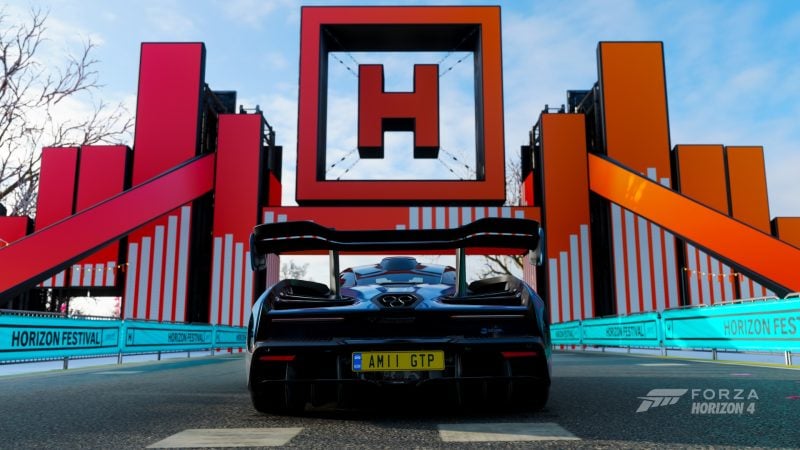 The latest Winter season in Forza Horizon 4 sees an air of change hover over the Festival. The launch of Forza Horizon 5 is imminent, and players are scrambling to finish up the latest events before jetting off to Mexico.
It's a largely off-roading theme for prizes this week, as well as a fresh set of Seasonal Playlist rewards for 50% and 80% completion.
Drifting To Victory
One prize commands center stage for the seasonal rewards, the 2019 Hennessey Velociraptor 6×6.
The American tuner has taken the already intimidating Ford F150 Raptor, and turned it into a high powered weapon. The key feature is the addition of the extra rear axle for six-wheel drive. Ground clearance has also been raised for better offroad ability. It'll also demolish tarmac roads thanks to a 3.5-liter, twin-turbocharged V6 making 600hp.
If you're still in need of an exclusive car before the festival leaves the UK, there's another Horizon Backstage Pass available.
The Winter Photo Challenge blends British and Japanese heritage. #CastleInTheSky wants you to snap any Nissan in your collection over at Bamburgh Castle — if you feel like making the title more appropriate, take a Skyline. Championship prizes feature the Jeep Grand Cherokee SRT and the Volkswagen Class 5 Baja Bug.
Away from the offroaders, the highlight prize is the 1968 Pontiac Firebird. The first generation of this iconic muscle car shares much in common with the Chevrolet Camaro, but with more aerodynamic styling.
Pontiac's version also differs from the Camaro in terms of engines. This particular version features a 6.6-liter V8 making 343hp, which may not be ideal should you choose to do any drag racing on the slippery roads.
You'll need to win the "Muscle Creatures" championship to bring home the Firebird.
New Super7 challenges are primed and ready to be beaten during these colder temperatures. Finish all seven cards to win a Toyota 2000GT.
Winter's events and prizes are below:
Muscle Creatures
Series: Road Racing Series
Cars: Classic Muscle
Restrictions: B Class, 700 PI
Prizes: 15,000 CR, 25,000 CR, 1968 Pontiac Firebird
Bugs and Hisses
Series: Dirt Racing Series
Cars: Track Toys
Restrictions: S1 Class, 900 PI
Prizes: 15,000 CR, 25,000 CR, VW Class 5 Baja Bug
Jeepers Creepers
Series: Cross Country Series
Cars: Jeep
Restrictions: A Class, 800 PI
Prizes: 15,000 CR, 25,000 CR, Jeep Grand Cherokee SRT
The Trial: Gone Haunting (Co-Op Championship)
Series: Cross Country Series
Cars: Extreme Offroad
Restrictions: S1 Class, 900 PI
Prizes: Toyota T100 Baja Truck
Winter Games – Series 41
Series: Playground Games
Cars: Retro Rally
Restrictions: B Class, 700 PI
Prizes: Witch's Hat
Super7 – Winter
Completion Prize: Toyota 2000GT
Copse Speed Trap
Rannoch Shelf Danger Sign
Season Objective: 574.1ft
Carden Creag Speed Zone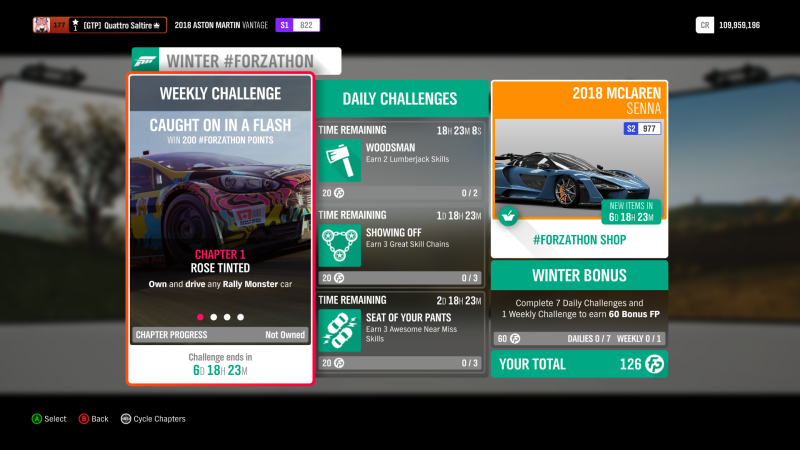 Forzathon Events
Forzathon gets down and dirty with Rally Monsters for this weeks theme. Climb into any of the beasts in your collection to get rolling.
Next, demonstrate your best Gymkhana impression by earning a total of 20 Ultimate Drift or Ultimate E-Drift Skills. Afterwards, put your bravery skills to maximum as you'll need to earn 15 stars from Speed Zones.
Finally, put your chosen rally machine through the rigours of racing by earning victory in 3 Dirt Racing Series events to bring another winter to a close.
Forzathon Shop
Hardcore is the order of the day in the shop, with the main stage occupied by FH4's cover star: the 2018 McLaren Senna.
Indirectly replacing the P1 in McLaren's Ultimate Series lineup, the Senna is the most track focused car from Woking below a GT3 racer. Naming the car after the iconic Formula 1 champion also places a great deal of expectation on the Senna to perform.
The Senna's styling has been sculpted to ensure maximum downforce, with a claimed 800kg thanks to advanced active aerodynamics. Practicality is not on the Senna's agenda, allowing it to tip the weighing scales at 2,800lb. The 4.0-liter, twin-turbocharged V8 has been tweaked to produce 789hp, making the Senna the most powerful non-hybrid McLaren.
That all comes in at a bargain 150 Forzathon Points. Buy one and relive the memories of first arriving to the festival before Mexico comes calling.
Meanwhile the other option on the list, the 2020 Ford Mustang Shelby GT500, does hardcore with no sophistication.
Ford's goal was simply to make the most powerful road-going Mustang from the factory. The 5.2-liter V8 from the GT350R has been supercharged, taking power up to 760hp. Despite aerodynamic upgrades and revised suspension to aid handling, the GT500 is most at home on the drag strip, but you'll still need to be on your guard when you put all that power on the road.
The Shelby is much more expensive at 599FP. However, you'll have a lot of fun embarrassing Hellcat owners should when you roll up to a quarter mile.
Clothing and novelty items up for grabs include the Cash Register horn and the Clown Mask.
See more articles on Forza Horizon 4 Season Change.