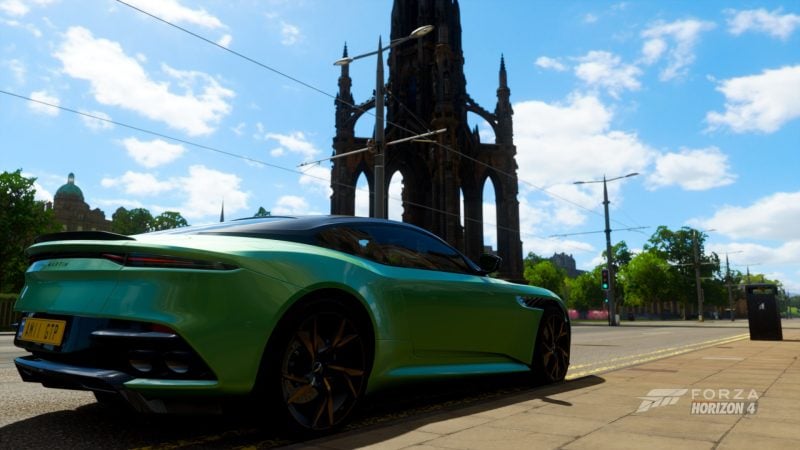 Summer has made a return appearance to the UK in Forza Horizon 4 this week. The beginning of Series 42 heralds a fresh mixed up set of events and more returning prizes.
A mix of past and present machines are part of the prize pool, along with updated Playlist rewards at 50% and 80% completion.
Old and New Collide
Seasonal playlist completion rewards have just one car worth noting: the 1967 Mercedes-Benz 280 SL.
This second generation of Merc's drop top grand tourer earned the nickname of "Pagoda" thnaks to the design of its removable hard top roof. The 280 SL was the flagship of the range, offering high performance for its time as well as comfort for road trips. Providing the power is a 2.8-liter straight-six with 180hp, which is more than enough for cruising down by the seaside.
There's a couple of new Horizon Backstage Passes available for seasonal and full Playlist completion, plus the bonkers Mosler MT900S.
Hit the trails for the first Photo Challenge of Series 42 with #GoingOffroad. Here, you'll need to snap any Offroad carin your collection. Take a picture whilst offroad to add some flair. Prizes for Summer's seasonal championships include the Maserati Levante and Plymouth Fury.
The main course this week comes in the form of the very angular Lamborghini Reventon. This kicked off a modern era of exclusive limited run models commanding a high price premium. The styling of the Reventon is inspired by the F-22 Raptor stealth fighter, and also provided a baseline for the Aventador. Inside, the dashboard features a new TFT digital display which also features an aeronautical theme.
Underneath, the mechanicals are lifted straight from the Murcielago LP640, but with minor tweaks. That means the 6.5-liter V12 makes 641hp to take it just above the LP640. Drive one and you'll certainly sneak under the radar in many places.
To get the Reventon, you'll need to win the "Forest Run" championship.
The latest Monthly Rivals for Series 42 features the Aston Martin DBS Superleggera at Broadway Village Circuit.
More Super7 challenges are primed and ready during Summer. Complete each of the seven cards to win a Formula Drift Ferrari 599.
Read on further for Summer's events and prizes:
Commuter's Cup
Series: Road Racing Series
Cars: Bowler EXR S
Restrictions: 100-900 PI
Prizes: 15,000 CR, 25,000 CR, Maserati Levante
Forest Run
Series: Road Racing Series
Cars: Anything Goes
Restrictions: 100-900 PI
Prizes: 15,000 CR, 25,000 CR, Lamborghini Reventon
Racing Through The Years – 50s
Series: Cross Country Series
Cars: 1950s cars
Restrictions: D Class, 500 PI
Prizes: 15,000 CR, 25,000 CR, Plymouth Fury
The Trial: Midsummer Mazdaness (Co-Op Championship)
Series: Dirt Racing Series
Cars: Mazda
Restrictions: B Class, 700 PI
Prizes: Trial Leather Jacket
Summer Games – Series 42
Series: Playground Games
Cars: Retro Rally
Restrictions: B Class, 700 PI
Prizes: Blue Aviators
Super7 – Summer
Completion Prize: Ferrari 599 Formula Drift
Northbridge Speed Trap
Season Objective: 180 mph
Swan Dive Danger Sign
Season Objective: 984.3 ft
Sudmoss Speed Zone
Season Objective: 150 mph
Forzathon Events
Forzathon is engaging in a need for speed, with the spotlight shining on one of the fastest road cars ever made; the 268mph Bugatti Veyron Super Sport. Jump into this W16-powered rocket to get started.
Next, find a long enough straight and put your foot down in order to earn a total of 30 Ultimate Speed Skills. Afterwards, keep that speed up so you can earn 12 stars from Speed Traps.
Finally, wrap up the latest Forzathon by turning your ultimate Bugatti into a gymkhana monster and earn 4 Ultimate Skill Chains.
Forzathon Shop
Past and present are also part of the shop lineup for Summer, headlined by the 1966 Ford GT40.
This Mk2 version helped to end Ferrari's domination at the Le Mans 24 Hours by locking out the podium. It would also bring forth an era of dominance for the Blue Oval, with victories to follow from 1967 to 1969. The Mk2 GT40 features a beefy 7.0 liter V8 making 485hp, and its slippery body would help it top 200mph down the Mulsanne Straight.
You'll need 300 Forzathon Points for the GT40, which will help you save millions from needing to purchase one from the Autoshow.
Joining the Ford is the star of this months Rivals event; the Aston Martin DBS Superleggera.
Despite the name harking back to the legendary Italian coachbuilders, the replacement for the Vanquish is hardly a lightweight despite being 168lb lighter than a DB11. Aston's flagship GT is also the most powerful front-engined car it has ever made, with the 5.2-liter, twin-turbocharged V12 making 715hp.
The DBS is a lot more expensive at 599 FP, but with a car that has such striking good looks and bombshell power, its a hard choice to ignore.
This week's clothing and novelty accessories are the Steam Boat horn and the Spring Sweater.
See more articles on Forza Horizon 4 Season Change.