As a white blanket of snow settles across the UK, a brand new Winter season is helping to kickstart December in Forza Horizon 4. Players are getting an early start on Christmas preparations with the latest set of prizes in among the snow.
A mix-and-match array of prizes are all up for grabs this week, along with a fresh update to the rewards for finishing 50% and 80% of the seasonal playlist.
Slip and Slide
Headlining the playlist completion rewards for the cold Winter is the equally cool Aston Martin Vanquish Zagato Coupe.
Born out of the partnership between Aston and Italian coachbuilders Zagato, the Vanquish has undergone a major styling overhaul. The bruising GT now has a much more striking body, complete with Zagato's signature double-bubble roof. Under the skin, the mechanicals from the Vanquish S are untouched, meaning the 6.0-liter V12 makes close to 600hp.
Those in need of a car to tackle the treacherous roads can look to the Ranger Rover Velar. The fourth model in the Range Rover line sits below the Sport and has been developed with more on-road focus. However, should the going get dirty, the Velar will still get you through some tough terrain. Sharing its platform with the Jaguar F-Pace means the Velar has a 3.0-liter supercharged V6. With 375hp on tap, the Velar will certainly cause some surprises with its performance.
The latest Photo Challenge sees you travelling down to Broadway. #HouseOfRod wants you to take a picture of any car from the Rods and Customs category outside Broadway Church. Championship prizes feature machines such as the Mini John Cooper Works Buggy and 2010 Volkswagen Golf R.
One prize to aim for is the 2016 Renault Clio R.S.16 Concept. Built as a celebration of Renault Sport's 40th anniversary, the RS16 is one of the most extreme hot hatches the marque has ever made. The small Clio features an extensively reworked chassis and aero similar to the Clio Cup race car. Under the hood sits the 2.0-liter turbocharged engine from the Megane 275 Trophy-R. That means 275hp in a much smaller package that is primed to be a riot.
To get the Clio, you'll need to win the "Street Scene Mania" championship.
A popular returning Showcase Remix event is available for fans of the Halo franchise. "Assault on the Control Room sees you suit up as Master Chief and race the iconic Warthog against the Pillar of Autumn dropship.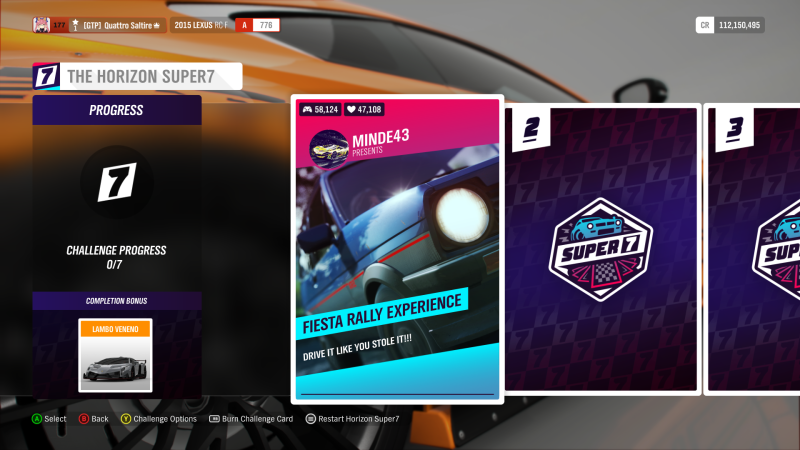 Stay on your toes with a new set of Super7 challenges this Winter. Complete all seven cards and a Lamborghini Veneno will be delivered to your garage.
Events and reward prizes for Winter are listed down below:
Racing Through The Years – 70s
Series: Cross Country Series
Cars: 1970s Collection
Restrictions: B Class, 700 PI
Prizes: 15,000 CR, 25,000 CR, Porsche 914/6
Reaching Your Peacks
Series: Cross Country Series
Cars: Offroad Buggies
Restrictions: B Class, 700 PI
Prizes: 15,000 CR, 25,000 CR, Mini John Cooper Works Buggy
Street Scene Mania
Series: Street Scene
Cars: Renault
Restrictions: B Class, 700 PI
Prizes: 15,000 CR, 25,000 CR, Renault Clio R.S.16 Concept
The Trial: Toying With You (Co-Op Championship)
Series: Road Racing Series
Cars: Track Toys
Restrictions: S1 Class, 900 PI
Prizes: 2010 Volkswagen Golf R
Winter Games – Series 42
Series: Playground Games
Cars: Extreme Offroad
Restrictions: A Class, 800 PI
Prizes: Shark Wellies
Super7 – Winter
Completion Prize: Lamborghini Veneno
Deep Vale Speed Trap
Reservoir Ridge Danger Sign
Season Objective: 656.2ft
Forest Green Speed Zone
Forzathon Events
Forzathon puts the spotlight on a car that is more than capable of tackling the snowy landscape: the 1972 Land Rover Defender Series III. Climb into this British icon to get started.
Up next, cause havoc around the countryside to test the Defender's durability by earning a total of 20 Wreckage Skills. Afterwards, show your rivals that the old dog is still capable by winning a Cross Country Series race at Ambleside Rush Cross Country.
To finish off this week, take the Defender out for a long drive of 15 miles around the UK.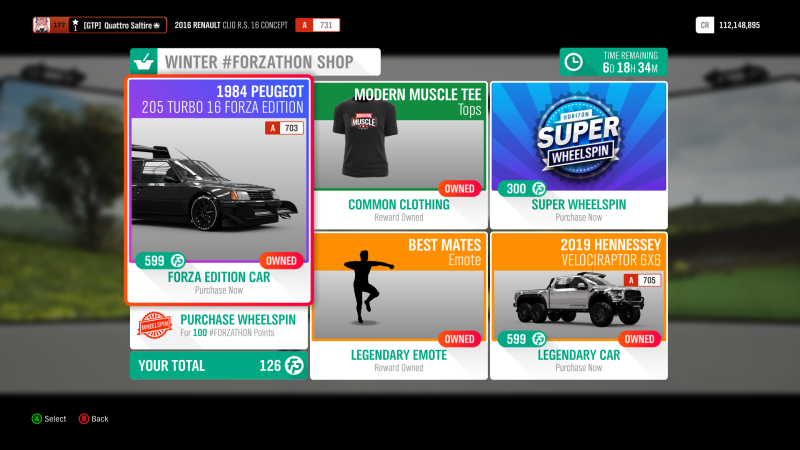 Forzathon Shop
Different ways of going offroad are in the shop this week, with a special Peugeot 205 Turbo 16 Forza Edition taking center stage.
The 205 T16 was designed as a homologation special during the insane and iconic Group B era of rallying. That means that the T16 shares very little in common with a 205 GTI, thanks to a bespoke body and a mid-mounted engine.
It's no ordinary engine of course, but a 1.8-liter turbocharged unit making 200hp. Power is sent through a four-wheel-drive system to keep the T16 true to its rallying roots. The Forza Edition features the addition of Pikes Peak aero along with a Skills boost.
At 599 Forzathon Points, the 205 is expensive, but it will come as a big time saver if you can't get one from Wheelspins.
A more hardcore alternative is the 2019 Hennessey VelociRaptor 6×6.
Hennessey has taken the already tough F150 Raptor and made it even more bonkers. The primary modifications have focused on the extra rear axle for six-wheel drive. Other modifications include raised ground clearance for even better offroad running and upgrades to the 3.5-liter twin turbocharged V6. With 600hp, this truck will be close to unstoppable across any terrain.
The VelociRaptor is also 599 FP, and will provide an excellent rival to the G63 6×6.
This week's clothing and novelty items are the Modern Muscle T-shirt and the Best Mates emote.
See more articles on Forza Horizon 4 Season Change.