A new day dawns over Forza Horizon 4 as a fresh Spring season gets underway. Series 42 is about to come to an end, meaning there's one last chance to get the latest content before the next update.
Supercars make up a big chunk of the prizes, as well as more rewards for completing Spring's seasonal playlist to 50% and 80%.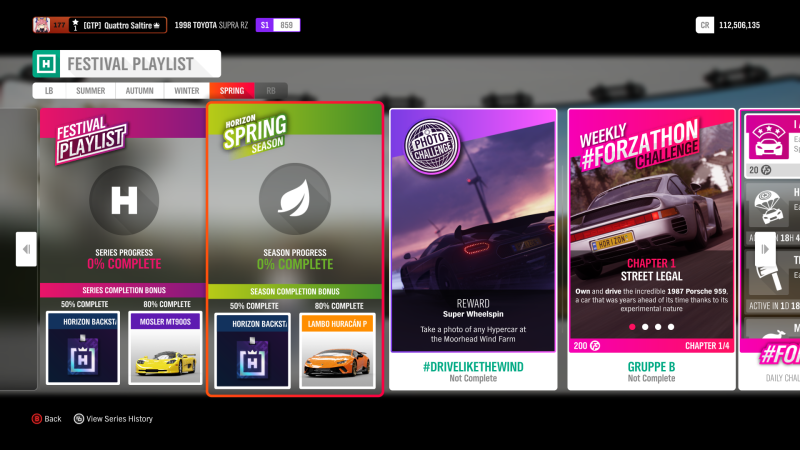 Super Speed
One car is available as part of the seasonal completion prizes for Spring: the 2018 Lamborghini Huracan Performante.
Sharpening up the Huracan into a track monster, Lamborghini has worked smarter as well as harder with the Performante. Weight has been cut by 88lb, while the 5.2-liter V10 has been boosted to 631hp. The added aggressive styling and big fixed rear wing hide this Huracan's clever party piece.
Clever active aerodynamics hide in the Performante's front splitter and engine cover that can vary between high downforce and low drag for added cornering speed.
If you're in need of a car that's exclusive, but not part of the playlist, there's a Horizon Backstage Pass up for grabs.
The last Photo Challenge of Series 42 brings together gas-guzzling exotics and renewable energy. #DriveLikeTheWind asks you to snap a Hypercar over at Moorhead Wind Farm. Seasonal championships feature more supercars including the Maserati MC12 Corsa and Lamborghini Aventador SV.
Moving away from supercars comes the highlight of the championships: the Hoonigan Ford Escort RS1800. Designed for Ken Block, this is also Hoonigan's first rear-wheel-drive gymkhana car. What started as a machine built for tarmac rally stages has been completely transformed.
Underneath the new widebody kit sits a modified 2.5-liter engine making 333hp and redlining at 9,000rpm. With extensive chassis changes to turn the Escort from rally car to gymkhana, this is a machine that will still be happy being thrown sideways.
You'll have to win "The Dirty Derby" championship to get the Escort.
Another Showcase Remix arrives to give your skills a workout with the return of "Taxi for Takeoff". Here, you'll be strapped into Isha's Austin FX4 taxi to race a Deltawing aircraft to the festival.
A fresh batch of Super7 challenges are hot off the press to help close out Series 42. Complete all seven cards to win a 2004 Subaru Impreza STI.
You can find the events list and prizes for Spring below:
The Dirty Derby
Series: Dirt Racing Series
Cars: Retro Rally
Restrictions: B Class, 700 PI
Prizes: 15,000 CR, 25,000 CR, Hoonigan Ford Escort RS1800
Lambing Station
Series: Cross Country Series
Cars: Lamborghini Urus, Lamborghini LM002
Restrictions: A Class, 800 PI
Prizes: 15,000 CR, 25,000 CR, Lamborghini Aventador SV
Racing Through The Years – 80s
Series: Cross Country Series
Cars: 1980s Collection
Restrictions: 600-800 PI
Prizes: 15,000 CR, 25,000 CR, BMW M5 FE
The Trial: Aston Martin Cup(Co-Op Championship)
Series: Street Scene
Cars: Aston Martin
Restrictions: S1 Class, 900 PI
Prizes: Maserati MC12 Corsa
Spring Games – Series 42
Series: Playground Games
Cars: Offroad
Restrictions: A Class, 800 PI
Prizes: Frog Wellies
Super7 – Spring
Completion Prize: 2004 Subaru Impreza STI
Old Town Speed Trap
Open-Cast Cliff Danger Sign
Season Objective: 984.3ft
Toft Speed Zone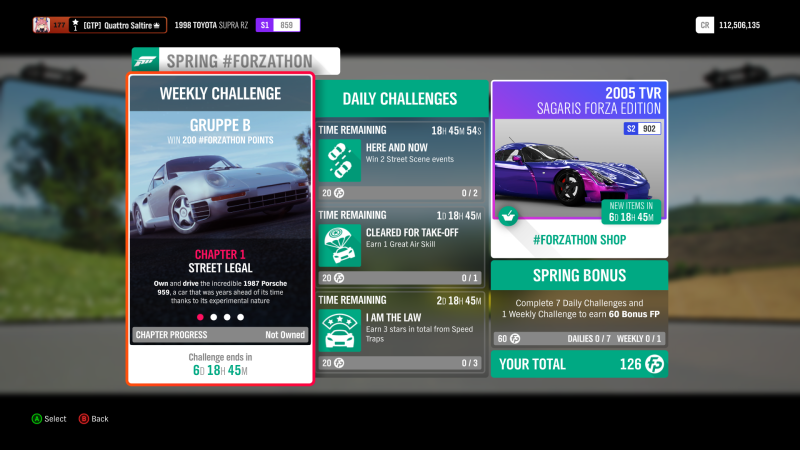 Forzathon Events
The final Forzathon of Series 42 looks at one of the most groundbreaking and technologically advanced supercars of the 1980s; the Porsche 959. Jump into this computer with wheels to get rolling.
Next, demonstrate the 959's surprising rallying pedigree by taking victory in 3 Dirt Racing Series Trail events. After that, show that this Porsche is also just as capable of demolishing tarmac roads by winning 2 Street Scene races.
Finally, swallow some brave pills and take the 959 to the limit to earn a total of 10 Ultimate Near Miss skills to bring the curtain down on the latest series.
Forzathon Shop
TVR takes center stage in the shop this week with a special Forza Edition version of the Sagaris.
Largely based on the T350, but with styling done by a lunatic, the Sagaris was intended to be at home on the track. Unusually for a TVR, the chassis setup has been heavily tweaked to prevent the wayward handling characteristics of previous models. Despite this, the 4.0-liter straight-six provides a 400hp hammer blow to those who think the Sagaris has become a precision racer. The Forza Edition goes a step further by adding a Speed Skills boost for when you're out on the road.
You'll have to cough up 599 Forzathon Points for the Sagaris, which is worth the investment for the rarity of the Forza Edition.
Those after a true UK classic can look to the 1999 Ford Racing Puma.
A rally homologation that was meant to have a production run of 1,000 units, but only managed half that number, all Racing Pumas were sold only in the UK where it became a cult hit. Although the underpinnings come from a Fiesta, the swoopy body and motorsport influences help bring it far above its more humble stablemate. The 1.7-liter engine may produce just 153hp, but the chassis calls for this car to be driven on the limit everywhere.
This very special Puma also costs 599 FP, but you'll get one of the most fun cars to possibly grace the festival roads.
Clothing and novelty items available are the Sports-Luxe Trainers and the Clown Dance emote.
See more articles on Forza Horizon 4 Season Change.