The countdown to Christmas has begun as a new Summer season begins in Forza Horizon 4. We're now into Series 43, with a host of festive themed events to take players into the new year over the next four weeks.
Its a pick-and-mix of old and current cars for Summer, plus an updated set of prizes for both full and seasonal playlists being completed to 50% and 80%
Revving Up Festive Cheer
One car is up for grabs for completing the Summer seasonal playlist this week: the 1973 Mazda RX-3.
The sportier variant of the Grand Familia was hugely successful in showcasing Mazda's rotary technology on a global scale. Accounting for more than half of all Mazda sales, the RX-3 showed a competitive pedigree in touring car racing.
Powering the RX-3 is a 1.1-liter twin-rotor engine making an adequate 110hp. With a few modifications, you can have that rotary screaming across the countryside.
A couple more Horizon Backstage Passes are also available in both full and seasonal playlists, along with the return of the Saleen S1 supercar.
Head over to Edinburgh for the first Photo Challenge of Series 43. #MiniMountain wants you to take a Mini from your collection and photograph it at Arthur's Seat. Championship prizes for Summer feature the 1999 Lotus Elise and the Honda Ridgeline Baja truck.
One prize worth taking a look at is the 1975 Fiat X1/9. Taking advantage of the popular wedge-shaped designs during the 1970s, the X1/9 was an attempt to distill that into a more affordable package. Performance was not on the agenda for the X1/9, as the 1.3-liter engine makes just 61hp. However, it only has to haul a car weighing just over 2,200lb, and has a chassis that demands you drive it hard when the roads get twisty.
You'll have to win the "Abarth on the Hearth" championship to win the X1/9.
A Showcase Remix event is also waiting for you for this week. "Nine & Three Quarters" has you strapped into a Ford Anglia for a race to Edinburgh against the Flying Scotsman.
For those keen on time trials, the Series 43 Monthly Rivals event features the Ford RS200 at the Railyard Cross Country Circuit.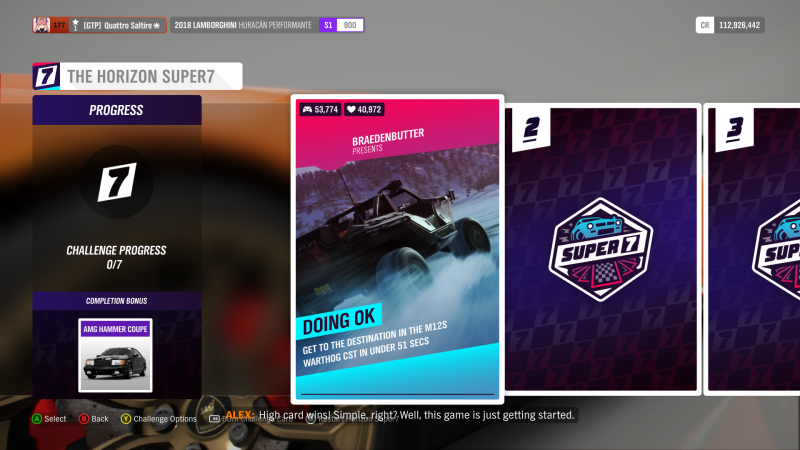 Put your skills through the ultimate test with the latest batch of Super7 events. Complete all the cards and you'll win a Mercedes-Benz AMG Hammer Coupe.
Events and prizes are listed below:
Abarth on the Hearth
Series: Road Racing Series
Cars: Fiat
Restrictions: D Class, 500 PI
Prizes: 15,000 CR, 25,000 CR, Fiat X1/9
The Knight Before Christmas
Series: Dirt Racing Series
Cars: Volvo
Restrictions: C Class, 600 PI
Prizes: 15,000 CR, 25,000 CR, "Merry Christmas!" quickchat
Solstice Sea
Series: Cross Country Series
Cars: Extreme Offroad
Restrictions: S1 Class, 900 PI
Prizes: 15,000 CR, 25,000 CR, Honda Ridgeline Baja Trophy Truck
The Trial: Christmas Barbecue (Co-Op Championship)
Series: Road Racing Series
Cars: Retro Supercars
Restrictions: S1 Class, 900 PI
Prizes: 1999 Lotus Elise
Summer Games – Series 43
Series: Playground Games
Cars: Winter Wonders
Restrictions: A Class, 800 PI
Prizes: Santa Hat
Super7 – Summer
Completion Prize: Mercedes-Benz AMG Hammer Coupe
Bamburgh Dunes Speed Trap
Season Objective: 225 mph
The Great Ridge Danger Sign
Season Objective: 915.4 ft
Oldweir Speed Zone
Season Objective: 150 mph
Forzathon Events
Forzathon looks at an often misunderstood British supercar this week, as the spotlight turns to the Jaguar XJ220. Climb aboard this big cat to get started.
Up next, show the Jag can still hang with the best of them by winning 3 Road Racing Series events. Afterwards, take the XJ220 out into the countryside for a 20-mile drive. With a 542hp twin-turbocharged V6 providing big speed, those 20 miles will fly past.
Finally, put that power to use and attempt to hit the Jag's top speed of 220mph to close out the latest challenges.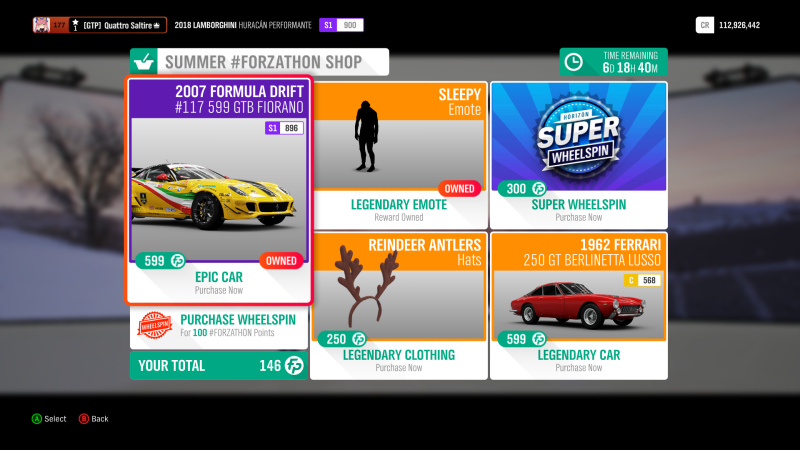 Forzathon Shop
Ferrari takes over the shop this week with two very different but desirable machines, kicking off with a Formula Drift specification 599.
One of the more unusual cars to hit the drifting scene, this 599 has been completely re-engineered into a tire destroyer. Under the new aggressive widebody, the 6.0-liter V12 has been fitted with twin superchargers to boost power past 900hp. Intensive suspension changes mean that this particular 599 will spend all day happily going sideways without breaking a sweat.
Appropriately enough, the drift 599 costs 599 Forzathon Points, giving you a weapon to show surprised onlookers as you slither through Drift Zones
If you want elegance from your prancing horse, there's the 1962 Ferrari 250 GT Berlinetta Lusso.
Often regarded as one of the greatest cars ever to come out of Maranello, the 250 GT radiates beauty. The graceful lines of that aluminum and steel body hide serious performance potential. The 3.0-liter V12 makes a healthy 254hp, which is more than plentiful for when you're cruising along the by the coast.
The 250 also costs 599 FP, which will save you several million credits trying to buy one from the Autoshow.
Clothing and novelty items available are the Sleepy emote and the Reindeer Antlers.
See more articles on Forza Horizon 4 Season Change.