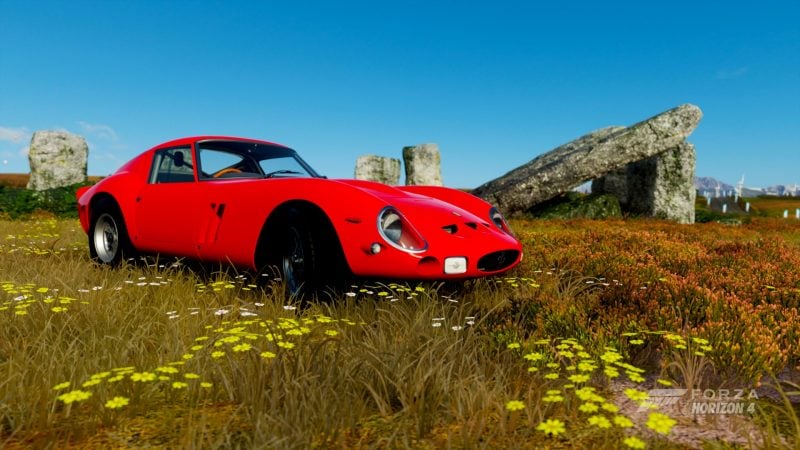 It's the start of a new year, which also means the start of a new Spring season in Forza Horizon 4. Players working on their virtual new year's resolutions can finish off Series 43 with one last batch of rewards before the next series begins.
Modern supercars and an iconic classic make up the first rewards of 2022, as well as more prizes for completing the Spring playlist to 50% and 80%.
New Year, More Power
No cars are up for grabs for the Spring completion prizes, but you can grab an Elf outfit for your avatar if you're still feeling in the holiday spirit. Slightly easier is a Horizon Backstage Pass, which will let you kick off the year by adding more exclusive cars to your collection.
Spring's Photo Challenge has you returning to the first house you purchase at the festival. #HouseWarming wants you to snap any car you're driving over at The Gables in Broadway. Spring championship prizes include the extreme Koenigsegg Jesko and the 2017 Ford GT.
One prize worth pursuing is the 1962 Ferrari 250 GTO. Widely considered as the greatest car Maranello ever made, the 250 GTO has become one of the most valuable cars in the world. Homologated to go GT racing, the GTO carved out a hugely successful career.
With only 33 made, each one was unique due to its hand-built construction. Powering the 250 GTO is a 3.0-liter V12 making a respectable 300hp. Although the driving experience will be thoroughly old-school, the GTO needs to driven to the edge to really get the best out of it.
To get the Ferrari, you'll need to claim victory in the "Sparkle into New Year" championship.
There's a returning Showcase Remix to help bring in 2022 as well. "Contest of Giants" puts you in a tough Chevrolet Colorado pickup truck for a race across the Scottish Highlands against a giant hovercraft.
Open the new year with a fresh new set of Super7 cards. Complete all seven and you'll get a Rossion Q1 in your garage.
Events and prizes for Spring are below:
New Year New Me
Series: Road Racing Series
Cars: Modern Supercars
Restrictions: S1 Class, 900 PI
Prizes: 15,000 CR, 25,000 CR, Ford GT 2017
Smiling's My Favourite
Series: Cross Country Series
Cars: Sports Utility Heroes
Restrictions: A Class, 800 PI
Prizes: 15,000 CR, 25,000 CR, Elf Hat
Sparkle into New Year
Series: Road Racing Series
Cars: Classic Racers
Restrictions: A Class, 800 PI
Prizes: 15,000 CR, 25,000 CR, Ferrari 250 GTO
The Trial: Holiday Hype (Co-Op Championship)
Series: Road Racing Series
Cars: Hypercars
Restrictions: S2 Class, 998 PI
Prizes: Koenigsegg Jesko
Spring Games – Series 43
Series: Playground Games
Cars: Retro Rally
Restrictions: B Class, 700 PI
Prizes: Reindeer Nose
Super7 – Spring
Completion Prize: Rossion Q1
Hythe House Speed Trap
Hilltop Vista Danger Sign
Season Objective: 620.1ft
The Bridge House Speed Zone
Forzathon Events
Forzathon goes Japanese this week as the spotlight turns to the 1992 Honda NSX Type R. Climb into this revered machine to kick things off.
Up next, put your foot down and take the NSX to a top speed of 175mph. Afterwards, prove the Honda's handling still holds up today by taking victory in three Road Racing Series sprint events.
Round off the latest weekly challenges by soaring through the skies in order to earn a total of 10 Air Skills.
Forzathon Shop
The shop lineup this week is an Anglo-French affair, headlined by the 2019 Mclaren Speedtail.
Sitting alongside the Senna in Mclaren's Ultimate Series range, the Speedtail takes a different approach by offering huge performance in a grand touring package.
The Speedtail's 4.0-liter twin-turbocharged V8 is coupled to a hybrid system to produce 1,035hp. Along with the slippery body, the Speedtail's 250mph top speed makes it the fastest, most powerful Mclaren ever made. The design and interior of the Speedtail invoke the spirit of the Mclaren F1 Longtail, including the central driving position.
You'll need big savings as the Mclaren will set you back 599 Forzathon points, but you'll get a very British way of entering the 250mph club in return.
If you're after speed for the track, there's the 2008 Renault Megane R26.R.
This extreme hot hatch has rejected everyday practicality in the pursuit of track performance. Thanks to a stripped out interior, carbon fibre panels and a roll cage, the R26.R sheds over 270lb compared to a base Renault Sport Megane.
Power from the 2.0-liter turbocharged engine remains untouched from the standard car, with the major tweaks focused on handling. Regardless, unleashing all 227hp will be much more lively thanks to the R26.R's more hardcore track-spec nature.
The Renault will also cost you 599 FP, but for tearing up twisting roads in the UK, there is likely no other hot hatch that can get the job done faster.
Novelty items this week are the Halo Warthog and Cash Register horns.
See more articles on Forza Horizon 4 Season Change.