January may feel like a long month, but the latest Autumn season in Forza Horizon 4 will certain be keeping many occupied. Sweep away the leaves with an eclectic range of events with many different rewards available.
The rewards list is a juicy mix of cars and cosmetics, plus an updated set of prizes for 50% and 80% of seasonal playlist completion.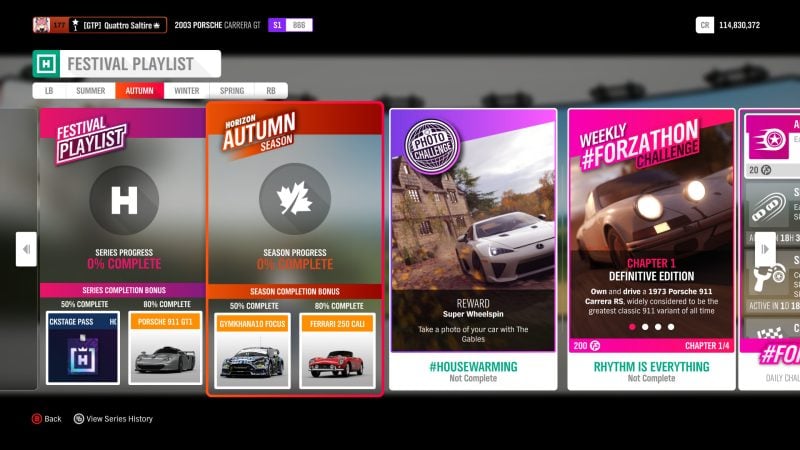 Windswept Runners
Headlining the playlist completion rewards is the Ford Focus RS RX, given a thorough going-over by the team at Hoonigan.
Starring in Ken Block's Gymkhana Ten, this Focus is quite far removed from the motorsport circuit it was designed for. Rallycross upgrades for the Focus include a beefed-up four-wheel-drive system to allow for huge smoky slides. The 2.0-liter turbocharged engine has been boosted to over 600hp, along with much shorter gearing for hypercar-beating acceleration.
Something a lot less extreme is the Ferrari 250 California. Seen as one of the most valuable cars in the world, the California is also one of the coolest. Despite being designed for the US market, there is still plenty of Italian racing pedigree underneath. Taking the 3.0-liter V12 from the other 250 series in the range, the California has 262hp, which is more than enough for cruising the Pacific coast.
A new Autumn Photo Challenge sees you heading back to your first house. #HouseWarming wants you to snap any car you have over at The Gables house in Broadway. Seasonal championships feature both cars and cosmetics, including a Caterham R500 Forza Edition and the 2018 Honda Civic Type R.
One prize worth nothing is the 2019 Porsche 911 GT3 RS. Further improving the already indomitable GT3 RS is always an issue, especially when it comes to facelifts. The "991.2" variant of the GT3 RS chooses incremental upgrades rather than going all guns blazing.
Weight remains largely unchanged from the pre-facelift, and the 4.0-liter flat-six gains a modest power boost to 514hp. Underneath, the suspension has been recalibrated for even better handling, and the body also gains much more downforce.
To claim this 911 as your own, you'll have to win the "Neunelfer" championship.
A new season would not be complete without some Super7 cards. Finish all seven and you'll get delivery of a Lamborghini Veneno.
Read on further below for the list of events and prizes:
RR Spotlight
Series: Street Scene
Cars: Rear-engined, rear-wheel drive
Restrictions: S2 Class, 998 PI
Prizes: 15,000 CR, 25,000 CR, Dab emote
Breaking New Ground
Series: Road Racing Series
Cars: Modern Muscle
Restrictions: S1 Class, 900 PI
Prizes: 15,000 CR, 25,000 CR, Modern Race Helmet Black
Neunelfer
Series: Street Scene
Cars: Porsche 911
Restrictions: S2 Class, 998 PI
Prizes: 15,000 CR, 25,000 CR, 2019 Porsche 911 GT3 RS
The Trial: Stock Superlights (Co-Op Championship)
Series: Road Racing Series
Cars: Caterham Superlight R500
Restrictions: Stock, no upgrades
Prizes: Caterham Superlight R500 Forza Edition
Autumn Games – Series 44
Series: Playground Games
Cars: Super Hot Hatch
Restrictions: A Class, 800 PI
Prizes: 2018 Honda Civic Type R
Super7 – Autumn
Completion Prize – Lamborghini Veneno
Arthur's Seat Danger Sign
Season Objective: 721.8 ft
Sylvan Hollow Speed Trap
Season Objective: 180 mph
Otleydale Drift Zone
Season Objective: 128,000 points
Forzathon Events
This week, Forzathon looks at the grandfather for all lightweight Porsche 911s, the 1973 Carrera RS. Jump into this icon to kick things off.
Next, put this old RS through some thoroughly modern speed tests, as you'll have to earn a total of 12 stars in Speed Zones. Afterwards, showcase the Carrera's racing potential by winning three Road Racing Series events.
Finish up this week by taming the 911's surprising rally capabilities and winning four Dirt Racing Series events.
Forzathon Shop
A specially tuned Mercedes and a classic Toyota are in the shop this week, kicking off with the 2009 Mercedes SL65 AMG Black Series Forza Edition.
This SL held the distinction of being the most powerful car AMG ever made until the flagship GT Black Series arrived. To try and cut weight from the heavy grand tourer, there are lashings of carbon fibre, and even the folding roof mechanism has been removed, with the roof now being fixed in place.
Under the hood sits a 6.0-liter, twin-turbocharged V12 making 661hp. The engine also produces so much torque that the only transmission to handle such forces is a five-speed automatic. The Forza Edition also comes with a boost for Drift Skills.
This SL will set you back a hefty 599 Forzathon Points, but the rarity of the Forza Edition makes it worth the purchase.
Alongside the Merc is the 1969 Toyota 2000GT.
Toyota's halo model would later become of the company's most iconic models of all time, thanks to styling that could give the Jaguar E-Type a run for its money. Co-developed with Yamaha, the 2000GT was one of the fastest cars to come out of Japan during the 1960s. A 2.0-liter straight-six gives the 2000GT its firepower, despite making just 150hp.
You'll need to save another 599 FP for the Toyota, but you'll get one of the coolest cars in the world in return.
Clothing for this week includes the Autumn Mittens and the XS Denim Jacket.
See more articles on Forza Horizon 4 Season Change.