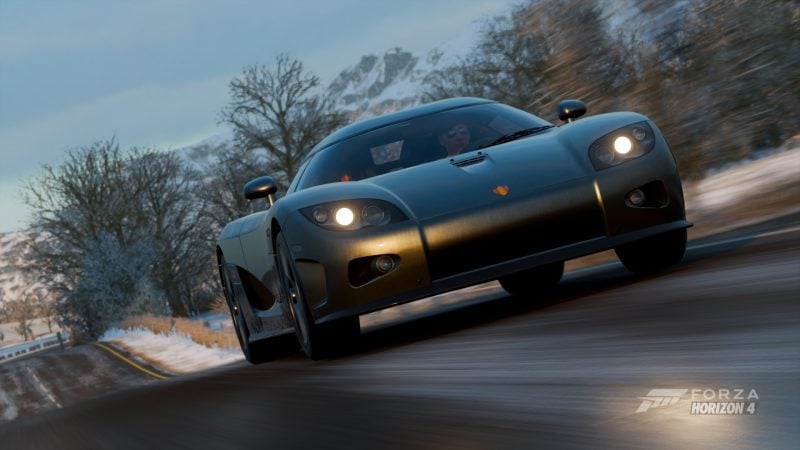 Snow has returned with a vengeance to mark the beginning of another Winter season this week on Forza Horizon 4. Players are wrapping up to tackle the icy roads with more events keen to test abilities to the limit.
Sports cars and a vintage Volkswagen make up the prizes for Winter, as well as more rewards for this week's seasonal Playlist at 50% and 80% completion.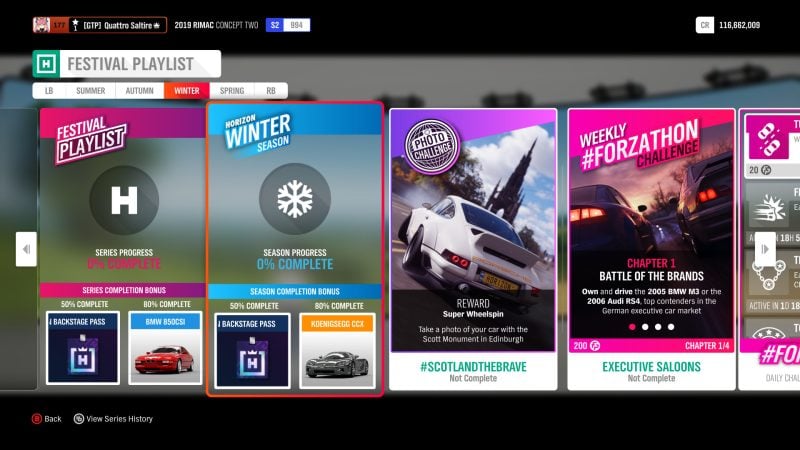 Battling The Ice
One car is making headlines for the Winter completion prizes this week: the 2006 Koenigsegg CCX.
Keeping its flagship hypercar up to date is no easy task for Koenigsegg, but the CCX also trys to be slightly more livable than its predecessor. Despite this, the CCX maintains its outrageous performance.
Under the hood is Koenigsegg's own 4.7-liter, twin-supercharged V8 pumping out 806hp. With power going exclusively to the rear wheels, the addition of the small rear spoiler became a necessity following an infamous accident.
Those looking outwith the regular cars on the roster can grab a new Horizon Backstage Pass.
The latest snowy Photo Challenge takes you to the heart of downtown Edinburgh. #ScotlandTheBrave wants you to snap your car in front of the Scott Monument on Princes Street. Meanwhile the Winter championships feature beasts including the Mini JCW buggy and Audi TT RS.
One hot prize to go for during these cold conditions is the 2010 BMW M3 GTS. In order to make the E92 M3 into a track weapon, the M Division went even further on the extreme factor than the E46 CSL that the GTS replaces.
Weight has been cut by 165lb over a standard M3, as well as the addition of a roll cage and fire extinguisher. The engine has also been given a thorough reworking, with the 4.0-liter V8 in the standard M3 bored out to 4.4 liters — now making 444hp.
To get the M3, you'll need to win the "Power Struggle" championship.
You can also frolic about in the snow during the latest Super7 challenges this week. Finish all seven cards to receive an HSV GTS-R for your garage.
Winter's events can be found below;
Getting Cold Street
Series: Street Scene
Cars: Modern Sports Cars
Restrictions: A Class, 800 PI
Prizes: 15,000 CR, 25,000 CR, Audi TT RS
Magic Number
Series: Road Racing Series
Cars: Peel Trident, Peel P50, Reliant Supervan, Morgan 3 Wheeler
Restrictions: D Class, 500 PI
Prizes: 15,000 CR, 25,000 CR, VW Notchback
Power Struggle
Series: Road Racing Series
Cars: AMG vs M Sport
Restrictions: S1 Class, 900 PI
Prizes: 15,000 CR, 25,000 CR, BMW M3 GTS
The Trial: The Triumvirate (Co-Op Championship)
Series: Dirt Racing Series
Cars: Peugeot 205 T16, Audi Quattro, Lancia 037
Restrictions: B Class, 700 PI
Prizes: All About Me emote
Winter Games – Series 45
Series: Playground Games
Cars: Offroad Buggies
Restrictions: A Class, 800 PI
Prizes: Mini John Cooper Works Buggy
Super7 – Winter
Completion Prize: HSV GTS-R
Calton Hill Speed Trap
Mudkickers' Showjump Danger Sign
Season Objective: 705.4ft
Oldweir Speed Zone
Forzathon Events
The latest Forzathon sees a titanic battle between two German executive saloons: the 2005 BMW M3 and 2006 Audi RS4. Pick a side and head out in your chosen weapon to get started.
Next up, you'll need to earn a total of 12 stars from Speed Traps in your executive express. Either the straight-six in the M3 or the V8 in the RS4 should provide more than enough power to get the job done. Afterwards, showcase your best driving techniques during racing in order to win 3 Road Racing Series events.
Finally, become a real showoff as you'll have to get 3 Showoff Skill combos to wrap up another week of Forzathon challenges.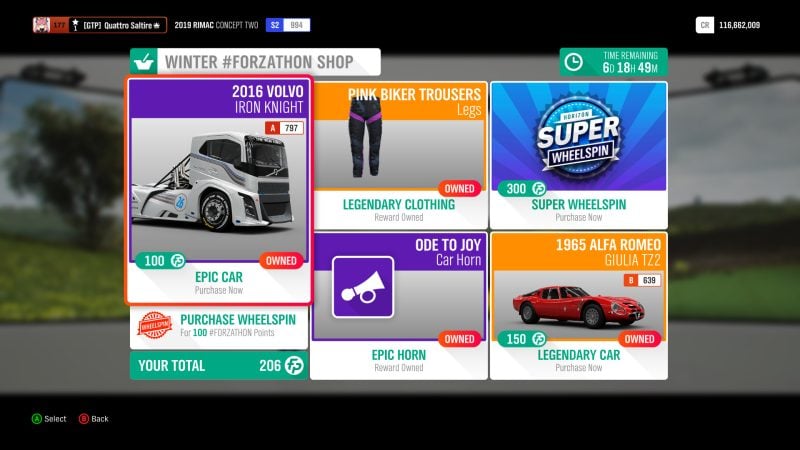 Forzathon Shop
A giant truck and a tiny Alfa occupy the shop this week, with the 2016 Volvo Iron Knight commanding center stage.
This is far from your ordinary workhorse semi truck, as this one was built to shatter speed records. The Iron Knight officially holds world records for the fastest truck over a standing 500 meters and standing kilometer. Unlike many tractor units that tend to sit at around 65mph, the Iron Knight will continue to a top speed of over 170mph.
Despite its hefty weight of nearly 10,000lb, the Iron Knight's 12.8-liter, quad-turbocharged straight-six produces a colossal 2,400hp, making it the most powerful vehicle ever to roam the roads of the festival.
At just 100 Forzathon Points, the Iron Knight is very cheap, and will provide you with plenty of entertainment scaring others in more regular fast cars.
Step back in time to find the 1965 Alfa Romeo Giulia TZ2.
This vintage GT racer had a very successful career during the 1960s, with class victories coming at famous races such as the Nurburgring 1000km and Targa Florio.
Built with full factory intentions, the TZ2 focused on improving performance and focusing on light weight. The glass-fibre body helps keep weight down to a healthy 1,367lb. As a result the TZ2 only needs 170hp from its 1.6 liter engine for sprightly performance.
You won't need to cough up that much more for the TZ2, as it only costs 150FP. Plus you'll save millions of credits over buying one in the Autoshow.
Clothing and novelty items available during Winter are the Pink Biker Trousers and the Ode To Joy horn.
See more articles on Forza Horizon 4 Season Change.