As we enter March, we also enter a fresh Spring season and the temperatures are heating up in the sky and on the roads in Forza Horizon 4. Spring also marks the final stretch for Series 45 and a last push for the latest mixed bag of content.
Cars with racing pedigree from many disciplines are up for grabs, as well as more rewards for the Spring completion playlist at 50% and 80%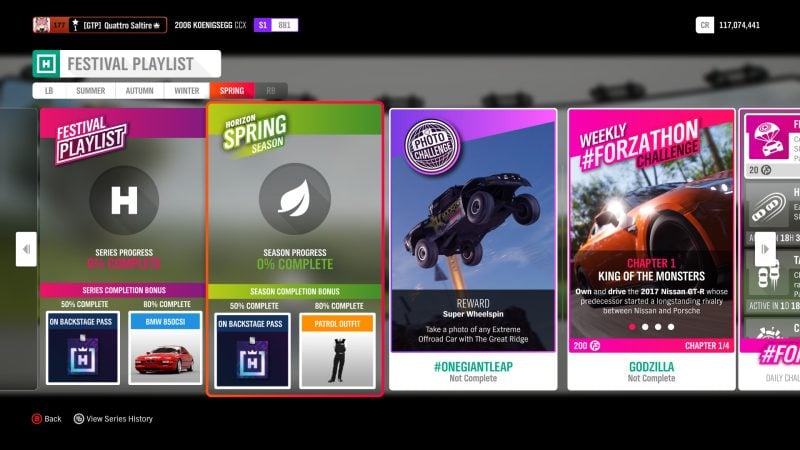 Duel For The Crown
There's no cars to be won for seasonal playlist completion, but if you want to imagine you're on a mission to stop the battles in this week's racing theme, you can win a Patrol outfit for your wardrobe. If you're also in need of a more exclusive car, you can also grab another Horizon Backstage Pass.
Closing out the Photo Challenges for Series 45 is #OneGiantLeap. Here, you'll need to snap an Extreme Offroad car over at The Great Ridge. Add some extra drama to your pictures by taking a leap of faith from the Danger Sign. Seasonal championships are all about battles between different categories, with prizes including the Porsche 906 Carrera 6 and Chevrolet Chevelle.
A loud prize to look forward to is the 2018 Ford Mustang RTR Spec 5. Whilst the current generation Mustang has showcased better handling than its predecessors, the team at Vaughn Gitten Jr's RTR skunkworks have given the pony car a substantial workover.
The suspension has been completely reworked not only to improve handling, but also to allow for the car to drift better. To accomodate the suspension and chassis upgrades, RTR has fitted an aggressive wide body kit. The Mustang's 5.0-liter V8 has remained untouched, but still delivers 460hp should you choose to head towards the drag strip.
In order to get the Mustang, you'll have to win the "Mustang vs Mustang" championship.
There's also a returning Showcase Remix event with "Commuter Blues". Strap into a Porsche Macan Turbo for a cross country race across the Scottish Highlands as you attempt to get to Edinburgh before the Flying Scotsman.
With the end of Series 45 in sight, there's a final set of Super7 challenges waiting for you. Complete all seven cards and you'll get a Formula Drift Corvette.
You can find the rewards for the Spring events below:
Mustang vs Mustang
Series: Road Racing Series
Cars: Ford Mustang
Restrictions: A Class, 800 PI
Prizes: 15,000 CR, 25,000 CR, Ford Mustang RTR Spec 5
Touring Masters
Series: Dirt Racing Series
Cars: 1991 BMW M3, Mercedes Benz 190E
Restrictions: C Class, 600 PI
Prizes: 15,000 CR, 25,000 CR, 1988 BMW M5 Forza Edition
Muscle vs Import
Series: Street Scene
Cars: Muscle vs Tuner
Restrictions: A Class, 800 PI
Prizes: 15,000 CR, 25,000 CR, 1967 Chevrolet Chevelle SS 396
The Trial: The Triple Threat (Co-Op Championship)
Series: Road Racing Series
Cars: Porsche 906 Carrera 6, Ferrari 330 P4, Ford GT40 Mk2
Restrictions: A Class, 800 PI
Prizes: Porsche 906 Carrrera 6
Spring Games – Series 45
Series: Playground Games
Cars: Offroad
Restrictions: A Class, 800 PI
Prizes: Mini Countryman John Cooper Works
Super7 – Spring
Completion Prize: Chevrolet Corvette #777 Formula Drift
Coombe Speed Trap
Ambleside Edge Danger Sign
Season Objective: 1,049.9ft
Crescent Speed Zone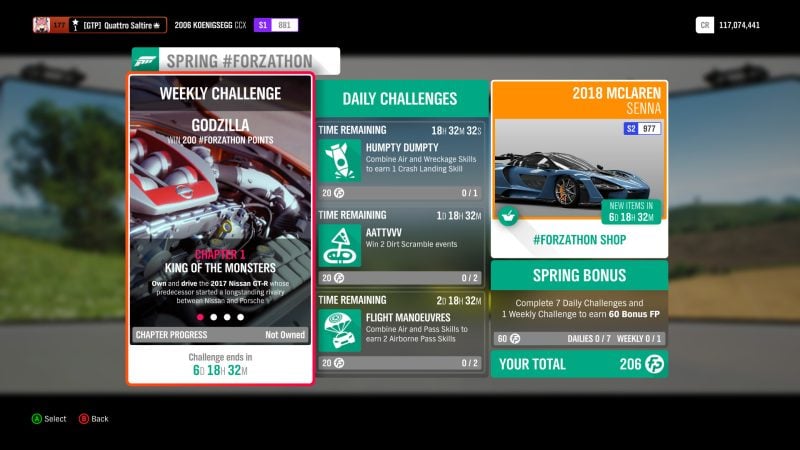 Forzathon Events
Forzathon channels the beast this week with the spotlight turning to the 2017 Nissan GT-R, carrying the appropriate "Godzilla" nickname. Jump aboard this technolgical tour de force to get started.
Up next, prove your endurance in the GT-R by winning a Road Racing Series event at the punishing Goliath circuit. Afterwards, test your worth against the GT-R's computing power to kick the rear end out and earn 3 Drift Tap Skills.
Finally, bring the curtain down on Series 45 by earning a total of 3 Daredevil Skills.
Forzathon Shop
A classic Maserati and a modern McLaren are part of the shop this week, with the 2018 McLaren Senna on center stage.
The hero car for FH4, the Senna is the indirect replacement for the P1 at the top of McLaren's Ultimate Series. Named after the legendary Formula One champion, the Senna is the most aggressively track focused street car Woking has ever made.
Taking the baseline carbon fibre tub from the 720S, the Senna features a much more aggressive body tuned for maximum downforce. The addition of active aerodynamics contributes to the Senna's bonkers 800kgs of downforce. That 4.0-liter twin turbocharged V8 has been boosted to 789hp, meaning you'll need to be pushing rather hard to utilise the enhanced aero.
The Senna is reasonably cheap too at just 150 Forzathon Points. If you're after a hypercar that's capable of destorying the twisting UK roads like a race car, then the Senna is the perfect weapon.
Turn the clock back and you'll find the 1953 Maserati A6GCS.
Seen as one of the most beautiful cars in the world, the A6GCS was conceived for sportscar racing. However, Ferrari almost curtailed the project before it even happened due to having an exclusive contract with Pininfarina. With only four units made, the A6GCS is also one of the most exclusive cars to lay eyes on.
At 599FP, you'll need plenty of savings for this Maserati, but in return you'll get a car that will look just as good in an art museum as it is tearing through the countryside to evoke memories of the Mille Miglia.
This weeks clothing and novelty items are the Disco Chicken Suit and the Sheep horn.
See more articles on Forza Horizon 4 Season Change.