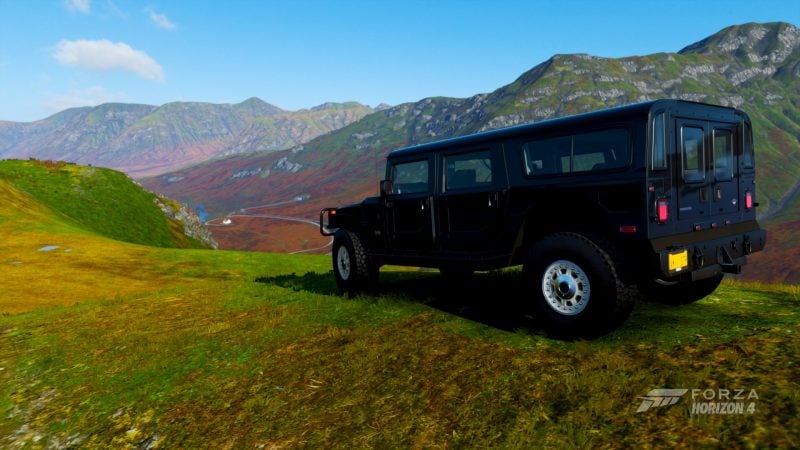 The leaves falling from the trees marks the triumphant return of Autumn for another week in Forza Horizon 4. Players are up against wet weather and muddy trails as they continue to tick off the latest events around the UK.
We're continuing a nostalgic look back to the past with the majority of prizes this week, as well as more rewards for finishing 50% and 80% of the Autumn seasonal playlist.
Fond Memories
One car is up for grabs in the seasonal completion rewards this week, coming in the form of the 1970 Ferrari 512 S.
Maranello's sports prototype was successful on its racing debut, and was involved in the very famous rivalry against its deadly rival, the Porsche 917 — though ultimately, the prancing horse failed to unseat the 917 at the Le Mans 24 Hours.
Under the tubular chassis sits a 5.0-liter V12 making 542hp. The lightweight polycarbonate body keeps the weight under 2,100lb and allows for a top speed close to 220mph.
Those after a car that's harder to find around the Festival can grab a Horizon Backstage Pass as well.
Autumn's Photo Challenge this week takes you right into the heart of Edinburgh. #RoyalMilesPerHour wants you to bring your favorite Hypercar over to the famous Edinburgh Castle. Championship prizes for Autumn are a mix of classic and modern machinery including the Hummer H1 and Plymouth Fury.
Heading into the present day, a highlight of the prize pool is the 2010 Volkswagen Golf R. The sixth-generation flagship Golf ditches the big heavy V6 for a more efficient 2.0-liter turbocharged four-cylinder. As a result, weight is down compared to its predecessor which allows for improved handling. Power is up over the old V6 to 265hp, meaning that the Golf R now has a much broader range of abilities in any weather.
If you want the Golf, you'll need to take victory during the "Summit or Nothing" championship.
A returning Showcase Remix will allow you to make all sorts of noise. "Quaint Village Rush" puts you behind the wheel of a Lamborghini Centenario to battle against a Deltawing aircraft in a race to the festival site.
Bring some sunshine amongst the rain with a new set of Super7 cards. Finish all seven and an Alfa Romeo Giulia Forza Edition will be delivered to you.
Events list and prizes for Autumn are below:
Lakehurst Laps
Series: Road Racing Series
Cars: Classic Sports Cars
Restrictions: D Class, 500 PI
Prizes: 15,000 CR, 25,000 CR, Fiat Dino 2.4 Coupe
Let's Bug Out
Series: Dirt Racing Series
Cars: Offroad Buggies
Restrictions: A Class, 800 PI
Prizes: 15,000 CR, 25,000 CR, Hummer H1 Alpha
Summit or Nothing
Series:Cross Country Series
Cars: Sports Utility Heroes
Restrictions: A Class, 800 PI
Prizes: 15,000 CR, 25,000 CR, 2010 Volkswagen Golf R
The Trial: An Act of Rod (Co-Op Championship)
Series: Road Racing Series
Cars: Rods and Customs
Restrictions: C Class, 600 PI
Prizes: Plymouth Fury
Autumn Games – Series 46
Series: Playground Games
Cars: Extreme Offroad
Restrictions: A Class, 800 PI
Prizes: Mercedes X-Class
Super7 – Autumn
Completion Prize – Alfa Romeo Giulia FE
Mam Tor Danger Sign
Season Objective: 1,010.5 ft
Peak Moor Speed Trap
Season Objective: 175 mph
Lakeshore Speed Zone
Season Objective: 100 mph
Forzathon Events
Put on your cleanest business suit as Forzathon this week takes a look at Super Saloons. Choose your preferred executive express and head out on the road to get started.
Next, show how you are king of overtaking by earning a total of 5 Triple Pass skills during any race events. After that, let traffic know you will not be stopped by getting 12 Sideswipe Skills.
Finally, wrap up the latest events by getting 3 stars at the Swan Dive Danger Sign. You'll need a highly tuned machine and lots of commitment to go the distance on this jump.
Forzathon Shop
The shop this week is a step back in time with a pair of vintage models, highlighted by the 1958 Aston Martin DBR1.
This old timer remains of the most famous in Aston's legacy as it remains as the only car from the marque to take overall victory at the Le Mans 24 Hours. It was also one of the first machines built purely for sports car racing and wasn't required to be street legal.
During an era where safety was much less prevalent than today, the DBR1 takes a purely old school approach to performance. A big 3.0-liter straight-six makes 254hp, giving the 1,930lb DBR1 some serious punch.
At 599 Forzathon Points, the DBR1 may sound expensive, but you'll save millions against trying to buy one in the Autoshow.
Those after something more tame can look to the 1970 Honda S800.
This little roadster was the last of Honda's sports car series during the 1960s and 1970s, distilling all of the knowledge gained into an enticing package.
Under the charming body sits a 791cc engine that makes just 70hp. However, this engine demands to be thrashed thanks to a 9,500rpm redline. In a car weighing less than 1,600lb, the S800 will feel fast even at mundane speeds.
You'll need 599 FP for the S800 as well, and there may not a cooler little car for whizzing along the seaside with the roof down.
This week's clothing items include the Wolf Cap and the Red Biker Gloves.
See more articles on Forza Horizon 4 Season Change.