Ice cold temperatures are once again descending on the UK as a new Winter season gets underway in Forza Horizon 4. There's lots of slipping and sliding with tricky conditions to contend with in the latest batch of events, so you'll need to ensure you have the appropriate cars for the job.
Prizes are mostly themed around McLaren this week, with some American trucks sprinkled alongside. There's also more prizes on tap for completing Winter's playlist to 50% and 80%.
Mac and Ice
The first of two cars headlining the playlist completion rewards may not directly be a McLaren, but its orgins lie at Woking.
The 2018 ATS GT is the first car to come from the Italian marque since the original 2500 GT of the 1960s. Whilst the design is unquestionably Italian, the ATS uses the same platform and running gear as the McLaren 650S. The 3.8-liter, twin-turbocharged V8 has been tweaked to produce 720hp, allowing this Anglo-Italian coalition to give established rivals some serious headaches.
Joining it is the very donor car providing the mechanicals for the ATS: the 2011 McLaren 12C. The first car since the mighty F1 takes full aim at trying to outdo the Ferrari 458. Employing McLaren's racing technology experience, the 12C features a carbon fibre tub and a 3.8-liter, twin-turbocharged V8 developed in-house. With 592hp at your disposal, the prancing horse will be shaking as you drop it in your rear view mirror.
Winter's Photo Challenge takes a venomous twist. #PrizedPossession wants you to snap a picture anywhere of the very angry 2020 Ford Mustang Shelby GT500. Seasonal championships see some more appropriate cars for the weather conditions available in the prize pool, including the Jeep Grand Cherokee SRT and Ford F150 by DeBerti Design.
If you're not interested in traction, there's the McLaren 720S Spider. Giving the already bonkers fast 720S some open-air thrills doesn't come without compromises. Taking the roof off any car results in a considerable weight penalty, but McLaren has mitigated the issue and kept the weight increase over the coupe to just under 220lb. Despite this, there is no slowdown in performance as the 4.0-liter, twin-turbocharged V8 still makes 711hp.
In order to bring home the McLaren, you'll have to win the "Snow Going Back" championship.
There's also a returning Showcase Remix if you're still keen on playing in the snow. "Ride to Anywhere" puts you into a modified version of Isha's Austin FX4 taxi for an offroad race across the Scottish Highlands. Your opponent in this duel is a giant formidable hovercraft.
You can also go on further adventures during the newest Super7 challenges. Finish all seven cards and you'll become the owner of a GMC Syclone pickup truck.
Latest events and prizes for Winter can be found below;
Jeepers Creepers
Series: Street Scene
Cars: Sports Utility Heroes
Restrictions: B Class, 700 PI
Prizes: 15,000 CR, 25,000 CR, 2014 Jeep Grand Cherokee SRT
Snow Going Back
Series: Road Racing Series
Cars: Retro Sports Cars
Restrictions: C Class, 600 PI
Prizes: 15,000 CR, 25,000 CR, McLaren 720S Spider
Monster Mash
Series: Cross Country Series
Cars: Rally Monsters
Restrictions: S1 Class, 900 PI
Prizes: 15,000 CR, 25,000 CR, Ford F150 DeBerti Design
The Trial: Billy Snow Mates (Co-Op Championship)
Series: Cross Country Series
Cars: Classic Muscle
Restrictions: B Class, 700 PI
Prizes: Ski Hat
Winter Games – Series 46
Series: Playground Games
Cars: Offroad
Restrictions: D Class, 500 PI
Prizes: Chevrolet Colorado ZR2
Super7 – Winter
Completion Prize: GMC Syclone
Northbridge Speed Trap
Roman Ruins Danger Sign
Season Objective: 557.7ft
Broadway Commons Speed Zone
Forzathon Events
Rev up the Stars and Stripes, because this weeks Forzathon looks at the 1969 Chevrolet Camaro SS. Jump aboard this pony car and head out into the countryside to get started.
Next, unleash the full force of the Camaro's V8 and earn a total of 20 Great Speed Skills. Afterwards, head to the quarter mile and storm to victory in 3 Drag Strip events. Just make sure you can gain enough traction during these icy conditions.
Finally, charge your way to the front during races and earn 5 Pass Skills to bring the Winter challenges to a close.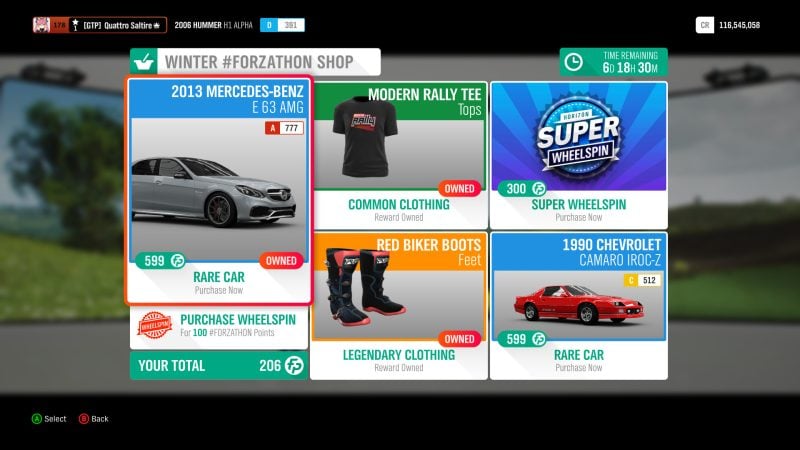 Forzathon Shop
V8 power dominates the shop this week with the 2013 Mercedes-Benz E63 AMG leading the charge.
German super sedans have been getting ever closer to being four-door supercars with ever more power in a humdrum body. The E63 is one of the most insane of the bunch, but also brings more luxury sophistication than its rivals. This particular E63 is the higher performance S version, bringing even more power.
This facelifted version drops the bombastic 6.2-liter V8 for a smaller, but more beefy, 5.5-liter twin-turbocharged unit. At 577hp, it's also more powerful than its equivalent rivals from Audi and BMW. To help deal with the snowy roads, the E63 deploys four-wheel-drive for the first time, turning it into a true all-weather monster.
You'll need a sizable 599 Forzathon Points to grab the E63, and in return you'll get one of the best sleepers around.
If you want more old-school V8 charm, there's the 1990 Chevrolet Camaro IROC-Z.
The third generation Camaro is about as traditional as a muscle car gets, with a big engine and not much sophistication. The IROC-Z is a special limited run model built to celebrate the International Race of Champions stock car series, where a heavily modifed version of the Camaro was being used. There have been some chassis tweaks to aid handling despite the old fashioned technology. The 5.7-liter V8 only makes 245hp, but even more potential can be unleashed with a few tweaks.
At 599 FP, you'll need deep pockets, but this Camaro is one of the rarest and coolest versions to sit in anyone's garage.
Clothing available this week includes the Modern Rally T-shirt and the Red Biker Boots.
See more articles on Forza Horizon 4 Season Change.