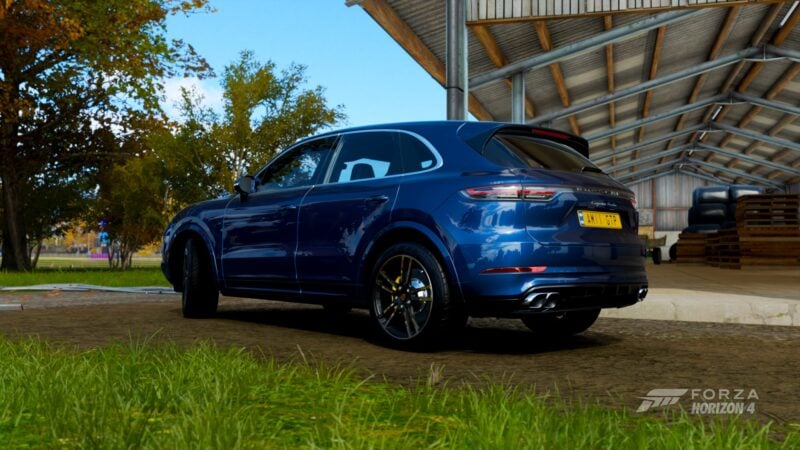 The crisp colors of a new Autumn season descend on the UK once more for another week in Forza Horizon 4. Players can grab a new batch of events with more rewards in between their own Easter activities.
Rewards are an eclectic mix of motoring history and up to date machinery, plus more prizes for completing the Autumn Playlist to 50% and 80%.
On a Roll
Leading playlist completion prizes this week is an American gem from bygone years: the 1952 Hudson Hornet.
Setting new standards in regards to safety and space, the Hornet would also go one to become a legend in stock car racing. Mounting the floor at the bottom of the ladder-frame chassis helped to aid handling and bring 40 race victories in 48 events in 1952 alone.
Giving the Hornet its firepower is a 5.0-liter straight six making 160hp, giving the equivalent V8 sedans a serious run for their money.
Another icon from the 1950s is the Aston Martin DBR1. This classic is one of the first machines designed exclusively for racing without the need for a street-legal variant. As a result, the DBR1 featured a much more slippery body and improved performance. The DBR1 also remains as the only Aston to this day to take overall victory at the Le Mans 24 Hours.
Under the hood sits a 3.0-liter straight six making a very healthy 254hp, though the 1950s handling will require you to be on top of your game to bring this beast under control.
Seasonal championship prizes are a more modern affair, featuring more legends such as the Ferrari GTO and 1992 Toyota Supra.
One prize to go for may not have such iconic status, but the 2012 Porsche Cayenne Turbo is nothing to be sniffed at. Underneath the luxury facade sits one of the sportiest SUVs ever to hit the roads. Tip the Cayenne into corners on a fast winding road and it will surprise you with its handling capabilities. A 4.8-liter twin turbocharged V8 gives this school bus 500hp, and a breadth of ability to embarrass accomplished sports cars.
You'll need to win the "Priceless Porsches" championship to claim the Cayenne.
There's also another Showcase Remix to take you through this wet Autumn season. "Forest Sprite" puts you behind the wheel of an Austin-Healey Sprite for a showdown against a team of dirt bikes.
Find some hidden surprises all over the UK with the latest Super7 challenges. Finish each of the seven cards and you'll win a Disco Chicken Suit.
Events list and prizes for Autumn are below:
German Engineering
Series: Road Racing Series
Cars: German cars
Restrictions: S1 Class, 900 PI
Prizes: 15,000 CR, 25,000 CR, BMW M3 GTS
Overnight Parts
Series: Street Scene
Cars: Japanese cars
Restrictions: A Class, 800 PI
Prizes: 15,000 CR, 25,000 CR, 1992 Toyota Supra 2.0 GT
Priceless Porsches
Series: Road Racing Series
Cars: High Rollers
Restrictions: S2 Class, 998 PI
Prizes: 15,000 CR, 25,000 CR, 2012 Porsche Cayenne Turbo
The Trial: Silicon Rally (Co-Op Championship)
Series: Dirt Racing Series
Cars: Retro Rally
Restrictions: B Class, 700 PI
Prizes: Peugeot 205 T16 FE
Autumn Games – Series 47
Series: Playground Games
Cars: Retro Saloons
Restrictions: B Class, 700 PI
Prizes: Ferrari 288 GTO
Super7 – Autumn
Completion Prize – Disco Chicken Suit
Hilltop Vista Danger Sign
Season Objective: 623.4 ft
The Grange Speed Trap
Season Objective: 200 mph
The Bridge House Speed Zone
Season Objective: 108 mph
Forzathon Events
Hit the trails this week as Forzathon puts the spotlight on Modern Rally cars. Choose your favorite machine and head out on the road to get things started.
Up next, you'll have to flex your tuning muscle because you'll have to get your chosen weapon to a top speed of 185mph. Afterwards, its time to spread your wings and earn a total of 15 stars from Danger Signs.
Last but not least, be prepared for the long haul as you'll need to get a podium finish during a Dirt Racing Series event at the intimidating Gauntlet.
Forzathon Shop
American unknowns are on the menu for the shop this week, headlined by the bonkers 2019 RAESR Tachyon Speed.
Named after a theoretical particle that can travel faster than the speed of light, this bizarre hypercar is styled like a cross between the Batmobile and a Formula One car. RAESR has forgone the startup tradition of a highly tuned V8 in favor of the all-electric route.
Whereas most fast EVs use a twin or quad motor layout, the Tachyon has six electric motors. Combined they produce over 1,250hp and a colossal 3,650lbft of torque. Strangely, the Tachyon's motors will redline at just 3,000 rpm allowing for more access to that insane torque figure without noticable dropoff higher in the rev range.
You'll need 600 Forzathon Points to grab the Tachyon, which will give you a hypercar that makes a Lamborghini look tame.
Something just as obscure but a lot less extreme is the 2010 Rossion Q1.
Those who recognise the silhouette will see that the Q1 is a restyled version of the very British Noble M12, for which Rossion purchased the license to build in the USA.
Rossion has cleaned up the styling as well as adding more creature comforts. The Q1's 3.0-liter twin turbocharged Ford V6 remains relatively untouched, producing 453hp in a car tipping the scales at just under 2,700 lb. Suspension tweaks help to further sharpen up the Q1's already excellent chassis.
If you're after the thrills of a Noble M12 but need a more discreet shape, then the Q1 will do the job for a bargain 350 FP.
Novelty items up for purchase include the Macarena emote and the Cash Register horn.
See more articles on Forza Horizon 4 Season Change.