The snow has returned for another freezing cold Winter season in Forza Horizon 4. It's time to strap on those winter boots and brave the ice to compete in the latest events with more prizes up for grabs.
A mixed cache of prizes with cars both suited and less suited to the conditions are waiting to be won, along with another set of rewards for finishing the Winter playlist to 50% and 80%
Powerful Frostbite
Leading the playlist completion prizes is the 2018 Mercedes-AMG E63 S. The latest iteration of the formidible super sedan has evolved to its most complete variant yet.
Making four-wheel drive standard across the range in all markets, the E63 S is also the most potent E-Class that has ever been made. The 4.0-liter, twin-turbocharged V8 pumps out over 600hp in a car that is also dripping in luxury. Putting all that power to all four wheels in such tricky conditions helps the E63 to become a true all-weather monster.
If you're after something more challenging, there's the 2005 Honda NSX Type R. This tightened-up, focused version of the NSX was the final edition of the esteemed supercar before its hybrid replacement arrived in 2016.
Focusing on improved handling dynamics, Honda stripped 220lb from the NSX with vigorous use of carbon fibre. The 3.2-liter V6 received more modest upgrades to make 290hp, which might not seem like much but the NSX's core was driving pleasure.
Winter championships see a mix of old-fashioned muscle and modern traction, with machines such as the 1972 Ford Falcon and the 2014 Jeep Grand Cherokee SRT.
One car that's more than suited for the snow is the 2010 Audi TT RS. The stylish coupe takes on a more aggressive position after being given a thorough workover by Audi's skunkworks. Audi has fitted a 2.5-liter turbocharged inline five to the TT in an homage to the original Quattro. With 335hp, this TT has gone from a fashion statement to a serious sports car.
If you want the TT in your garage, you'll need to win the "Getting Cold Street" championship.
Another Showcase Remix brings back a very popular crossover between two franchises. "Assault on the Control Room" sees you don the iconic Halo power armour of Master Chief and race the Warthog against a Pelican dropship.
Look around the snowdrifts for the latest set of Super7 cards. Complete all seven and you'll take delivery of a Koenigsegg CCGT.
Winter's events and prizes are listed below;
Getting Cold Street
Series: Street Scene
Cars: Modern Sports Cars
Restrictions: A Class, 800 PI
Prizes: 15,000 CR, 25,000 CR, 2010 Audi TT RS
Tip of the Iceberg
Series: Road Racing Series
Cars: Classic Racers
Restrictions: A Class, 800 PI
Prizes: 15,000 CR, 25,000 CR, Maserati Tipo 61 Birdcage
Cold Storage
Series: Dirt Racing Series
Cars: Vans and Utility
Restrictions: D Class, 500 PI
Prizes: 15,000 CR, 25,000 CR, 2014 Jeep Grand Cherokee SRT
The Trial: Ice Gauge (Co-Op Championship)
Series: Cross Country Series
Cars: Extreme Offroad
Restrictions: A Class, 800 PI
Prizes: Ford Falcon XA GT-HO FE
Winter Games – Series 47
Series: Playground Games
Cars: Classic Muscle
Restrictions: C Class, 600 PI
Prizes: Pontiac Firebird Trans Am SD-455
Super7 – Winter
Completion Prize: Koenigsegg CCGT
Copse Speed Trap
Rannoch Shelf Danger Sign
Season Objective: 574.1ft
Carden Creag Speed Zone
Forzathon Events
Forzathon puts the spotlight on Extreme Offroad machines this week, with perfect conditions for these beasts to stretch their legs. Jump aboard your chosen weapon to get rolling.
Up next, tear up the countryside all over the UK as you'll need to complete, but not necessarily win, 5 Cross Country Series events. Afterwards, push your techniques to the edge and earn 2 stars while going through a Speed Zone.
Wrap up this week's challenges by going wild and earning 10 Ultimate Wreckage Skills, leaving a path of pure destruction in your wake.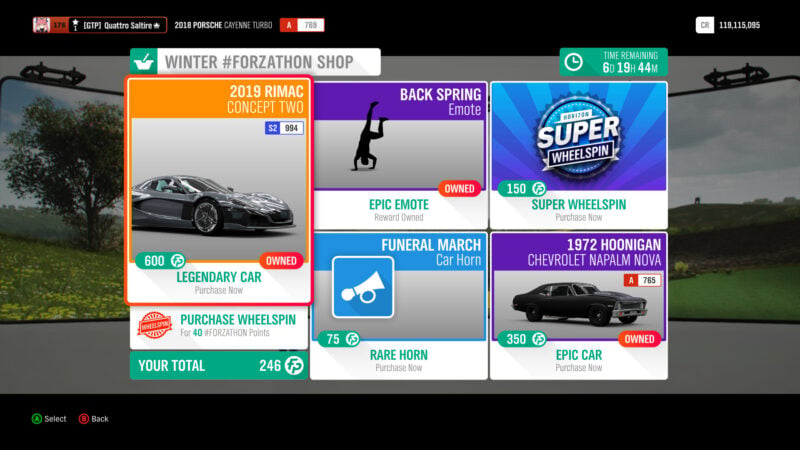 Forzathon Shop
Future power and old school tradition are on the menu for the shop, with the 2019 Rimac Concept Two taking the spotlight.
Rimac may be a relative unknown in the hypercar world, but it has taken the rulebook and torn it to pieces. Replacing the Concept_One, the latest Rimac continues the marques philosophy of using electric power in search of ultimate performance.
Under the skin are four electric motors, giving an advanced four-wheel-drive system and a colossal 1,900hp on tap. Such huge figures make the C_Two the most powerful street car ever to grace the festival. Despite the heavy weight of all the batteries, you'll still be able to out accelerate anything thanks to the instantly available torque.
The C_Two will cost you 600 Forzathon Points, but it also gives hope that the all electric future will see hypercars flourish.
Going more old school gives you the 1972 Chevrolet "Napalm" Nova tuned by Hoonigan.
The Hoonigan team has given a standard Chevrolet Nova the singular purpose to carry out the brand's motto of "Kill All Tires". Under the skin sits a new front sub-frame and suspension that completely changes the Nova's handling characteristics.
To ensure the Nova has the firepower for both twisty roads and the quarter mile, there's a 7.4-liter big block V8 making 475hp. Hoonigan also deliberately made the Nova look less professionally built despite the extensive changes.
The Nova is cheap by comparsion at just 350 FP. In return you'll get a delightfully classic muscle machine that will happily do burnouts all day long.
This week's novelty items are the Back Spring emote and the Funeral March horn.
See more articles on Forza Horizon 4 Season Change.