Darkening skies and increasing rain herald the return of another Spring season to Forza Horizon 4. The final lap of Series 47 has begun, allowing for one last scramble for the current set of rewards.
The prize theme for this week largely centers on race cars, coupled with more prizes for completing the Spring playlist to 50% and 80%.
Take to The Track
Leading the playlist completion rewards is the 2018 KTM X-Bow GT4.
Looking like a car that Batman would drive, this X-Bow has been extensively re-engineered to comply with GT4 racing regulations. The GT4 features a closed canopy to improve aerodynamics, as well as comply with safety requirements.
Its Audi-sourced, 2.0-liter turbocharged engine has received mild tweaks over the road going X-Bow R to produce 330hp. With the racing aerodynamics, the KTM can forgo needing any more power.
Something more extreme comes in the form of the Ferrari 599XX Evolution. Ferrari's XX programme saw the 599 join the original FXX for wealthy clients who wanted a front-engined GT for the track.
The Evolution package largely focuses on improved aerodynamics, as evidenced by the addition of a large active rear wing. There's only a modest power bump for the 6.0-liter V12, to 740hp, but the combined upgrades lead to a substantial gain in speed and lap times.
Championship prizes to round out Spring are a bit more varied between road and track cars, with a Renault Clio and a Formula Drift Ferrari 599 up for grabs.
The highlight of the prize pool moves away from track machines, but is no less crazy in the form of the 2016 Koenigsegg Regera.
Translated in Swedish as "reign", the Regera brings Koenigsegg into hybrid hypercar territory for the first time. The 5.0-liter twin turbocharged V8 puts out 1,100hp on its own whilst being supplemented by three electric motors making 700hp. Differing power peaks mean the Regera makes a combined 1,500hp.
However the Regera's real party piece is its direct drive system that removes the regular transmission to allow for more efficient power delivery.
The Regera is all yours if you can win the "Old Habits Die Hard" championship.
Finishing off the seasonal Showcase Remixes is the return of "Night Flight". Climb into a Lamborghini Countach for a showdown against a Deltawing aircraft in the dead of night.
Battle against the elements in the final set of Super7 challenges for Series 47. Finish all seven cards to get an Alien Morph Suit for your wardrobe.
Latest rewards for Spring are listed below:
Old Habits Die Hard
Series: Road Racing Series
Cars: Vintage Racers
Restrictions: B Class, 700 PI
Prizes: 15,000 CR, 25,000 CR, Koenigsegg Regera
Highly Sprung
Series: Dirt Racing Series
Cars: Hot Hatch
Restrictions: B Class, 700 PI
Prizes: 15,000 CR, 25,000 CR, Renault Clio RS 197
Redline Rockets
Series: Street Scene
Cars: Italian Modern Supercars
Restrictions: S1 Class, 900 PI
Prizes: 15,000 CR, 25,000 CR, Ferrari 599 Formula Drift
The Trial: Team Lotus (Co-Op Championship)
Series: Road Racing Series
Cars: Lotus
Restrictions: A Class, 800 PI
Prizes: Lotus Eleven
Spring Games – Series 47
Series: Playground Games
Cars: Retro Rally
Restrictions: B Class, 700 PI
Prizes: 2014 Ford F-150 Trophy Truck #11 Rockstar
Super7 – Spring
Completion Prize: Alien Morph Suit
Slate Quarry Speed Trap
Northbound Danger Sign
Season Objective: 738.2ft
Nether End Speed Zone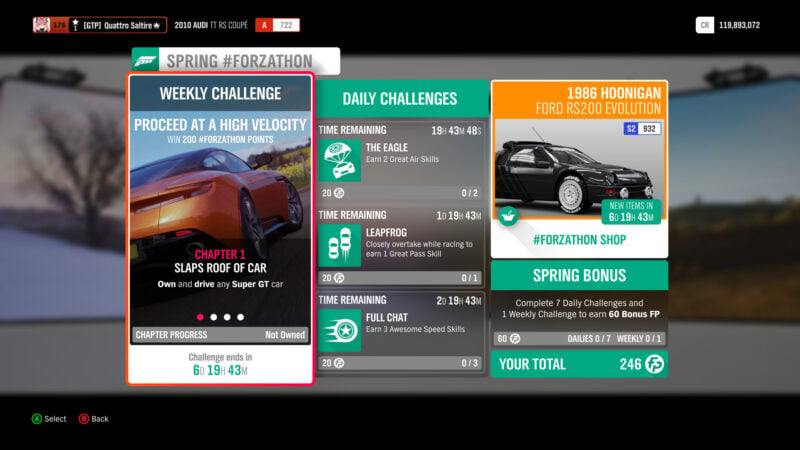 Forzathon Events
Forzathon looks to Super GT machines for the latest weekly challenges. Pick your most capable luxury cruise missile to get thing started.
Up next, out muscle your competition and earn 10 Pass Skills during race events. After that, use the already explosive power of your grand tourer to earn a total of 9 stars in Drift Zones.
Finally, you'll need to flex some tuning know-how as you'll need to earn 3 stars at the Princes Street Speed Trap to finish up the last Series 47 challenges.
Forzathon Shop
Hoonigan leads the Forzathon Shop this week, with its own tuned variant of the bonkers Ford RS200.
Making an unhinged Group B monster even more insane is no mean feat, but Hoonigan has done exactly that.
Based on the real RS200 owned by Ken Block, Hoonigan has upped the power of the 2.1-liter turbocharged engine to 750hp. The suspension has also been heavily modifed to cope with the extra power, as well as provide greater handling capabilities.
Hoonigan's RS200 costs an eye-watering 999 Forzathon Points if you're in need of buying one. However we suggest looking for a cheaper deal on the Auction House if you're running short.
Something equally as aggressive is the 2006 Hummer H1 Alpha.
Essentially a road homologated version of the military vehicle, the H1 is one of the most intimidating SUVs ever made. The sheer bulk of this 8,100lb beast means that it requires a 6.6-liter turbocharged V8 diesel engine just to move it. With 300hp on tap, you won't be going anywhere at breakneck speed, but you'll be unstoppable once it gets going.
By comparison, the H1 is only 200 FP, allowing you rule the roost when you go on a trip offroading.
Novelty items for this week are the Best Mates emote and the Halo Theme horn.
See more articles on Forza Horizon 4 Season Change.