Autumn has graced the UK for another week to start a new season in Forza Horizon 4. Despite gathering rain clouds, players are continuing to battle the elements to complete the latest events.
It's a Japanese theme for this week's prizes, as well as another exciting duo of rewards for completing the current Playlist to 50% and 80%
Turning Japanese
Sitting at center stage for the Playlist completion rewards is the 2010 Lexus LFA.
Toyota set out to build this supercar in an attempt to spice up its humdrum image. Despite a ten-year development period, the LFA emerged as one of the most exciting cars ever to come from Japan.
Under the carbon body sits a highly strung 4.8-liter V10 developed by Yamaha. Clever engineering means the engine is a similar size to a V8, but only weighs as much as a V6. Making 552hp, the LFA gives its rivals a serious performance headache as it revs towards its 9,000rpm redline. The LFA revs so quickly, a digital rev counter had to be fitted as an analog one couldn't keep up.
Something more sedate in comparison is the 1995 Toyota MR2. The second generation of Toyota's mid-engined roadster is arguably the coolest. Ditching the angular styling of the previous generation, the SW20 gains more curves and more power.
The 2.0-liter turbocharged engine comes from the Celica and produces a healthy 241hp. You'll need to be on top of this car to get the best from it due to its reputation for rather snappy handling, especially in the wet.
Autumn's Photo Challenge continues with the Japan theme with #CastleInTheSky. You'll need to bring a Nissan and snap a picture over at Bamburgh Castle; if you fancy making the objective more appropriate, bring a Nissan Skyline. Seasonal championships feature icons such as the Mazda Cosmo and 1989 Toyota MR2.
A highlight of the prize pool is the 1992 Toyota Celica GT-Four. Seen as one of the greatest rally homologations, the ST185 generation of Celica helped give Toyota victories in the driver and manufacturer titles in the World Rally Championship between 1992 and 1994. The Celica features a 2-liter turbocharged engine making 232hp. Paired with four-wheel drive, it quickly became a cult hit for rally enthusiasts.
You'll need to win the "Retro Tourism" championship to bring the Celica home.
Keep your skills up to scratch with another set of Super7 challenges this week. Once you've completed all seven cards, you'll receive a Green Man outfit.
You can find the events for Autumn listed below:
Mazda's Guide to the Galaxy
Series: Road Racing Series
Cars: Classic Sports Cars
Restrictions: B Class, 700 PI
Prizes: 15,000 CR, 25,000 CR, Mazda Cosmo 110S
Journey Into the Night
Series: Street Scene
Cars: Japanese cars
Restrictions: A Class, 800 PI
Prizes: 15,000 CR, 25,000 CR, 1989 Toyota MR2
Retro Tourism
Series: Dirt Racing Series
Cars: Retro Rally
Restrictions: B Class, 700 PI
Prizes: 15,000 CR, 25,000 CR, 1992 Toyota Celica
The Trial: With Love From Australia (Co-Op Championship)
Series: Cross Country Series
Cars: Australian cars
Restrictions: A Class, 800 PI
Prizes: Holden VL Commodore Group A SV
Autumn Games – Series 48
Series: Playground Games
Cars: Honda
Restrictions: A Class, 800 PI
Prizes: 2005 Honda NSX Type R
Super7 – Autumn
Completion Prize – Green Man suit
Mam Tor Danger Sign
Season Objective: 1,010.5ft
Deep Vale Speed Trap
Brookside Speed Zone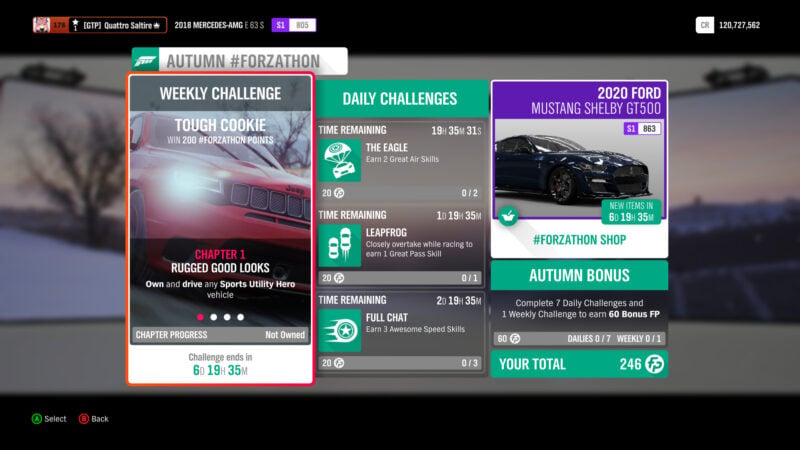 Forzathon Events
Forzathon moves away from Japan as the focus shifts to Sports Utility Heroes for this week. Jump into one of the super-powered SUVs in your garage to get started.
Next, go and wreak havoc as you'll need to earn 10 Binman Skills. It's best to head into Edinburgh to complete this one quickly. After that, show that your SUV can do offroading as well as sportiness by winning 3 Cross Country Series Circuit events.
To finish off this weeks latest challenges, let nobody stop you on your school run by earning 10 Trading Paint Skills.
Forzathon Shop
It's a very angry affair in the shop this week, headlined by the intimidating 2020 Ford Mustang Shelby GT500.
In order to strike back at the Dodge Challenger Hellcat and Demon, Ford created the most unhinged Mustang it has ever made. The aggressive new bodykit immediately lets everyone know this Shelby means serious business. Under the hood is a supercharged 5.2-liter V8 making 760hp, making this more powerful than the flagship Ford GT supercar.
The GT500 will set you back 600 Forzathon Points, but in return you'll get one of the wildest muscle cars ever made to light up the drag strip.
If you're in need to up the aggression level to 11, there's the 2013 Lamborghini Veneno.
Whereas previous Lamborghinis were wild to look at but maintained a degree of elegance, the Veneno looks completely off the scale. The crazy lines also help to generate more downforce along with the huge fixed rear wing. Furthermore, the Veneno's name translates to "venom", just to complete the aggressive image.
Under the skin, the Veneno sits on the chassis and running gear from the Aventador. The 6.5-liter V12 gets mild tweaks which take power to 740hp.
The Veneno costs a reasonable 300FP, and will grant you a car that will turn every head when you roll up to a car meet.
This week's novelty items are the Karate Master emote and the Steam Boat horn.
See more articles on Forza Horizon 4 Season Change.