The crisp white countryside is having its silence shattered as another Winter season begins in Forza Horizon 4. Players are digging out the snow shovels to assist in dealing with the frosty elements as they continue to hunt down the latest events.
America takes center stage as the main prize theme, as well as an updated set of rewards for finishing 50% and 80% of the new Winter Playlist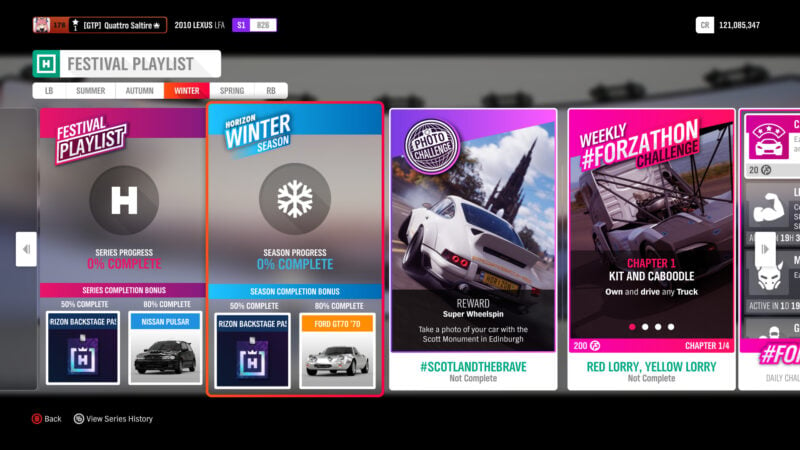 Eagles in The Snow
Only one car is available for the playlist completion this week: the 1970 Ford GT70.
Wanting to capitalize on the success of the GT40 at Le Mans, Ford turned its attention to rallying and created the GT70. However, to satisfy homologation requirements a production run of 500 units was needed and Ford was only able to build a total of six.
Only three of those six chassis ran in competition where they were plagued by numerous issues, although the digital ones run just fine. Under the petite fibreglass body sits a 2.0-liter engine making a healthy 200hp coupled to a sub-1700lb weight.
There's a Horizon Backstage Pass available if you're in need of a car thats more exclusive.
Head down into Edinburgh for the latest Photo Challenge this week. #ScotlandTheBrave wants you to snap any car you're driving at the Scott Monument over on Princes Street.
The prize pool for the Winter championships continues the American theme with the Pontiac Trans Am and Hoonigan Ford Bronco up for grabs.
Moving away from the red, white and blue, one prize to go for this week is the 1967 Volkswagen Karmann Ghia.
Often regarded as one of the coolest VWs ever made, the Karmann Ghia combined German coachbuilding with Italian styling flair. Despite those looks, performance is not the Karmann's forte due to having the running gear from the humble Beetle. That means a 1.5-liter flat four making just 53hp.
To get the Karmann to your garage, you'll need to win the "Small Wonders" championship.
A new set of Super7 cards will help to keep you on your toes with surprises around every corner. Finish all seven challenges to receive a Toyota 2000GT.
Events for Winter can be found below;
Into the Wilds
Series: Cross Country Series
Cars: Extreme Offroad
Restrictions: A Class, 800 PI
Prizes: 15,000 CR, 25,000 CR, Hoonigan Ford Bronco
Tour de Force
Series: Road Racing Series
Cars: Modern Muscle
Restrictions: S1 Class, 900 PI
Prizes: 15,000 CR, 25,000 CR, Pontiac Firebird Trans Am SD-455
Small Wonders
Series: Dirt Racing Series
Cars: Volkswagen
Restrictions: B Class, 700 PI
Prizes: 15,000 CR, 25,000 CR, Volkswagen Karmann Ghia
The Trial: American Car-tographer (Co-Op Championship)
Series: Cross Country Series
Cars: American cars
Restrictions: A Class, 800 PI
Prizes: Hoonigan Gymkhana 9 Ford Focus RS RX
Winter Games – Series 48
Series: Playground Games
Cars: Classic Muscle
Restrictions: B Class, 700 PI
Prizes: Ford XB Falcon GT
Super7 – Winter
Completion Prize: Toyota 2000GT
Hythe House Speed Trap
Rail Yard Ramp Danger Sign
Season Objective: 820.2ft
Strathbridge Speed Zone
Forzathon Events
Put on your trucker hat because big rigs are the focus of this week's Forzathon. Choose one of the titans in your garage and head onto the open road to get started.
Next, show why you are the king of the road by earning a total of 10 Trading Paint Skills. After that, leave a trail of destruction in your wake as you'll need to earn 10 Wreckage Skills.
Finally, get into the road trip mood as you'll have to win a Road Racing Series event at the daunting Goliath circuit.
Forzathon Shop
Modern day rallying and an American horror icon are part of the shop lineup this week, with the 2007 Peugeot 207 Super 2000 leading the way.
The standard Peugeot 207 may be unremarkable, but this rallying version adds some much needed spice. Developed under the Super 2000 relegations, this 207 is just a step below a full-fat WRC machine. In order to keep costs relatively affordable, the 207 featured a highly strung, 2.0-liter naturally aspirated engine making 280hp. Coupled to a high tech four wheel drive system, and this Peugeot will demolish tarmac roads and dirt trails with ease.
You'll need to part with 600 Forzathon Points to grab the 207, and you'll receive a very underrated car in a turbocharged world.
If you want proper old school Americana, there's the 1958 Plymouth Fury.
The 1950s was an era of opulent excess and the Plymouth Fury is no exception. Its vast size makes it perfect for a cruise along the coastline, and its intimidating nature will see cars jump out of its way. The Fury gained fame (or infamy) in the movie adaptation of the horror novel Christine, where it is the main subject focus.
With a 5.7-liter V8 under the hood, the Fury makes a respectable 305hp. It may not be a muscle car, but it can still be brisk should you put your foot down.
At 300FP, the Fury is relatively cheap, and a good way of potentially scaring your friends during the night.
Novelty items up for grabs are the See Me Whip emote and the "In The Hall of The Mountain King" horn.
See more articles on Forza Horizon 4 Season Change.