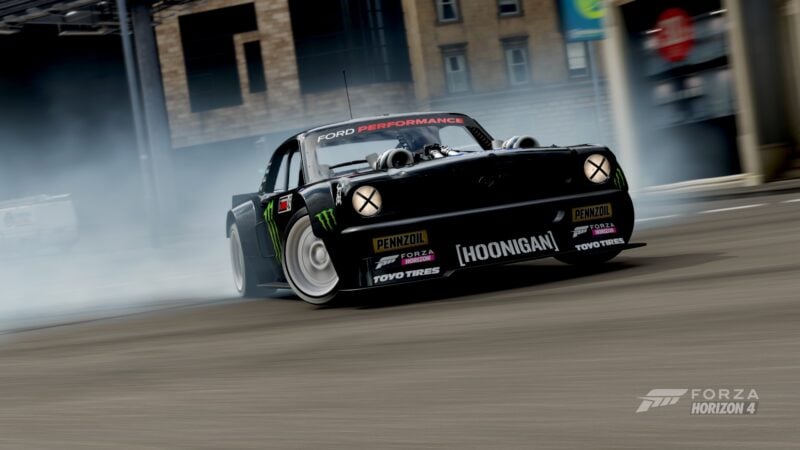 The sounds of a new Spring season have come around again in Forza Horizon 4. We're into the last stretch for Series 49 and one last batch of content for the series is waiting to be claimed.
There's a slice of everything up for grabs with this week's prizes, plus there's one last duo to win by finishing the latest seasonal playlist to 50% and 80%.
Fast and Frolicking
Only one car is part of the Spring playlist completion rewards: the 1957 Ferrari 250 Testa Rossa
Often seen as one of the most valuable cars in the world, the 250TR is a highly sought-after target for collectors. This machine was homologated for sports car racing after rule changes brought about a maximum engine displacement.
Despite this, the 250TR would go on to become extremely sucessful, including winning the Le Mans 24 Hours three times. Under the hand-beaten body and distinct pontoon styling sits a 3.0-liter V12 making 300hp. With 1950s' technology and tires, you'll need to be really focused to get the best out of it.
There's also another Horizon Backstage Pass if you're after a more exclusive car from the festival.
You'll have to get down and dirty for the last Photo Challenge for Series 49. #MuddyGoodTime wants you to snap an Extreme Offroad car over at Mudkickers Adventure Park. Spring championship rewards feature a mix of street and racing machines including the 1992 Toyota Supra and 2017 Ford Fiesta WRC.
A particularly loud and proud highlight is the 1965 Hoonigan Ford Mustang "Hoonicorn V2".
Starring in Ken Block's Gymkhana Ten, this Mustang shares next to nothing with the standard road car. Upgrades to the previous Hoonicorn largely amount to the 6.7-liter V8 gaining twin turbochargers. As a result, power now sits at 1,400hp. The bespoke four-wheel drive system needed beefing up to handle the extra power, allowing for the Hoonicorn to smoke all four tires all day long.
You'll have to take victory in the "Retro Hoonicorn Attack" to bring home this insane monster.
A new set of cards for Super7 will help you to finish off the season in style. Complete all seven and you'll win a 2004 Subaru Impreza WRX STI.
Spring's events and prizes are below:
Is That a Supra?
Series: Street Scene
Cars: Toyota
Restrictions: B Class, 700 PI
Prizes: 15,000 CR, 25,000 CR, 1992 Toyota Supra
The Saloon Returns
Series: Dirt Racing Series
Cars: Super Saloons
Restrictions: A Class, 800 PI
Prizes: 15,000 CR, 25,000 CR, 2014 Maserati Ghibli
Retro Hoonicorn Attack
Series: Street Scene
Cars: Retro Sports Cars
Restrictions: B Class, 700 PI
Prizes: 15,000 CR, 25,000 CR, Hoonigan Gymkhana 10 Ford Mustang Hoonicorn V2
The Trial: All You Can Street (Co-Op Championship)
Series: Street Scene
Cars: Hypercars
Restrictions: S2 Class, 998 PI
Prizes: W Motors Lykan HyperSport
Spring Games – Series 49
Series: Playground Games
Cars: Rally Monsters
Restrictions: S1 Class, 900 PI
Prizes: 2017 Ford Fiesta RS WRC
Super7 – Spring
Completion Prize: 2004 Subaru Impreza WRX STI
Lakehurst Speed Trap
Leap of Faith Danger Sign
Season Objective: 449.5ft
Queen's Drive Speed Zone
Forzathon Events
Relive a golden era as Retro Saloons take to the stage in this week's Forzathon. Choose any of the legends in your garage and head out to get started.
Up next, go for a long drive around the UK in your classic sedan to really stretch its legs. If your car is fast enough, the 20-mile objective will fly past. After that, fly through the sky as you'll need to earn 3 stars at the Broadway Windmill Danger Sign. You'll have to flex your tuning muscle for this one for the long distance required to gain 3 stars.
Finally, show that you rule the streets by cruising to victory in a Street Scene event at Edinburgh New Town.
Forzathon Shop
It's a pick-and-mix in the shop this week with the 2013 Toyota GT86 leading the way.
Reviving the iconic 86 name, this little coupe was jointly developed with Subaru in a project that became known as the "Toyobaru". The GT86 shuns big power to focus on driving enjoyment, with a chassis designed to easily perform drifts.
Under the hood sits a Subaru-derived 2.0-liter flat-four making just 197hp. However, it's all you really need to extract the maximum amount of fun on a twisty road.
The GT86 will set you back 600 Forzathon Points, which may be seen as rather steep for a car like this. We suggest looking at the Auction House for a cheaper deal.
If you're after something more specialized, there's the 2018 Mini X-Raid John Cooper Works Buggy.
To conquer the Dakar Rally, this Mini goes like no other that has come before it. Unlike the X-Raid Countryman, this Buggy is completely bespoke. The Mini also ditches four-wheel drive for a rear-wheel drive setup in order to better tackle punishing terrain at the expense of all-out traction.
Giving the Mini its grunt is a 3.0-liter, twin-turbocharged straight-six diesel engine sourced from BMW making 340hp, allowing for the low-end torque to take on the huge climbs of sand dunes.
At 300 FP, the Mini is a relative bargain and will be more than capable of demolishing cross country races at the festival.
Novelty items for this week are the Police Siren horn and the Dab emote.
See more articles on Forza Horizon 4 Season Change.