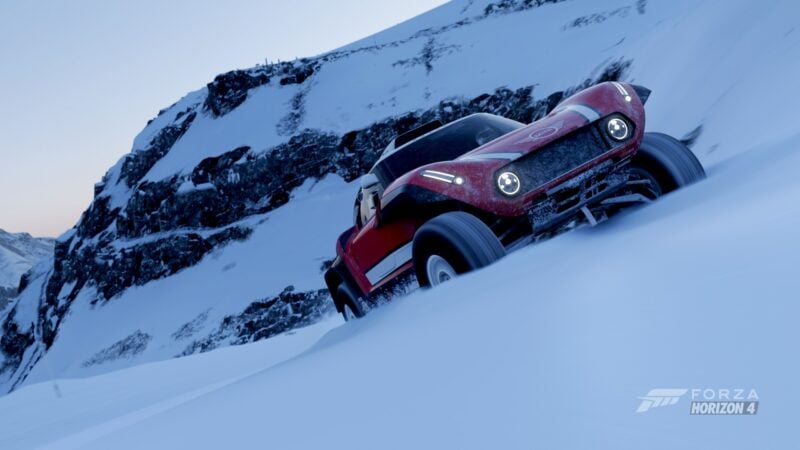 Winter has taken its grip on the UK for another week in Forza Horizon 4 and players are readying themselves with another battle against the elements to grab the latest content batch.
It's a suitable theme for this season, as offroad SUVs make up the bulk of prizes, as well as more rewards for finishing the Winter Playlist to 50% and 80%.
Four Wheeled Frostbite
Kicking off the Winter completion prizes is one of the most unlikely of performance SUVs: the 2018 Mini Countryman John Cooper Works.
In an effort to inject some excitement into its ordinary Countryman, Mini inserted the boosted drivetrain from the standard JCW hatchback. Under the hood sits a 2.0-liter turbocharged engine making a healthy 228hp. Despite the extra weight over the Cooper hatch, the Countryman benefits from a four-wheel-drive system to give brisk all-weather ability.
Those after something more utilitarian can look to the 1972 Land Rover Series III Forza Edition.
The Series III may look as though it hasn't changed since the original Defender arrived in the 1940s, but subtle evolutions have kept it as one of the most capable offroaders ever made. While the Defender forgoes the majority of creature comforts, it maintains a back-to-basics approach to offroading. The Defender comes with a 2.2-liter engine making just 69hp, but that won't stop it from conquering most terrain in the UK.
A fresh Photo Challenge for Winter sees you heading towards the light. #LightUpMyLambo wants you to snap any Lamborghini over by the lighthouse near Bamburgh. Seasonal championship prizes feature a couple of Mini Dakar racers as well as the 1970 Dodge Challenger.
Moving away from the offroad theme, the highlight championship prize is the 1970 Porsche 914/6. A collaboration project between Porsche and Volkswagen gave the Stuttgart brand an entry level sports car below the 911. The flagship 914/6 features the 2.0-litre flat-six out of a 911 making 125hp. There's also racing pedigree as the 914 took a class victory in the 1970 Le Mans 24 Hours.
To get the Porsche, you'll have to win the "Deutschland's Finest" championship.
Another Showcase Remix for Winter sees the return of "Ride to Anywhere". Here, you'll be strapped into Isha's Austin FX4 Taxi for a duel across the Scottish Highlands against a giant hovercraft.
If you're keen on tackling all the seasons, then there's more Super7 cards waiting to be completed. Finish all seven and you'll win a Hoonigan Ford Bronco.
Events and prizes for Winter are below:
Rally Rivals
Series: Dirt Racing Series
Cars: Evo vs Impreza
Restrictions: B Class, 700 PI
Prizes: 15,000 CR, 25,000 CR, Best Mates emote
Deutschland's Finest
Series Road Racing Series
Cars: German cars
Restrictions: S1 Class, 900 PI
Prizes: 15,000 CR, 25,000 CR, Porsche 914/6
Winter Wonders
Series: Cross Country Series
Cars: Winter Wonders
Restrictions: A Class, 800 PI
Prizes: 15,000 CR, 25,000 CR, Mini X-Raid JCW Buggy
The Trial: Unrelenting Force (Co-Op Championship)
Series: Cross Country Series
Cars: Extreme Offroad
Restrictions: S1 Class, 900 PI
Prizes: Mini X-Raid Countryman
Winter Games – Series 50
Series: Playground Games
Cars: Classic Muscle
Restrictions: B Class, 700 PI
Prizes: 1970 Dodge Challenger
Super7 – Winter
Completion Prize: Hoonigan Ford Bronco
M68 Speed Trap
The Great Ridge Danger Sign
Season Objective: 915.4ft
Johnston Terrace Speed Zone
Forzathon Events
Raise the Stars and Stripes, as Forzathon focuses on the 1967 Chevrolet Corvette Stingray, also referred to as the Mako Shark. Jump aboard this classic muscle legend to get going.
Next, unleash the fury of the 7.0-liter V8 by earning a total of 15 Awesome Speed Skills. You may need to apply a few upgrades to your car to achieve this. Afterwards, take advantage of the icy conditions to earn a total of 125,000 Skill Score.
Finish off this week's challenges by using the ice to help you earn a total of 9 stars in Drift Zones.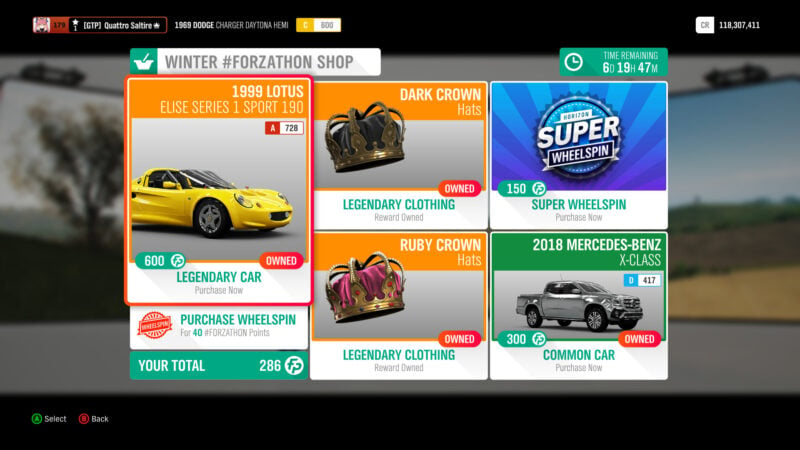 Forzathon Shop
A super light sports car and a premium German pickup truck are in the shop this week, with the 1999 Lotus Elise Sport 190 leading the way.
This top-rung variant of the first generation Elise was the most hardcore road model in terms of Hethel's lightweight philosophy, including replacing the passenger seat with a roll bar. The chassis also received extensive upgrades despite already having impressive handling. It's driven by a 1.8-liter Rover K-Series engine making 190hp, but that's plenty of power in a car weighing under 1,500lbs.
At 600 Forzathon Points, the Elise is expensive but it will be a seriously fun car to throw through the country roads.
If you need a car capable of dealing with the snow, there's the 2018 Mercedes X-Class.
At first glance, this pickup truck looks to be a fully-fledged Merc, but dig a little deeper and things aren't what they seem. The X-Class is based on the Nissan Navara, but features slight changes to accomodate Merc's powertrains. The interior has also been heavily revised to bring a more premium feel to a workhorse truck.
This version of the X-Class is the X250d, meaning it's powered by a 2.3-liter twin-turbocharged diesel engine making 188hp. With a focus towards offroading, this Merc can manage difficult terrain that would hamper most of its SUVs.
The Merc will set you back 300 FP and will offer a premium left-field choice compared to the more traditional pickups.
This week's clothing items are the Dark Crown and Ruby Crown.
See more articles on Forza Horizon 4 Season Change.