Spring makes itself reacquainted with the UK once more this week for a fresh new season in Forza Horizon 4. We're now in the final lap for Series 50 with one last dash on the table to grab the latest content.
Classic performance monsters and modern Italian beauties are in the prize pool for Spring, alongside another duo of cars for completing the 50% and 80% of the seasonal playlist.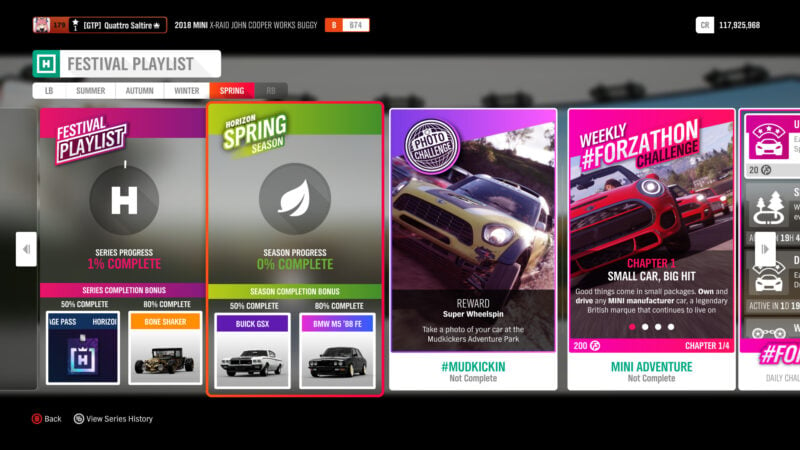 All You Need is Power
Taking the lead in the Spring playlist completion prizes is the 1970 Buick GSX.
While the Chevrolet Chevelle and Pontiac GTO were dominating the big-block muscle car market, Buick's rival is often overlooked. In order to compete with its established rivals, Buick squeezed a huge 7.4-liter V8 under the hood of the GSX. Although it made 360hp when it left the factory, some tuning can release its hidden potential at the drag strip.
If you need to go fast but need to bring family, there's the 1988 BMW M5 Forza Edition.
The first generation of the formidable super sedan laid the groundwork for its legacy with the E28. Although it looked ordinary, its performance was enough to rival sports cars while maintaining practicality. That power comes from a 3.5-liter straight-six making 282hp, combined with chassis upgrades that turned this humdrum sedan into a performance legend.
Pull on your boots as you'll have to wade through some serious mud in the final Photo Challenge for Series 50. #MudKickin wants you to snap any car you're driving over at Mudkickers Adventure Park. Make your pictures more appropriate for the location by using any heavily offroad-focused vehicle. Spring championship prizes lean towards modern high performance including the Apollo Intensa Emozione and Ferrari F12tdf.
One interesting prize to go for is the 2010 Ferrari 599 GTO.
Inspired by the track-only 599XX, this flagship 599 ditches its grand touring motif to revive a hallowed badge that was only ever used on the 250 and 288 before it. However, because the 599XX was not homolgated for racing, the 599 courts some controversy in using the GTO name.
Despite this, Ferrari has thrown motorsport technology at the GTO to extract maximum downforce and lap times. Weight has been cut by 220lb and the 6.0-liter V12 has been boosted to 670hp. Most of the chassis changes include more advanced suspension and reworked multi-stage traction and stability systems.
To get the GTO, you'll have to win the "Seeing Red" championship.
Help to finish off Series 50 with one more set of Super7 cards to try out. Complete all seven to take home a Rossion Q1.
You can find the events and prizes for Spring below:
Seeing Red
Series: Road Racing Series
Cars: Ferrari 575 Maranello
Restrictions: A Class, 800 PI
Prizes: 15,000 CR, 25,000 CR, Ferrari 599 GTO
Super Saloon Slalom
Series: Dirt Racing Series
Cars: Modern Muscle
Restrictions: A Class, 800 PI
Prizes: 15,000 CR, 25,000 CR, Lexus RC-F
Grand Tourers
Series: Road Racing Series
Cars: GT cars
Restrictions: A Class, 800 PI
Prizes: 15,000 CR, 25,000 CR, Ferrari F12tdf
The Trial: Hyperspeed (Co-Op Championship)
Series: Street Scene
Cars: Hypercars
Restrictions: S2 Class, 998 PI
Prizes: Apollo Intensa Emozione
Spring Games – Series 50
Series: Playground Games
Cars: Rally Monsters
Restrictions: S1 Class, 900 PI
Prizes: Hoonigan Gymkhana 10 Ford Focus RS RX
Super7 – Spring
Completion Prize: Rossion Q1
Lakehurst Speed Trap
Whitewater Falls Danger Sign
Season Objective: 551.2ft
Sudmoss Speed Zone
Forzathon Events
Celebrate a British icon this week as Forzathon puts the spotlight on Mini. Choose either the original classic or the more modern incarnation and head out to get started.
Next, demonstrate the Mini's go-kart handling capabilities by storming to victory in two Road Racing Series events. Following on from that, show off the surprising rally pedigree of the Mini by winning three Dirt Racing Series events.
To bring the curtain down on this week's challenges, finish up by pushing your Mini to the limit and earn a total of 9 stars from Speed Zones.
Forzathon Shop
Drop tops are out in force in the shop this week, kicking off with the 2019 McLaren 720S Spider.
Taking the roof off from a supercar normally comes at a cost of more weight and stunted handling, but McLaren has thrown its engineering know-how to mitigate the drawbacks for its convertible 720S. Despite weight increasing by over 200lb compared the the coupe, the 720S Spider retains identical performance. That's attributed to the 4.0-liter, twin-turbocharged V8 making a ballistic 711hp.
At 600 Forzathon Points, the Mclaren will be an expensive purchase, but it's also one of the fastest ways to gain wind in your hair thrills.
Something more sensible for open-top motoring is the 2018 Mini John Cooper Works Convertible.
The current generation Mini convertible is already seen as a style-conscious machine, but the JCW intends to add extra spice. Despite weighing over 3,000lb, Mini's Works division has beefed up the suspension and handling to give more spirited handling. Ensuring the JCW has enough power to overcome the penalty of extra weight, there's a 2.0-liter turbocharged engine making 228hp.
This JCW will set you back a more reasonable 300FP, and will provide entertaining thrills on twisty roads and look good when you're cruising by the beach.
Clothing items this week are the Classic Top Hat and Silver Top Hat.
See more articles on Forza Horizon 4 Season Change.